Question: My wife and I travel with two iPhones and two laptops – both Macs. Many hotels have started to charge for internet service per device. Is there some sort of WiFi-to-WiFi hotspot device or some other way to be able to sign on to WiFi so that it looks like it's all one device?
I've seen this in hotels and I really don't like it at all.
In my opinion, hotels should provide internet to the room and not necessarily care how many devices you connect and for how long. Free WiFi is a wonderful perk. The hotel will recover the cost in your room rate or other charges, but in today's connected society, it really annoys me when hotels start charging big fees for you to stay connected.
I don't have a specific one-size-fits-all solution, but I do have a couple of things to try.
Pack your wireless router
First, see if the hotel actually has a wired Ethernet connection in your room. Many hotels offer this in addition to WiFi (which may or may not be present). If they do, plug in a wireless router (like the kind that you use at home) and see if you can connect to the hotel network. That may provide you with the connectivity you need.
You may have to use one device to connect to the hotel's interstitial page. This is the website where you may need to enter your room number or agree to the hotel's terms of use. Once you've done that, the hotel network sees a single device. You can then connect your other devices, like your iPhone, to that router, which would be completely hidden from the hotel's network.
Bring a WiFi range extender
If the hotel doesn't offer a wired connection, you may want to try a WiFi range extender.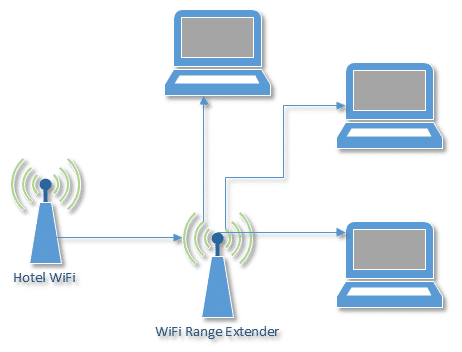 The range extender that I'm currently using connects to an existing WiFi hotspot. You'll set up yours in your room. Then, you can connect your WiFi devices to the extender. As before, you may need to use one device to sign in to the interstitial page, but depending on the extender, repeating these steps at each hotel should become fairly routine.
Switch hotels
Let me get back to my rant. If a hotel is going to nickel and dime me for my internet connections, I would try and find another hotel that provides free WiFi.
Maybe not that day if I walked in the door and discovered that they were going to charge me by the number of devices I connected and how often I used the connection. But if it's a location that I'll return to frequently, I would look for a new place to stay.
In the end, you have a few options to reduce WiFi connections in a hotel that charges astronomical fees. They may be complicated, but those are solutions that can work.