Question: Can I merge two internet connections so that I have doubled bandwidth? I have a DSL connection as well as a separate EVDO connection. I want to know if it is possible to merge the internet connections so that the bandwidth speed would be added to each other, resulting in increased bandwidth.
Because this article was originally written a few years ago, the answer has actually changed from "mostly no" to "mostly yes, with a caveat". There's hardware now available – not even all that expensive – that will allow you to connect two internet connections to your local area
network
. But … there might be a catch. Depending on what it is you're hoping to accomplish, you may be disappointed.
What you're looking for is often referred to as a "dual
WAN
"
router
. WAN is short for Wide Area Network (as opposed to your
LAN
or Local Area Network) and typically refers to the internet.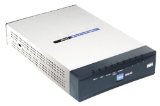 Two connections to the internet. Two should be better than one, right? Mostly, the answer is yes, although there's one scenario where the answer is "not so much".
Redundancy
One common use for dual-WAN routers is to provide redundancy. When two internet connections are used, particularly if they are from different providers, either one can go down and the other continues to work. In other words, to the computers on the LAN-side of the router, the internet will just keep on working. Perhaps more slowly, but it'll still be there. In fact, some dual WAN routers can be configured to use only one of the two connections until there is a problem, and then "fail over" to begin using the other, backup connection until the primary is repaired. This may be useful if the cost of the second connection is based on data transferred, or if the second connection is significantly slower than the primary.
Load Leveling
Load leveling is a technique used by the router to distribute your internet traffic as equally as it can across both connections. One perhaps over-simplified approach is to simply alternate connections between the two: each time a computer on your LAN requests a data connection to an internet resource that data connection is made using one of the two available internet connections. The next request uses the other. That way, by simply alternating back-and-forth which internet connection is used to fulfill connection requests, the load is distributed roughly equally across the two internet connections. Typically, that means things happen faster. For example, a web page that has two pictures on it might download one picture on one of the internet connections and the other picture on the other. That way, the two can be downloaded in parallel – twice as fast as if they both had to be downloaded using the same connection. Unfortunately, load leveling cannot make all types of downloads faster.
Faster downloads? Maybe, maybe not
A logical connection from a computer to a server can happen on only one physical connection. If your computer requests two pictures on a web page, that's actually three logical connections: one for the web page itself and one for each picture. As we saw, a dual WAN router may elect to distribute those across either of the physical internet connections that it has. But what if you're downloading only one thing, one BIG thing. That can only happen over one physical internet connection, and you'll be limited in speed to that of the single connection. Other internet activity may be shuffled off to the other internet connection, so your download may be faster than if you were using only a single connection, but it'll never be faster than the speed of a single connection.
Spreading out the download for speed
It's possible that some so-called "download accelerators" may use multiple connections to download a single file, which in turn may allow a dual WAN router to use both internet connections to speed it up. But there's another case where downloads can be significantly impacted by having multiple internet connections.
Bittorrent
By design, the bittorrent protocol uses multiple internet connections to download (and upload) files. A properly configured dual WAN router could significantly improve bittorrent performance by spreading the load over both internet connections.
(This is an update to an article originally published January 10, 2007.)