I'm using Windows 7 and I want to keep my two Yahoo email addresses open just like on my cell phone. But when I sign into the second Yahoo email, it signs me out of the first. Ideally, I want both to be open when I turn on the computer so I can view both at any time.
Surprisingly, this is a common desire. Many people have more than one email address these days. You can use a couple of approaches to do this.
Switch to Gmail
I know you're asking about Yahoo, but Gmail does this natively. If you click the icon in the upper right of your Gmail web page, you will get the option to "add another account". What that really means is "login to an additional account".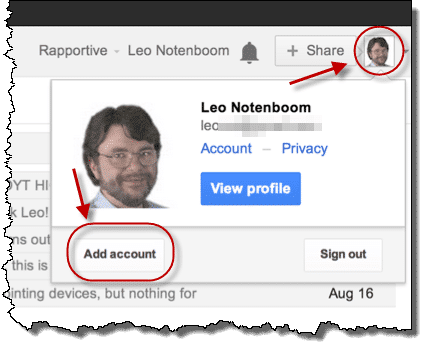 You can use that to login to another Gmail account at the same time. Typically it will open another tab so you can have your primary Gmail account on one tab and the other Gmail account on the new tab.
Open two different browsers
With accounts or services that don't actually allow you to do that, the options get a little bit weirder.
In the past, the most common approach to this problem was to use two different browsers. The cookies that determine who's logged in are kept in separate pools for each browser, so you could have your primary Yahoo account open on one browser (say Internet Explorer) and your other Yahoo account open in another browser (say Chrome). That's a very effective way to solve the problem and probably the approach that I'll recommend that you try first.
And any of the browsers will do: IE, Firefox, Chrome, Opera, Safari, and others. The important thing is that they all keep a separate pool of cookies and their own state, so that they don't realize that you're logged into another account in another browser.
Fire up a virtual machine
You can do the same thing with virtual machines. It's the equivalent of having another computer at your desk that would have another instance of a browser with its own pool of cookies and state information.
Get private (mode)
I don't know if this will work for every email service, but you might want to try the private browsing feature of your browser.
Every browser calls this something different (InPrivate browsing in Internet Explorer, Private window in Firefox, Incognito mode in Chrome, but there are other terms associated with it). It's normally selected when you don't want to save history and cookies or cache after you're done with the browsing session, but  it seems to work with its own pool of state information. You may be able to login to Yahoo on your main browser session, fire up an "in private" window, and login to another Yahoo account in that other window.
Give that a try. It may not always work. I throw it out with a little hesitation, but it's worth trying.