If you hate Windows 8, chances are your mind is already made up about Windows 10 – and not in a good way.
And that's a shame.
Actually, both opinions are a shame. There's still no reason to hate Windows 8, and Windows 10 fixes some of the most common complaints that Windows 8 generated.
OK, perhaps the most common complaint.
Do not use Windows 10 … yet!
I have to start by pointing out that, while Windows 10 is currently available as a "technical preview", you should not use it. The technical preview is intended only for geeky people to test, review, shake out bugs, and provide feedback to Microsoft.
You should not switch to Windows 10 until it has been formally released, and that's still some months away.
There are two huge reasons for this:
It's full of bugs. I know that Microsoft-haters will claim that this is no different than a released version of Windows, but the reality is that with a preview edition like this, the standards are lower than for a release. It is possible – even likely – that there are bugs in the technical preview that will erase your data, crash your machine, or who-knows-what else. It is not meant to be a functional operating system yet.
There may not be an upgrade path to the final release. This may change, since Windows 10 will be provided free to users of Windows 7 and above. But in the past, once the final release of Windows was made, the technical preview eventually stopped working, and moving to the released version required a reinstall, not an upgrade.
If you like, throw it on a sacrificial machine – or a virtual machine, as I have – and play around with it. But you've been warned: do not use it for your day-to-day work.
Hooray! Windows 10 has a Start Menu
I suppose that the single biggest piece of news is that the Start menu is back, at least on desktop machines.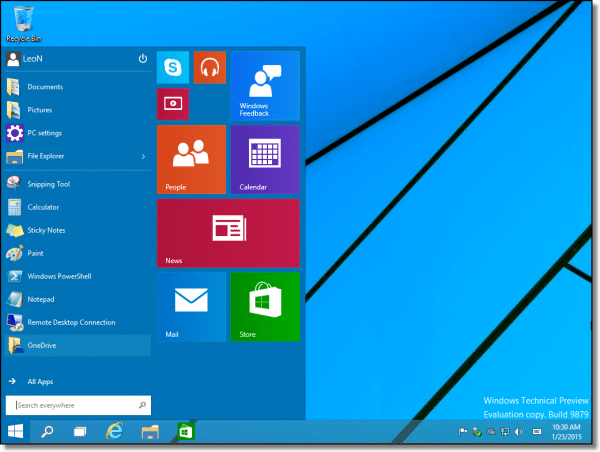 I think nothing frustrated people more about Windows 8 than the lack of a traditional start menu. That single, horrific first impression colored their entire experience with Windows 8… needlessly, I might add.
The Start Menu was trivially easy to restore (albeit using third party tools). But people decided that they hated all of Windows 8, when in fact, the only thing that got their attention – and their frustration – was the Start screen.
Operating systems and prejudice
This is why I expect the next few months leading up to Windows 10's release to be exceptionally frustrating: many people are going to hate Windows 10 sight unseen, simply because they had such a bad first impression of Windows 8.
As I said, not only is that bad first impression completely unwarranted in the majority of cases, but it has almost nothing to do with Windows 10. Microsoft heard you. The very thing that caused the uproar – the tiled Start screen – is no longer the default. You get your Start menu back.1
The tiled Start screen was absolutely a blunder on Microsoft's part. It's a mistake that has already caused many to simply dismiss Windows 10 out of hand.
Opinions have been formed, and are unlikely to change.
Windows 10 is built on Windows 8
One comment I heard was that Windows 10 would be a move backward in some way – that Microsoft would be removing things from Windows 8 to make Windows 10. At the time, the discussion was specifically about device driver compatibility, and issues that have occasionally arisen with Windows 8's stricter security model.
That's just not happening.
Windows 10 starts with Windows 8 and moves forward. Yes, there will be changes, as we've seen, but the underlying architecture of the operating system, and its interaction with the PC it runs on, will remain the same. UEFI (the new BIOS replacement), while not a Windows thing, is here to stay. Increased device driver security?  You're not going to see Microsoft intentionally reduce the security of anything.
Windows 10 is Windows moving forward, not back.
Unfortunately, the fact that it's built on Windows 8 may only be more ammunition for the 8-haters to transfer their feelings to Windows 10.
Without justification, in my opinion.
Give 10 a chance before complaining
My suggestion: when the time comes, give 10 a chance. Wait for it to be done before deciding whether or not it's for you.
It's a free upgrade for users of Windows 7 and later.
The Start Menu is back.
Desktop machines will return to a more traditional desktop interface.
Microsoft has announced new features that sound somewhat interesting:
The new "Spartan" browser.
Cortana, Microsoft's Siri-like avatar.
Two-factor authentication(!) for business editions.
A hololens "augmented reality" whatever-it-is that isn't really a competitor to Google Glass, even though everyone seems to think it is.
More streamlined and continuous updates than we've seen with Windows 8.
Other tweaks and changes, I'm sure.
To be honest, most of the new features don't excite me much at a practical level, other than the movement towards two-factor authentication and better security.
If you believe that the "skip every other version" rule applies to Windows, then, sure, Windows 8 was was the version to skip. So far, Windows 10 looks like a keeper.
10 is the future
Regardless of what you think of its feature set and changes, Microsoft has clearly placed its bet on Windows 10.
It is the future. Eventually, new machines will come with Windows 10 pre-installed. If it becomes more successful and popular than Windows 8, it's likely that software developers will begin to write programs which require 10's new features.
There never was a reason to hate Windows 8. But even if you do, there's certainly no reason to transfer that hate to Windows 10.
At least not until you try it.
A word on comments
People love to complain about Windows 8. In fact, I expect comments to this article will range from general Microsoft-griping and accusations of my being a shill for the company, to random and unfounded complaints about the operating systems.
Let me ask this: do comment on Windows 8 if you like, but be specific, and don't include the Start Menu in your complaints. That's been beaten to death, and as I've said repeatedly, is easily rectified. But if there are  other specific failures in Windows 8 that particularly annoy you, I'd like to hear about them, mostly so I can see if Windows 10 stands a chance of addressing them.
And, as always, overly abusive or off-topic comments will be deleted.
Podcast audio

Download (right-click, Save-As) (Duration: 8:27 — 7.8MB)
Subscribe: RSS