I hear a lot of questions from many different people. I hear a lot of comments, complaints, excuses, and justifications.
I also hear a lot of frustration and helplessness.
It's understandable. Computers and technology can be frustrating at times, and leave you feeling quite helpless. Heck, that's why Ask Leo! exists.
And while many of the different comments, opinions, reactions, and complaints can occasionally leave me feeling frustrated, there's one that really, really bugs me.
Thinking of yourself as less than capable when it comes to technology is not only self-sabotage; it makes it difficult for others to help you. Don't confuse lack of knowledge or experience with lack of ability to learn. Acknowledging that you are capable of learning can make technology significantly less frustrating.
You're not one of them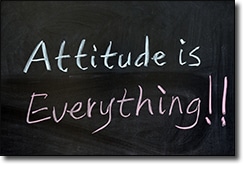 What statements get me frustrated?
"I'm dumb," or "I'm stupid when it comes to computers."
YOU ARE NOT.
There are indeed stupid people out there, but you're not one of them.
How do I know? Easy. Stupid people don't go looking for help. Stupid people don't ask questions.
I know, I know. You meant "when it comes to computers." It doesn't matter, the same statements apply.
Defeated before you even begin
By labeling yourself as dumb or stupid (even if just "when it comes to computers"), you are telling yourself you are incapable. That belief will get in the way of any answer I give. That belief will prevent you from seeing answers staring you in the face.
You have defeated yourself before you've begun.
You won't bother to learn, because deep down you don't believe that you can.
And trust me, you can.
Attitude matters
Here's a not-so-secret secret: it's likely only your attitude stopping you from making progress. It's your fundamental assumption of failure causing most of what you try to fail. If those beliefs weren't in the way, I believe your experience with technology would be significantly more positive.
I'm not saying changing those beliefs will fix the problems you encounter, but I'm absolutely convinced an attitude of "I can" will result in making more progress on your own and ultimately experiencing fewer problems and frustrations.
Computers can be damned complicated, and yes, they are often very frustrating, but that's not your fault.
When problems arise, I see person after person giving up and putting the blame on themselves. Negative self-talk is guaranteed to make things worse.
Unfortunately, our fast-paced society has set some high standards: if you don't "get" this stuff instantly, you must be stupid. That couldn't be more wrong, particularly when it comes to computers.
Stepping back and taking a little time to calmly, patiently understand what's happening, how things work, and how things interrelate is a worthwhile investment. Spending some time understanding basic concepts can save you hours of frustration later on. It's one of the reasons I rarely give "just the answer" without a little gentle education as to why something is the way it is. That little bit of knowledge might help you figure out similar situations on your own with less frustration in the future.
The age thing
Right up there with "I'm dumb" is "I'm too old."
Bull.
Seriously, there's nothing standing in your way but your own attitude.1
Some of the most rewarding comments I get are from seniors who've resolved an issue and have gotten themselves online, perhaps enabling a new level of communication between generations.
One of the saddest thoughts are all of those out there who think they're "too old" or "too dumb when it comes to computers" who could have been doing the same if not for that attitude in the way.
Please, don't let that be you.
So if I'm not dumb, what am I?
Language matters a lot. Self-talk matters. I desperately want you to stop using words like "dumb" or "stupid" or "too old" when referring to yourself.
But I also get that you're trying to give me a sense of your experience or knowledge when it comes to computers. OK, so use terms that reflect that.
"I'm not very knowledgeable…" and "I don't know a lot about…" are great ways to express a sense of ignorance (a term simply meaning "lack of knowledge") when it comes to technology.
"I've never used computers much…", "I don't have a lot of experience with…", and "I'm new to…" are good ways to point out you don't have a lot of hands-on experience with the topic.
"Computers frustrate me…", "I have trouble understanding….", and "This doesn't make sense to me…" are ways to narrow down exactly what you're having troubles with. Sometimes, it's how the information is presented, rather than the information itself, that is your stumbling block.
All of those approaches give the additional context you feel is helpful without demeaning your own abilities.
Be willing and able
For any of those statements, consider adding the phrase "… but I'm willing and able to learn," even if only in your own mind.
THAT is the attitude that will help you cope, help you grow, and ultimately, help you deal with whatever frustrating and complex issue you face.
That is the attitude that will help me — and others like me — help you.
Podcast audio

Download (right-click, Save-As) (Duration: 8:21 — 9.5MB)
Subscribe: RSS