What to do when large attachments become a problem.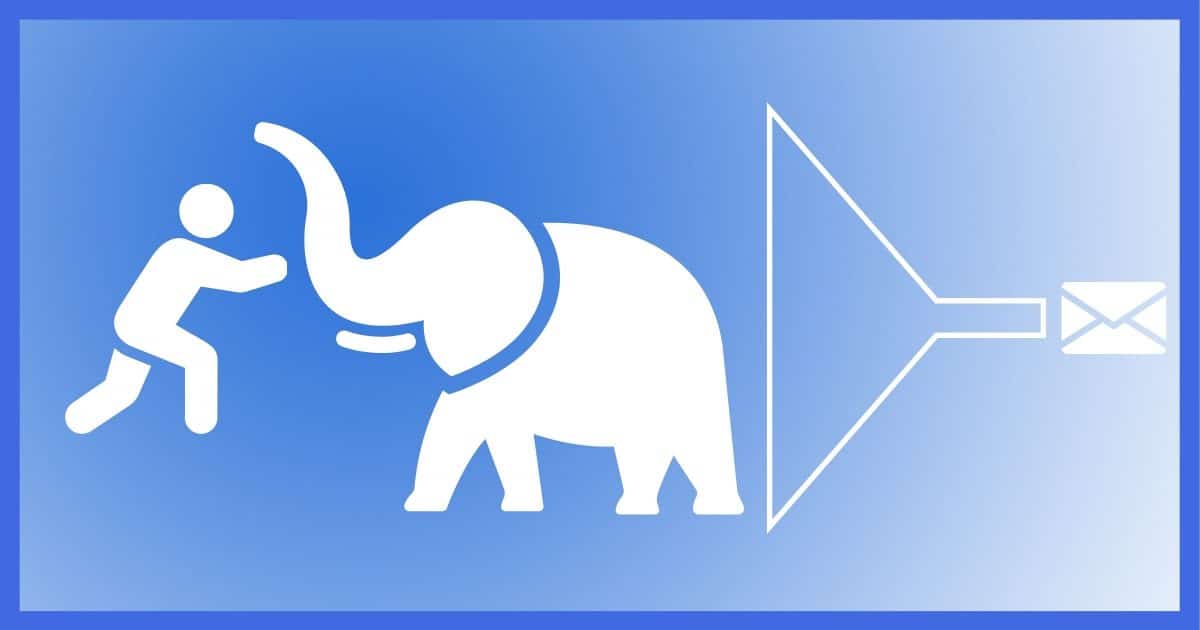 Emailing large attachments is typically a bad idea, as your mail may not be delivered. I'll look at alternatives.
OK, I get that using email to send large files has lots of problems, the biggest being that my ISP says my file's too big for email. So how am I supposed to do it? I have a large file that I need to send to someone; if I shouldn't use email, what can I do?
Email has the convenience factor nailed: add an attachment, press Send, and off it goes. Unfortunately, emails including large files (or several files that add up to be "large" in total) can be blocked, slow, or may simply never make it to their destination at all.
When it comes to large files, we need to look at things a little differently.
Emailing large files
Exactly what is a "large" email varies depending on your email provider, but most have size limits on what you can send. By far the best alternative is to place the file in a cloud service like Dropbox, OneDrive, Google Drive, or others, and then include a link to the file in your email.
What's "large"?
There's no real definition of what it means for a file to be large. Different email services have different definitions of what they allow or disallow. For example:
It's important to note that this is not the size of an attachment, but rather the size of the entire email, including its body and all attachments. If you have several smaller attachments that add up to something over the limit, the result is defined as large.
In addition, the size of an attached file isn't the size used in the calculation. Because of the way email encodes attachments, the result is approximately 20-40% bigger than the original. Thus if you have a nine-megabyte file, you may find that it adds 12 megabytes to the size of your email message.
Large files were never part of the plan
In "How to Get Email with Attachments Delivered," I discussed some of the many problems with emailing large attachments.
We think of email as point-to-point: we send, they receive. In reality, that's not how it works at all. There are several intermediaries responsible for getting messages from point A to point B. An email message can travel across many servers and machines along the way. It's not something we have control over, and it contributes to the reason large emails are frowned upon, and occasionally even prohibited, by most email providers.
Email was never really meant as a way to transfer large files. The ability to attach files is a convenience, but the way email works just doesn't make it an efficient way to move large files.
The alternative is very simple: upload the file somewhere and send a link.
Emailing large files
Say I have a file, InternetSafety-v5-Free.pdf, that's somewhat large, and I want to email it to you. Your first reaction would simply be to attach that file to an email and hit Send.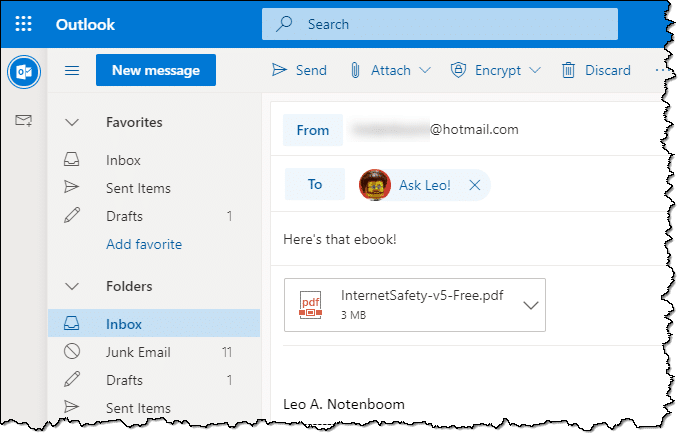 In this example, my "large" file isn't that large — only three megabytes — and Outlook.com will happily send that message.
If the file is larger, or there are more files making the message too big, the send will fail.
A different approach is to upload the document to a location accessible on the web, and then send a link: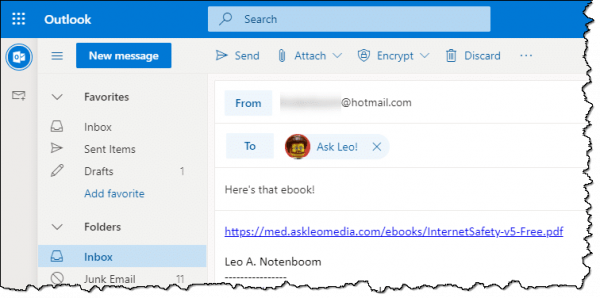 That link is around 50 characters long. Most importantly, it's much smaller than actually including the document itself, not likely to trip any attachment-related filters, and works with any email service or program.
All your recipient needs to do is click on the link to download the file. Even better, they get to choose whether to download it at all. (This can be very much appreciated on slow or metered connections.)
Upload where?
I know the next question: "You have your own website. Where and how do I upload to someplace on the internet people can see?"
There are many possibilities. One of the easiest is Dropbox.
Install Dropbox on your computer (as opposed to simply using it from your web browser). Next, in Windows Explorer, copy the file to be shared into a folder within Dropbox. Right-click that file and click the Dropbox "copy link" item: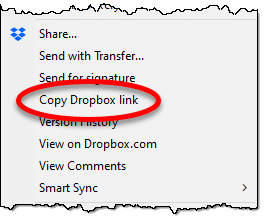 Dropbox places a link in your clipboard: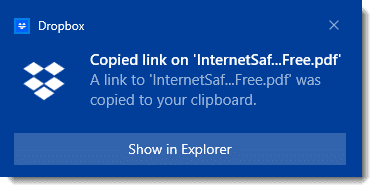 As part of Dropbox's normal operation — before you even asked for the link — the file was uploaded to the Dropbox servers. The resulting link is valid anywhere that Dropbox can be reached on the internet. It'll look something like this:
https://www.dropbox.com/s/ehp50rytl10yrvc/InternetSafety-v5-Free.pdf?dl=0
Note that if you remove the file from your Dropbox folder, it will be removed from the Dropbox servers, and the link will no longer work. That means it's important to leave the file in your folder until it's no longer needed elsewhere.
On the other hand, if you update or alter the file in your Dropbox folder, the server copy will be updated as well, and the link will point to your updated copy.
Just remember to give the upload process enough time to actually upload the file from your machine before sharing the link with someone. Depending on the speed of your internet connection and the size of the file, this could take some time.
OneDrive has the same feature. Right-click on the file in your OneDrive folder, click on Share, and you'll be presented with a dialog presenting some additional options.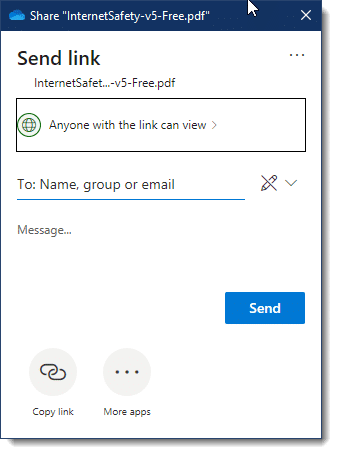 Make sure it says "Anyone with the link can view" (click the right-pointing arrow next to it if it says "edit" to make the change), and then click Copy link. The result will be similar to this:
https://1drv.ms/b/s!AgsM3hkLexJ-ibEzgeKbzzmHril3TQ?e=zakE1K
Not to be left out, Google Drive has the same feature as well. Right-click on the file in your Google Drive folder for a context menu: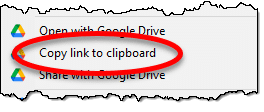 The result will be something like:
https://drive.google.com/file/d/120MxML9ifuQId1eKJc8WdDQHq1iztx9c/view?usp=sharing
Much like OneDrive, clicking the "Share with Google Drive" option instead will expose more options.
Other file-sharing and synchronization services may have similar features.
Other alternative upload locations
If services like Dropbox, OneDrive, or Google Drive aren't your thing, there are more alternatives.
You may have some web space courtesy of your ISP. Check with them to see how to access it and how big it is. It's typically perfect for exactly what I described above, regardless of what types of files you're passing around.
If you're primarily sharing pictures, use a free photo-sharing site like Google Photos, Flickr, or any of a number of other alternatives.
If you're primarily sharing videos, use YouTube. If you're concerned about privacy, you can choose with whom to share your videos.
If you're primarily sharing Word, Excel, and PowerPoint documents, consider using the services above anyway. Not only can you import/upload existing documents, but you can edit and collaborate in real time with others.
If you have your own website, you already have a place to upload files, just as I did in my first example. There's no need for them to be visible on the site; you can just upload and provide people a link.
If you're still bent on using email, search for "send large email" or similar terms. You'll find that there are many services that specialize in this area. If you look closely, though, you may find many, if not most, operate exactly like the file-sharing services mentioned above: separately upload to some repository and then include a link (not an attachment) in your email.
With so many alternatives to using attachments (and so many problems if you do), it seems there's little reason to continue. With a little bit of research and education, you can send smaller, faster emails that get to the people you intend more reliably. Then they can easily access those nifty photos, videos, documents, or other files you've been trying to get to them.
Podcast audio

Download (right-click, Save-As) (Duration: 11:16 — 13.1MB)
Subscribe: RSS