No.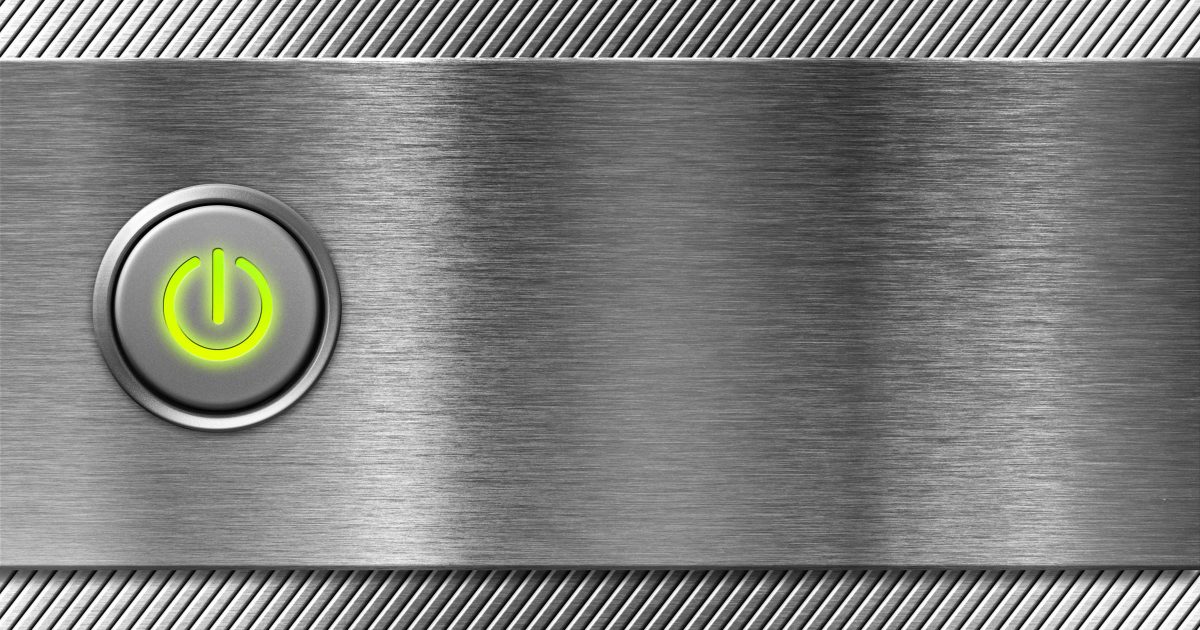 Using your computer's power button improperly or pulling the plug can lead to serious data loss. I'll look at the right way to turn your computer off.
I have been having problems with the power button on my computer turning itself on and off. I have stopped shutting down my computer because I have difficulty turning it back on. I just restart it every morning, but I really don't like leaving the computer on all the time. If I were to cut the power to the computer and then plug it back in the next morning, would I need to use the on/off button and would I be damaging anything?
You risk data loss, and in the worst case, you might damage your computer.
By pulling the plug or forcing a power-off by holding down the power button, you risk corrupting data on your hard drive and damaging the hardware. Hardware damage is rare, but data loss? Well, that depends on what your computer was doing at the time.
I'm not sure what kinds of problems you're having with the power button, but even that needs to be used correctly, or you could end up with the very problems you're seeing.

Can't I Just Unplug My Computer?
Shutting down your computer is a process that takes time. It should be allowed to happen, or you risk data loss and/or hardware problems. Using the Start button to begin the process of shutting down is the correct way to turn off your computer. In some cases, the power button — pushed briefly — can also start the shutdown process. If pulling the plug or holding the power button down for a long time is the only way to turn off your computer, something is wrong and should be fixed.
Use Start to stop
One of the earliest jokes about Windows was the fact that you use the Start menu to stop the computer.
But it's no joke.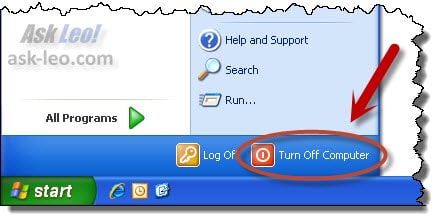 Even though we still refer to it as the "Start" button, Microsoft changed it to have a more generic look after XP. Even so, in Windows 10, if you expand the left-most column of icons in the Start menu (by clicking on the hamburger icon at the top), the familiar word reappears.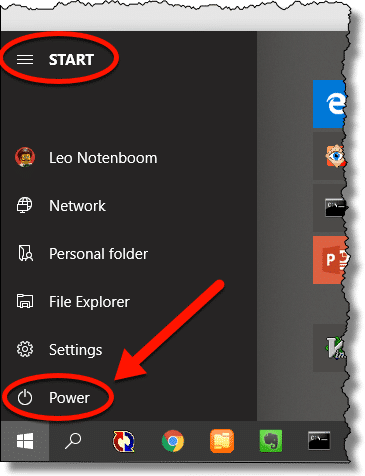 Turning off or shutting down a computer is not at all like turning off a light bulb or even a moderately complex piece of electronics.
Turning off a computer is a process. You start the shutdown process using the Start button. If you remember nothing else from this article, let it be that.
The process of shutting down
What happens between clicking on Shut Down and the power going off?
The short answer is a lot of geeky magic. In fact, a lot of important geeky magic.
Programs are closed, files are saved, information that was kept in memory is written to disk, hardware is turned off in the proper sequence, and more. A lot of important bookkeeping and clean-up work happens as part of the process of shutting down …
… important bookkeeping and cleanup work you want to have happen.
Sometimes the power button is OK
Here's where it gets confusing: sometimes it's OK to use the power button.
On most systems, pressing the power button briefly is more or less equivalent to using the Start menu to shut down your computer.
What's important is that you hold it down no longer than one second. If you're holding it down longer, you're doing something else, which I'll talk about next.
But if you press the power button briefly and see the system begin its process of shutting down, then things are working correctly.
One caveat: the power button may shut down your computer properly, or it may put it into hibernate or sleep. Check the power button settings in the Control Panel to adjust that setting.
Finally, if it shuts down immediately — in the blink of an eye — don't do that again. That's the same as pulling the plug, which is bad.
When it's NOT OK (but you may have to anyway)
If you hold the power button down for five or 10 seconds until the computer turns off, this is not OK.
It's the same as pulling the power plug.
It completely bypasses the process of shutting down, and can result in serious problems. If you shut down your computer this way regularly, stop it because you are almost begging your computer to corrupt the data stored on its hard drive.
The long-hold power-off functionality present in most computers is actually implemented in hardware, and is meant only as a last resort.
If you find this is the only way you can turn off your computer, something is wrong. The Start menu approach should always work. If it does not — if, for example, your computer never shuts down — that's a problem to resolve rather than risk data loss every time you force your computer to turn off.
Why unplugging a running computer is bad
When you unplug your desktop computer, remove the battery and power cord from your laptop, or long-hold the power button to force a computer to stop, you're taking action outside of the operating system's control. I was tempted to say "outside of Windows' control", but this applies no matter what operating system you're running.
Even when you're doing nothing with your computer, it's always doing something. In fact, it's often doing quite a lot.
Files are open, programs are running, the disk may be being accessed, and more. It's almost impossible to predict exactly what is running.
Therein lies the problem.
Let's say a program is updating something on disk. It doesn't have to be something you're doing; it could be a program like your anti-malware tools, system indexing tools, or something else running on your machine. If you suddenly remove the power in the middle of that operation, any of the following may happen:
Nothing. You got lucky and the writing actually completed because it's so darned fast. This is probably the most common case, but it leads to a false sense of safety.
The file that was being written is incomplete. Depending on the program writing the file, this can be completely benign, or show up as a major problem the next time that program tries to access that file.
The file system directory entry that locates that file on disk could be incorrectly or only partially updated, if that's what the computer was writing when you pulled the plug. This can be benign, but in the extreme case, it can render the file system corrupt and you can lose not only the file that was being written, but many other files on the disk. This is bad — very bad.
The disk drive could be interrupted in the middle of writing a sector of information to the hard disk media. That could result in CRC errors for that sector and nearby information in other files. This may require a CHKDSK /R to repair, or, in the worst case, more advanced disk recovery and maintenance. Fortunately, with modern drives, this is rare.
Hopefully, by now you get the idea: just pulling the plug or forcing a shutdown is a really bad idea, and should be used only as a last resort immediately prior to resolving the underlying problem that required it.
Podcast audio

Download (right-click, Save-As) (Duration: 6:54 — 8.1MB)
Subscribe: RSS