Question: Among the very first few things I did when our family first got our most recent computer was to disable remote access entirely. I no longer remember how I managed to do this, but that's just as well because I wouldn't even dream of re-enabling it!
That's a comment I received from a reader relating to the pernicious "tech support scam" where scammers call you, say they've detected problems originating from your computer, and offer to fix it for you — perhaps even for free — if you just give them access to your computer.
Disabling remote access in Windows does not disable this kind of remote access.
I'll review the setting in Windows and compare it to the types of remote access more commonly used by scammers.
And, of course, I'll review what you need to do to stay safe. There's a good chance it's something you're doing already.
Windows Remote Desktop allows remote access to your computer, most easily from a machine on your local network, without anyone needing to be at the machine.
Windows Remote Assistance allows you to give helpers access to your computer.
Many other remote access tools exist, but are unaffected by Windows remote settings.
Skepticism is the most important protection.
Windows Remote Desktop
As outlined in "What's the Difference Between Remote Desktop and Remote Assistance?", Windows Home editions don't support being accessed remotely by Remote Desktop.
In other editions of Windows 10, search for "remote access" or "remote desktop settings", and click on the latter when it appears1.
Remote desktop allows you to use your computer as if you were sitting in front of it, by connecting to it from another, remote, machine. It works most seamlessly on local area networks, so if you have multiple machines behind a single router, it can be a useful tool.
In general, if it's not something you know you need, leave it off. Either way — on or off — it's unrelated to the scams we hear about. Scammers generally don't use Remote Desktop.
Windows Remote Assistance
In all editions of Windows 10, search for "Remote Assistance" and click on "Allow Remote Assistance invitations to be sent from this computer".2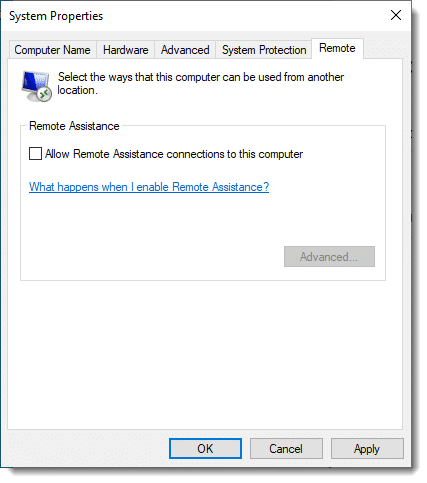 Remote Assistance is similar to Remote Desktop in that it allows someone else to access and control your computer. You must initiate the remote assistance session, and you can watch and interact with whatever the other person is doing.
I generally recommend you leave this option off unless you're about to initiate a remote assistance setting.
Or leave it on. Once again, this is rarely a tool used by scammers.
Remote Access using other tools
There are a myriad of other tools out there available to access computers remotely. I happen to be partial to Google's Chrome Remote Desktop3, but tools like LogMeIn, GoToMeeting, and other GoTo products are all valid and useful tools to access someone's computer remotely.
To be extra clear, the tools themselves are not scams or malicious in any way. Like most tools, though, they can be used for good or evil.
The bad news is that none of them are affected by the Remote Desktop or Remote Assistance settings I just described. They can be used regardless of how those settings are set.
The good news is that these tools don't initiate themselves; like Remote Assistance, you have to take steps to allow someone into your machine.
And this is exactly what scammers try to get you to do.
Once in, assume you're compromised
If, for some reason, you've allowed access to your computer to someone you later find out has malicious intent, or  you just  don't trust, you can only assume that your computer has been compromised.
What does that mean? Perhaps most importantly, it means my statement above — "these tools don't initiate themselves" — could now be false or beside the point. Once someone with malicious intent has accessed your machine, they could install or otherwise enable tools to allow them remote access at any time, without you needing to do a thing.
At that point, you can only treat your machine as fundamentally untrustworthy due to malware.
The solution is simple
As I said, you need to take steps to allow someone onto your machine. Most tech support scams will be very insistent that you need to take action — action that will allow them access.
Don't do that.
Be skeptical4. Don't trust people you don't know, especially people who call you out of the blue.
Use remote access as you see fit — it's an incredibly handy tool — but only use it with people you know and trust. You're giving them complete and total access to your computer.
That's not something to give to just anyone.
Podcast audio

Download (right-click, Save-As) (Duration: 5:28 — 2.6MB)
Subscribe: RSS
Footnotes & References
1: In older versions of Windows, right-click on "My Computer", "Computer", or "This PC", and click on Properties. In the resulting dialog, click on "Remote settings" or the "Remote" tab to access these settings.
2: In older versions of Windows, follow the instructions in the previous footnote.
3: I'm using it right now, as a matter of fact.
4: Since you've been reading Ask Leo! regularly, you probably already are. But for everyone else…