If you're like me you've had your Hotmail email address for years. I've had mine for 15 years now.
Many people who have had their Hotmail addresses for a long time find that they're getting a lot of unwanted email in the form of spam, marketing messages from companies that they once did business with, or even messages from individuals that they no longer wish to receive.
The common reaction is to want to change your email address or close your account.
The problem is that there really hasn't been and isn't such a thing as "change" when it comes to an email address. You could create a new email address, but that typically creates a new email account. That means everything associated with the old account is lost in the transition: email and contacts as well as additional services like calendars, cloud storage and other items associated with the account. Everything remains in the old account, but the new account – and email address – is starting over with a clean, and empty, slate.
When Hotmail transitioned to Outlook.com as its interface it also added the concept of "aliases", which solves many of these problems.
Not a change, but an addition
An alias is nothing more than another email address that is part of the same account.
So let's say I have an email account askleoexample@hotmail.com1. For whatever reason I've decided I don't want to use it any more, but I also don't want to lose all of the email and contacts and services that I currently have associated with this account.
I create an alias email address: askleoalias@outlook.com.
All email sent to that alias email address is delivered to the same account – possibly even the same inbox – as my original askleoexample@hotmail.com address.
I can tell Outlook.com to use this new alias as the default when sending email as well, making it look like I've changed my email address even though I log in to the same place with the same account to access it all.
Let's set one up so you can see what I mean.
Creating an alias
Naturally, you must be able to log in to your account in order to be able to create an alias for it. This is not a technique that can be used to help you recover anything.
Click on the gear icon in the upper right, and then click on Options.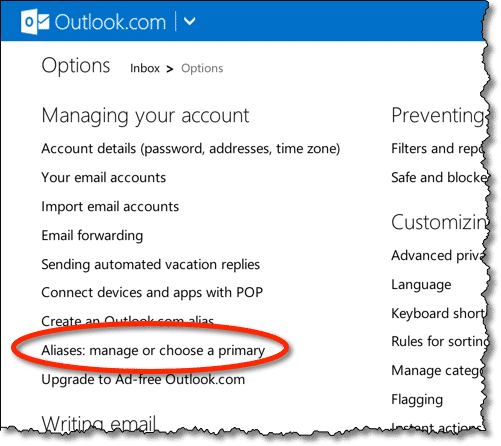 On the resulting screen click on Aliases: manage or choose a primary.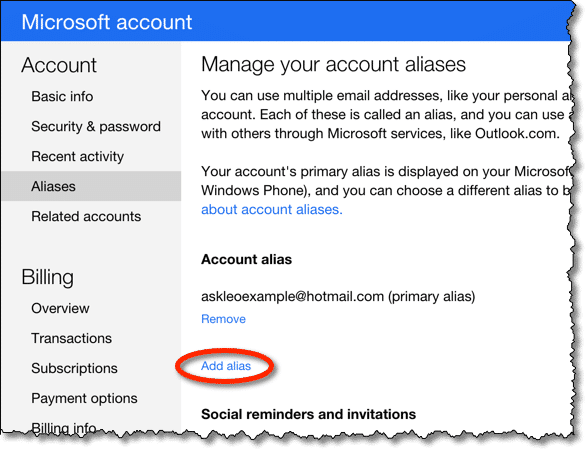 Assuming you have no aliases already, you'll see something similar to the example above: the only alias is your existing email address.
Click on Add alias.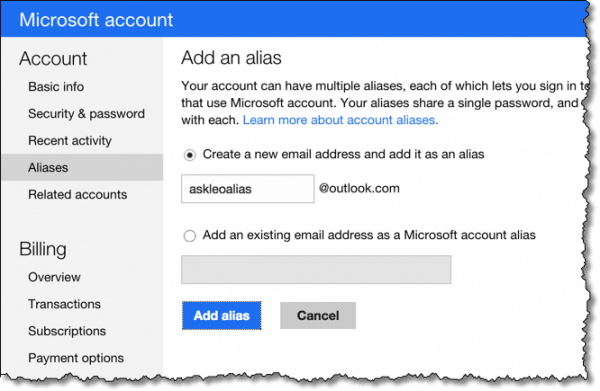 You're given the option to create a new outlook.com email address to be an alias to your account. As you can see I've typed in "askleoalias" so that "askleoalias@outlook.com" will become a valid email address. Click on Add alias.
At this point you may be told that the email address you're attempting to create is already in use by someone else. Like any email address on free services, it's first come first serve. If you run into that problem, keep trying different email addresses that would work for you until you find one that isn't already taken.
Fortunately "askleoalias" was not yet taken. :-)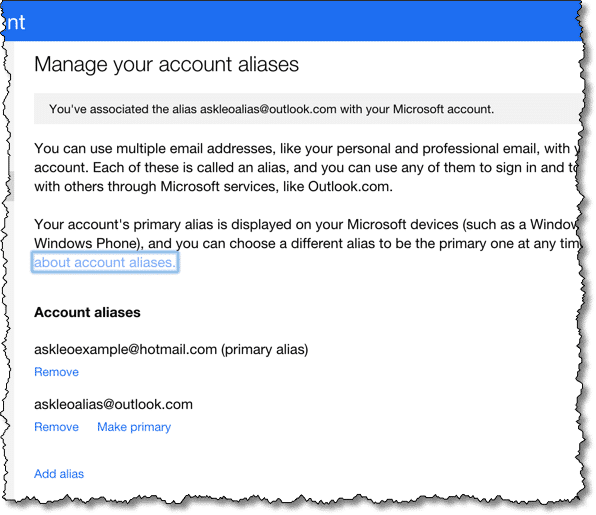 And Microsoft sends a confirmation email: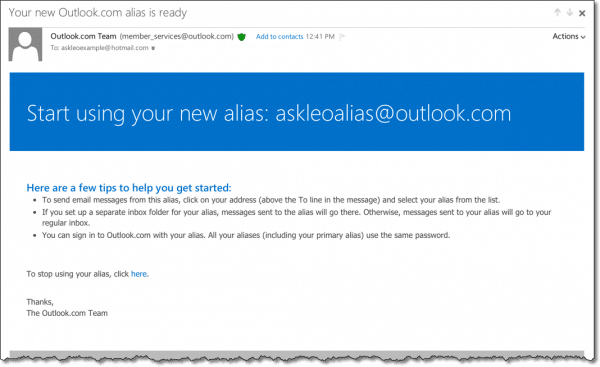 My account now has two email addresses that will reach it: askleoexample@hotmail.com and askleoalias@outlook.com
Making the switch
So far all we've done is added the alias to the account. Email sent to that alias will show up in the Outlook.com inbox, but that's about it.
If we really want to make the switch to using the new alias day-to-day, then we need to make it the "primary" alias.
In the account aliases list that was presented after we created the new alias, click on the Make primary link for the new alias.

Uncheck the opportunity to get more email from Microsoft, and then click on Yes.
The alias is now the primary email address associated with your account. (It may take up to 48 hours for everything to finish changing across all Microsoft services.)
What did not happen
Your old email address still works. Your old email address was not affected by this at all.
People can email you at your old email address, and they can email you at your new email address. All the email will appear in your inbox.
In fact you can log in to your account using either email address, and you can send email from either account. When you compose a new message, click on the little down-arrow next to your email address: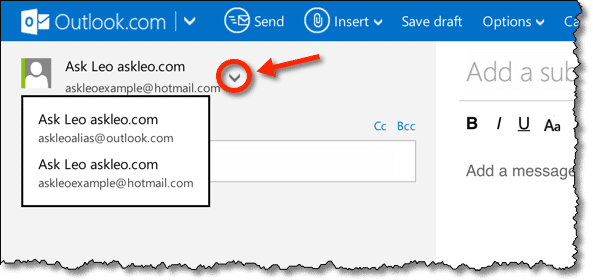 You'll be able to choose which alias should be used to send this email, meaning which alias will appear in the "From:" line.
Removing the old alias: don't
You may have noticed that when we set the new alias as the primary, we actually have the option of removing the old email address:

Now, on the surface it seems like you can complete an actual and complete change of email address by now clicking that Remove link.
I strongly recommend you not do that.
Once you do that, you lose all control over that email address. Legitimate people trying to reach you will be unable to. You may not be able to get it back. Worse, eventually someone else may be able to create an email account or alias with your old email address.
If email to that address is the problem that you're attempting to solve, I recommend that you instead:
Create a folder into which you want email to that email address to go.
Create a Rule (gear icon, and then Manage rules) to automatically move all email sent to that email address into the folder you've just created and never leave it in the inbox for you to see.
Every so often check that folder for activity that you might actually want to see. Or ignore it completely.
Don't give up control of your old email address. I've seen too many people run into unintended and unanticipated consequences when they manage to completely release an email address.