Could be a problem, could be legit.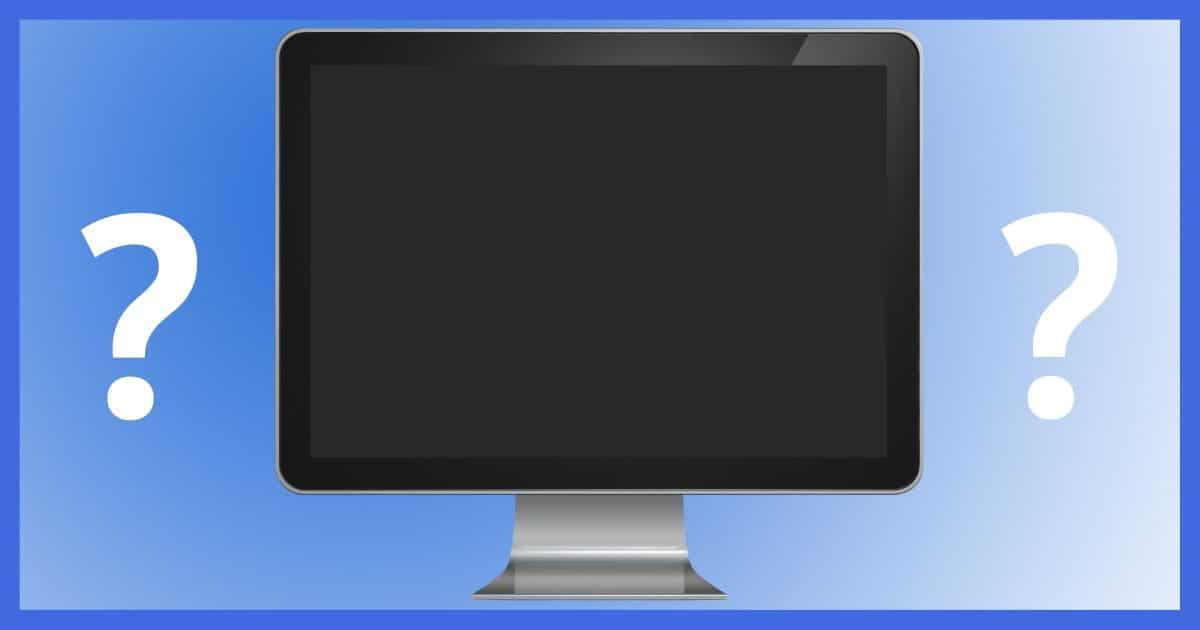 A black screen is most commonly caused by a screen saver, but there are other possibilities.
Question: My computer switches to a black screen after about 5 to 15 minutes of use. Then I have to turn it off to get another 5 to 15 minutes of use. Can you tell me what part of my computer is causing this blackout?
This is difficult to diagnose on its own, and thus difficult for me to offer a concrete solution.
There are many possibilities that could lead to this symptom. There's simply no single "part of my computer" to point at.
There are many things to look at and look for, so I'll review the most common causes and remedies.
Computer black screens
Most commonly, black screens indicate that the computer has crashed, perhaps because of overheating or other hardware-related failures. Malware is a possibility as well, though not as common. It's possible that only the monitor or display portion of your computer is having a problem, so trying another (possibly external) monitor is a quick way to diagnose. And, of course, it could be expected behavior in the form of a screen saver or standby or hibernate modes.
Most common: overheating
Most often, a suddenly black screen accompanied by what appears to be a completely unresponsive computer is a symptom your computer has crashed.
And the most common cause of crashes is overheating.
Your computer needs good ventilation to avoid overheating. Make certain the ventilation holes aren't blocked by dust or other debris.
Occasionally, a poorly designed computer can overheat even if there are no obstructions. Most often this is because the CPU is being used too heavily for too long. This can be due to malware, which I'll discuss in a moment, or it can be due to running a CPU-intensive program or game continuously for a long time. If the latter is the case, you may need to take steps to provide extra ventilation or cool the air flowing around or through your computer.
Hardware-related failures
Hardware does fail. One of the early signs of impending failure is a periodic crash such as you describe.
Given that it's consistently happening 5 to 15 minutes after booting up, after looking at possible overheating issues I'd probably suspect the power supply next.
Just about any hardware component on your computer can cause a crash if it's starting to fail. Usually, it takes a technician looking at the machine in person to diagnose imminent hardware failure.
In addition, drivers related to the hardware can also come into play. If you've recently updated drivers for a component, it's possible that the new drivers brought a problem with them in the form of a bug.
The next step would be to notice any correlation between the time the problem started and any software updates on your machine, particularly drivers related to the hardware.
Malware
Malware remains a possibility, though not to the same degree as it has in the past.
To begin with, most malware isn't really interested in intentionally crashing your computer. However, as you might imagine, malware doesn't have quite the quality-assurance process that most commercial software has, so it's possible that buggy malware could cause problems.
The reason malware is less likely is that unlike hardware drivers, it simply doesn't operate at the same level needed to cause an instant and total crash. Malware-related crashes are usually limited to a single program, some specific functionality that stops working, or, in the most common worst-case scenario, the "blue screen of death."
But it remains something to stay on top of via a complete and up-to-date anti-malware scan.
Perhaps not the computer, but the display
One more common "black screen" failure mode is that the computer's display has stopped working while the computer itself is still running properly.
One simple way to determine if this is what's happening is to play some audio on your computer. Load up a longish mp3 playlist or streaming audio station and let it play. If the monitor goes black but the music continues to play, you know that the computer is still running, and the problem is more likely the video card, video drivers, monitor, or the cables connecting the monitor to the computer.
If that's what appears to be happening, then:
Check the connecting cable, making sure the connections at both ends are snug.
Borrow a replacement monitor to see if it resolves the problem (you would hook it up as an external monitor if this is a laptop we're talking about).
You can also try updating the video drivers.
Unfortunately, diagnosing the video card itself can be difficult, and once again is something best left to hardware technicians.
It could be expected and normal behavior
It's probably obvious to you already, but I'll say it anyway: it could just be a screen saver. If you wiggle the mouse or hit a key on the keyboard and your screen comes back, that's it. You can adjust screen-saver behavior in the Settings app.
If you have a laptop, it's possible the computer has gone into standby or hibernate mode. If you simply push the power button and it comes back to where you were after a few seconds, that's probably it. Normally a computer should only go into standby if you're not actively using it, but if your battery is very low, it may force standby in order to avoid losing your work in progress. Usually, there's a message that tells you when this happens.
As you can see, it's not a simple process to diagnose. Some steps, like trying another monitor or cable, are pretty easy to take yourself. But if you're not comfortable diagnosing system crashes or hardware problems like potential overheating, it might be time to take the computer to a local technician for a hands-on diagnosis.
Podcast audio

Download (right-click, Save-As) (Duration: 4:39 — 5.0MB)
Subscribe: RSS