My system will only boot correctly if I enable VGA mode. On a regular boot the OEM logo comes up, then the Windows logo, but after that I only get a black screen.
Windows tries to set the display to its configured settings right after displaying the Windows logo, and just before displaying the login screen or desktop.
Nine times out of ten if that's when your display stops, it's simply because your display settings are set to something that your monitor can't handle. Depending on what it's not supporting, some monitors respond by going black … others just go "crazy" displaying unintelligible gibberish.
If that's the problem, it's fairly easy to fix.
First things first … let's get you a bootable system.
Boot in safe mode – press F8 when the Windows loader presents you with the 30 second list of choices, and then select "Safe Mode" as your boot option.
Right click on the desktop and click Properties, and then on the Settings tab.
Now click and drag the Screen Resolution slider to the far left … you want the smallest settings that your screen will support. Typically that'll be 640×480, or 800×600.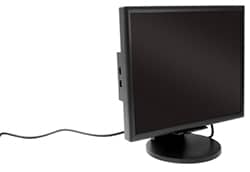 Also change the Color Quality dropdown to 256 colors, or whatever is lowest. (You probably don't need to go as low as 16 colors, if that's presented as an option.)
Now, click on the Advanced button, and then the Monitor tab of the resulting dialog box. Change the Screen refresh rate to 60 Hertz.
OK your way back out, and reboot your machine. If these setting were the source of the problem, it should now be able to boot normally. You may not like the screen settings, but at least you now have a place to start.
"

Start experimenting with the settings to see what does, and does not, work with your monitor.

If the display is still blank or gibberish, the my recommendation is to once again boot into Safe Mode, possibly Safe Mode with networking, and update your video display drivers. It's likely that they are incorrect or otherwise broken.
A place to start … start what? Start experimenting with the settings to see what does, and does not, work with your monitor.
I tend to start with the screen resolution. Once again right click on the desktop and click Properties, then Settings, and then drag the Screen Resolution slider a notch or two to the right to increase your display resolution. Now click Apply. It should change the resolution and display a small message box asking if you want to accept this setting. If you don't respond within some time, it assumes you can't see it, so it resets to the previous setting. The lesson here? If the screen goes blank or you can't read it, wait at least one minute before doing anything. The problem may resolve itself, and you'll be able to say "well, that resolution doesn't work", and move on to try another.
If, after a full minute or more the screen remains blank or unreadable, you'll have to reboot into safe mode, as we did originally, to restore your setting. (Why might this happen? Windows "remembers" and doesn't bother to ask you if you reset to something that you previously said worked. If you mistakenly said "this works" when it didn't … perhaps by random keyboarding while the display was blank … well, that could be how we got here in the first place.)
You can repeat this process of trial and error for each of the screen resolution, the color depth and the screen refresh rate. (For CRT displays, you really do want the refresh rate to be as high as your monitor supports.)