The most common cause and a plan of attack.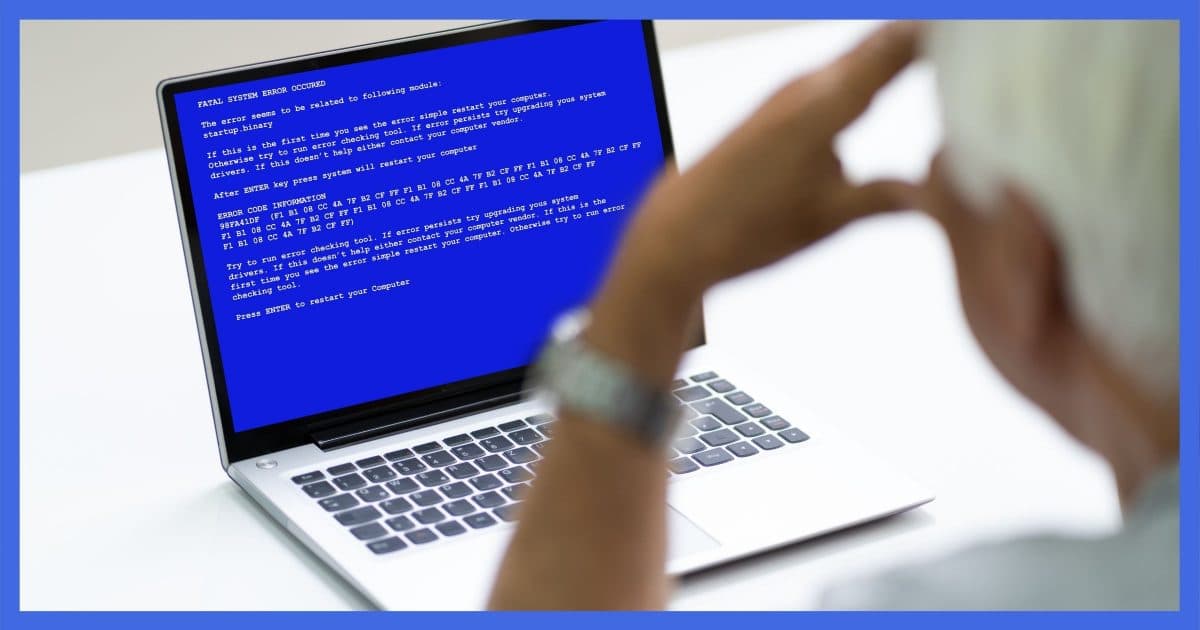 Random crashes are annoying and difficult to diagnose. I'll review common causes and steps you can take to determine what's happening on your computer.
My PC is not quite a year old yet but it recently started to crash, even while just running Word. Antivirus (both) check everything in order. What could possibly be the matter here?
By "crash", we mean things like random blue screens, black screens, reboots, freezing up, or shutting down, all without warning.
I find one cause to be the most common by far.
The most common cause of random crashes is an overheating computer caused by blocked airflow or a failing fan. Pay attention to how hard your computer is working at the time of a crash — high usage implies a heat problem. Other causes include hardware failure, including RAM or disks, and less commonly, malware.
Heat is the enemy
The most common cause of random crashes is an overheating computer.
The most common cause of an overheating computer is blocked airflow.
The most common cause of blocked airflow is an accumulation of dust and debris.
Fans in your computer blow air through its components to cool them down. Your computer's CPU, hard disk, and other components all generate heat — sometimes a lot of it. If the components become too hot, they can fail and cause a crash.
Particularly in laptops, it's easy to accidentally block the air vents allowing air to flow through the device. I recommend not putting a laptop on your lap — use a table or "laptop desk" to ensure proper airflow.
Desktop computers are more vulnerable to dust and pet hair, which can clog the vents. It's worth unplugging your computer and looking inside. Carefully clean it if you find a lot of dust and dirt.
After blocked air vents and dirt, the next most common cause of an overheating computer is a failed fan. Fans have become complex over the years. In an effort to reduce the noise, computer fans often operate at variable speeds, running quietly at a slow speed when things are relatively cool, and speeding up to move more air as the computer heats up.
Heat and your CPU
The temperature inside your computer can change depending on what you're doing.
The harder the computer's CPU works, the more heat it generates. That's why variable speed fans make sense — if your computer is idling, you probably don't need the fans running at full speed. On the other hand, if the CPU is working hard, the fans speed up to cool things back down as the internal temperature rises.
Listen to or watch your computer's fans as you use your computer. If they never turn on, there's almost certainly a problem with the fan or its control circuitry.
Your computer should be designed to handle the maximum heat its CPU can generate. Even if your CPU is at 100% usage, the fans should keep up. A machine crashing randomly the longer it is used or the harder its CPU is put to work is a warning that there's an overheating problem.
Check for overheating first.
After that, it gets more difficult.
Other causes
Malware is no longer a common cause of random crashes. These days, malware is more interested in keeping your machine running so it can do its malicious work. Certainly look for malware, but don't be surprised if you find none.
Failure is always an option. Hardware can fail. We think of hardware failure as being instant, total, and catastrophic, but various components can have intermittent, delayed, or random types of failure.
Next to the fan, failing RAM is the most common hardware-related cause of random crashes. Programs don't always get loaded into the exact same place in memory, which means you might sometimes access bad RAM, causing a crash immediately or afterwards.
Software is what people think of first, but the vast majority of software errors will not cause your computer to completely crash. More commonly, a program may crash or terminate unexpectedly, but Windows itself will keep running.
The exception is device drivers. A bug or other unexpected error in a driver could cause it to fail and crash the entire system. If you've recently added hardware involving new or additional drivers, or if a recent update included drivers, then it belongs on your list of suspects.
The hard disk (either HDD or SSD) deserves special mention. A disk with bad or damaged information affecting any of the software — including Windows itself, drivers, or your applications — might cause a crash. You'll usually get warning signs, such as significant disk slowdowns, or even "bad sector" or "CRC" errors before the crash.
Do this
Here's a plan of attack for a computer crashing randomly:
Make sure it has unrestricted airflow.
Make sure it's free of dirt and dust, and that the fans are working properly.
Run a CPU temperature monitoring tool. Speccy is a free tool that displays this and more.
Run a memory diagnostic, such as Memtest86.
Run a hard disk diagnostic as provided by your disk manufacturer, or run CHKDSK /R.
Make sure the operating system and device drivers are as up-to-date as possible.
Make sure your security software is running and up-to-date.
And as always, if the crashing started after a recent change, consider reverting to a system backup taken prior to the change to see if perhaps it was the reason.
Subscribe to Confident Computing! Less frustration and more confidence, solutions, answers, and tips in your inbox every week.
Podcast audio

Download (right-click, Save-As) (Duration: 8:00 — 8.9MB)
Subscribe: RSS