How do I back up the email I have hosted on Outlook.com? Contacts, too.
I hear about attempted account theft often. I hear about successful account hacks more often than I would like. I also hear about account loss for a variety of other reasons as well — again, more often than I would like.
Here's the problem: most people don't back up their online Outlook.com account. All their email is stored in exactly and only one place: in that account, stored online on Microsoft's servers. Remember: if it's only in one place, it's not backed up.
And when the online account is hacked or lost for any reason, all that email disappears, often forever.
Backing up your Outlook.com account — or any online email account, for that matter — is critical if you want to avoid the possibility of losing everything.
How to back up Outlook.com
The concept here is very simple: if your email is stored in one and only one place — Microsoft's servers — you need to take steps to make a copy in some other place.
The simplest way is to use your PC.
Using an email program that runs on your PC, downloads your email to your PC, and keeps that email on your PC, you'll create a second copy of your email. In fact, if you're backing up your PC regularly, as you should be, you'll be creating additional backups of the email that's been downloaded to it.
There are many different email programs that could be used.
I'll briefly review two: Windows Mail (included in Windows 10) and Thunderbird.
Windows Mail

Windows Mail — or just "Mail" in the Windows 10 interface — is currently the only desktop email program supported by Microsoft other than Outlook (not Outlook.com), which comes with Microsoft Office. It's included with every copy of Windows 10.
Particularly given Windows 10's near insistence that you sign in to Windows itself using your Microsoft account — typically your Outlook.com account — it's no surprise that setting up Mail to access your Microsoft account is pretty easy.
Click on the Mail icon in the taskbar, or the Mail tile in the Start menu.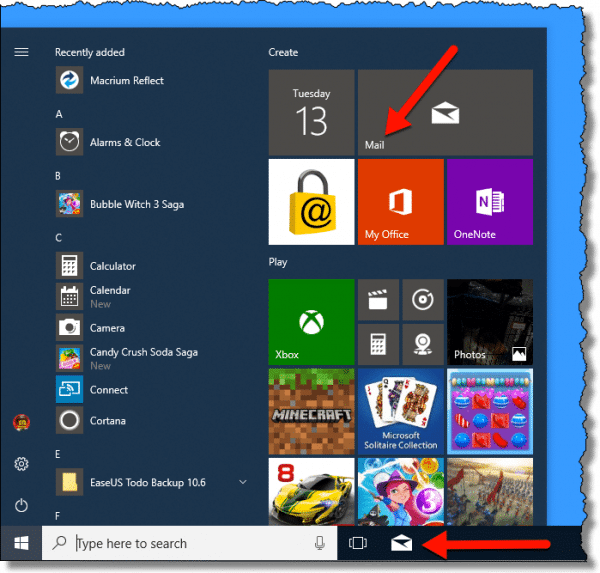 The program may automatically ask you to add an account, but if it does not, click on the Accounts menu item on the left (you may need to click the "hamburger icon" at the top left to fully expose the menu).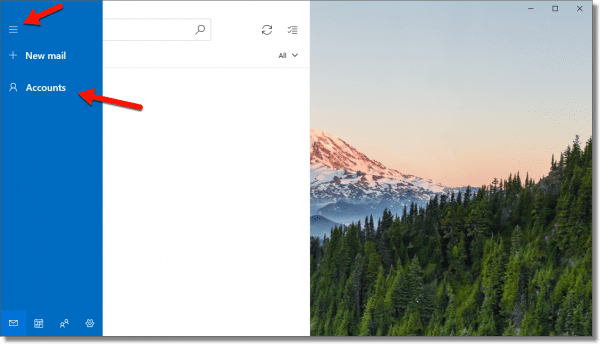 This will expose the Manage Accounts interface on the right. Click Add account.
This will open a 'Choose an account' dialog.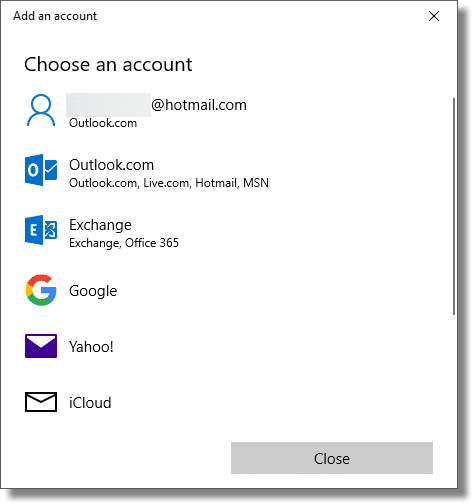 Notice that if you log in to Windows using a Microsoft account, that account may be listed at the top. Otherwise, or if you're adding an additional Outlook.com account to this program, click Outlook.com to enter the credentials for the account.1
Once you've done so, you're done!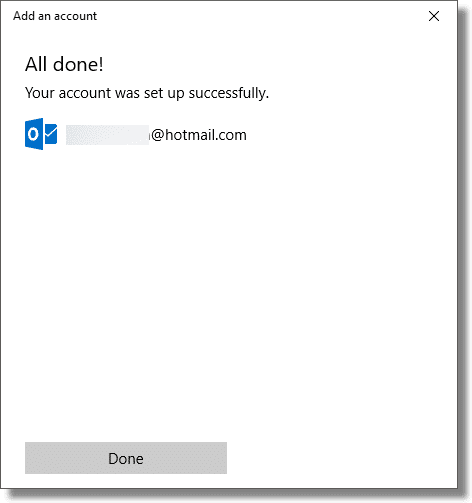 Where's my email?
Mail will begin downloading a copy of your email immediately. While it's not intended that you access the files directly, for the terminally curious, you'll find a collection of ".eml" (email) files somewhere in sub-folders of:
C:\Users\<username>\AppData
Note that "AppData" is a hidden folder.
I have to say "somewhere" because the folder structure is complex and appears to change from time to time as Windows 10 and the Mail app get updated. Think of this less as a specific definition of where the files are, and more of a general guide on where to start looking. While ".eml" files are a semi-standard email format, your contacts — automatically stored in the "People" app — are apparently in a proprietary format somewhere else within "AppData".
But as I said, you don't actually need to look, as it's all handled by the Mail app. All you need do is use that app from time to time. More on that in the "Backing up" section below.
Thunderbird
Thunderbird is a free, powerful, open-source email client. I prefer Thunderbird for a variety of reasons, but it can be a little more daunting to set up. My article Back Up Your Email Using Thunderbird has fairly complete step-by-step instructions for both email and contacts.
In a nutshell, the steps are:
Download and install Thunderbird.
Add an account, configuring it with your Outlook.com or Microsoft account credentials. Thunderbird's default settings, once it detects what kind of account you have, are generally sufficient.
View your email as Thunderbird downloads it.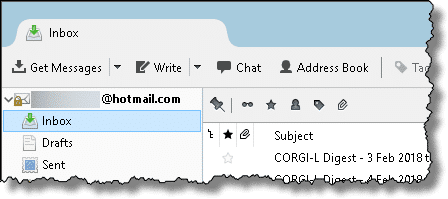 Where Thunderbird (and most other email programs) comes up short is with contacts. While Thunderbird has a perfectly fine contact management system, there's no automatic connection or synchronization with the contacts you have stored in your online Outlook.com account.
What this means is that in order to back up your Outlook.com contacts, you'll need to manually export them and save that exported file somewhere on your PC. Again, Back Up Your Email Using Thunderbird has an overview of the steps required to do so.
Caveat: Aside from a few rather obvious fields, such as name, email address, etc., there is no standardization of what is included with a "contact". That's one of the reasons there's no consistent synchronization between mail programs and online services. Additional information, like notes, pictures, and more detailed fields supported by one may not be recognized by another. Transferring contacts from one program or service to another almost always involves some frustrating amount of data loss. Since our goal here is backing up, then information should2 be preserved when restoring it to the same program.
Where's my email?
Thunderbird stores all of the information it saves into a profile. That profile is placed in a single folder on your machine and contains all of your email, contacts, account configuration, and more.
Generally, you'll find your profile folder in a somewhat randomly named subfolder in:
C:\Users\<username>\AppData\Roaming\Thunderbird\Profiles
You can find out more about Thunderbird profile storage locations in this support article.
Backing up
Now that you've connected a desktop email program to your online account, there's one very important final step you need to remember.
Run the program once in a while.
If the program is never run, it'll never download your email, and your email won't be backed up. If you run the program periodically — perhaps every week, as I do — and just let it run for a while, it'll also download all the updates since the last time it was run.
That's the bare minimum, as it creates a second copy of your email on your PC. Should the online account ever go away, you'll always have your local copy.
Even better, if you regularly back up your PC as I recommend, you'll have additional copies — backups — as part of that process.
Using your desktop email program
There's nothing wrong with using the desktop email program to access your email if you like. You might find it more responsive or feature-rich than the online Outlook.com interface. The connection we've made to download your email will also upload the email you send into your Sent mail folder online.
In fact, using your desktop email program is a good way to ensure that it's run "every so often", as described above, to make sure your email gets backed up.
Podcast audio

Download (right-click, Save-As) (Duration: 8:04 — 7.5MB)
Subscribe: RSS