Question: Windows 10 backup appears to offer two options: 'File History' and 'Backup and Restore (Windows 7)'. Since upgrading to Windows 10, I have continued to back up using the 'Backup and Restore (Windows 7)' option, mainly because I have set up it up to take a system image as well as copy user files, and it doesn't look as though that is offered with the 'File History' option. However the reference to Windows 7 bothers me – am I really backing up in an appropriate way for a Windows 10 system? I would appreciate your advice on this.
As I wrote in my initial reactions to Windows 10 backup, its options disappoint me.
In fact, built-in Windows backup continues a history of disappointment. Like Windows 7 and 8 before it, Windows 10 backup is at best only "acceptable", meaning it has enough functionality to be better than nothing at all. Sadly, even that represents an improvement over previous versions of Windows.
And, no, I don't consider "better than nothing" to be a ringing endorsement.
What I prefer
I strongly prefer that you use a more fully-featured backup tool like Macrium Reflect or EaseUS Todo.
While both have paid versions (Reflect, Todo), each also has a free version (Reflect free, Todo free). In my opinion, any of these versions are more robust, transparent, and reliable than Windows 10 backup.
As I'll cover in a moment, it is possible to use Windows 10 backup – I did say it was "acceptable", after all – but you'll have less control, and there'll be less transparency about exactly what's happening.
Windows 10 Backup
The backup function included in Windows 10 actually consists of two only slightly-related tools: File History and Image Backups.
Windows 10 Image Backups
Image backups are, in my opinion, the foundation of any backup strategy. An image backup, done properly, contains everything – system, settings, programs, files … everything – and, as a result, is the perfect safety net should anything go wrong.
So why does Windows 10 hide them? Buried in the File History Control Panel page is a link to System Image Backup.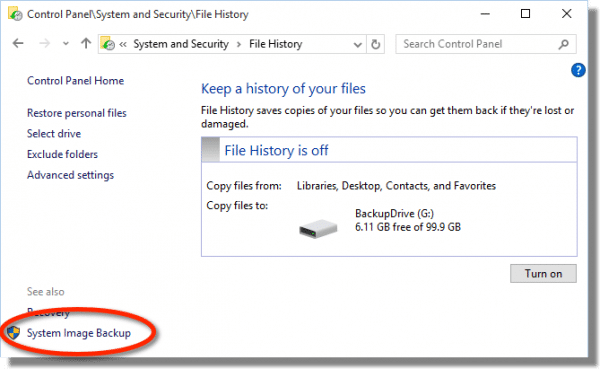 Use that, and you can create image backups. Unfortunately, the user interface to automate system image backups is hidden even deeper.
Windows 10 File History
File History is a good thing, and I encourage you to turn it on if you haven't already.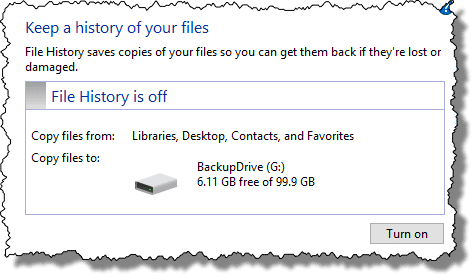 Some of your files will start getting backed up periodically.
Which files? Well, apparently any files you have stored in Windows Libraries (which typically includes your Camera Roll, Documents, Music, Pictures and Videos folders), your desktop, your Windows Contacts, and your Favorites.
How often? Every hour.1
As I said, it's a good thing. For the data files you have stored in areas covered by File History, it's another layer of protection.
But it is no substitute for a complete back-up system, and sadly, that's what Microsoft, originally at least, set out for it to be.
Dedicated backup tools
As opposed to being a checkbox or an afterthought, which is how Windows backup has always felt to me, dedicated back-up tools actually take backing up seriously.
With a good back-up tool, you can:
In addition to all it can do, a good backup tool will make very clear exactly what is being backed up, where it's being backed up to, and when.
Clarity and transparency: both are important when it comes to backing up, and both are lacking in Windows 10 backup.
Augmenting your backup
One of the things I recommend as part of a complete back-up strategy is to augment backups performed by a dedicated back-up tool with a more real-time back-up utility.
Windows File History is one approach. Used alongside a regular image backup, it provides an additional, more frequent back-up safety net.
However, even then, I think we can do better.
I prefer using tools like OneDrive, Dropbox, or other cloud-based services, for two additional reasons:
Files are backed up off-site, protecting you from any disaster that might take out both your computer and your traditional backup destination simultaneously.
These tools generally save more often. Rather than once an hour, they notice when files have changed, and back up within minutes, if not seconds.
More questions you might be left with
Can I rely on Win 10 backup if I want to? Absolutely. As I said, it's better than nothing, particularly if used with File History. However, you'll have to take care to make sure it's backing up what you think it is, and when you think it is.
Do I have to pay for additional software? Not at all. The free versions of either EaseUS Todo or Macrium Reflect will do, in addition to other, quite possibly free, solutions.
Which do I want? This depends more on your own preferences and what works for you. The free version of EaseUS is more fully featured, whereas Macrium feels more robust.
This is too much work. Can't I just ignore this? ABSOLUTELY NOT. Backing up is much too important. Remember, two things:
If there's only one copy2, it's not backed up.
It's not a matter of if something will happen, it's a matter of when, and whether you're prepared when it does.
Podcast audio

Download (right-click, Save-As) (Duration: 6:16 — 5.8MB)
Subscribe: RSS