I got a chance to download and install the technical preview of Windows 10 a couple of weeks ago.
I was both pleased, and in at least one respect greatly disappointed.
Given what I harp on all the time, you can probably guess what disappointed me: Windows 10 backup. Or rather, the lack thereof.
Don't do it!
First, I have to start out with this: with very few exceptions, there is no reason to download and install Windows 10. Don't do it.
It's called a "technical preview" for a reason: it's not done.
In fact, we may not see the finished product until well into late next year some time. That implies that not only will lots of things change between now and then, but that the features and functionality currently available in the technical preview should be considered "potentially unstable".
Put another way: as with any pre-release, "alpha", "beta" or other unfinished software, it could crash, fail and erase all of your data when it does so.
Just don't do it. It's not ready, and won't be for quite some time.
So what's it for? It's for people like me. People who want to check it out and see what it's all about so that we can help provide feedback, or in my case, so that I can help you prepare.
The good news: the return of the start menu
Windows 10 boots directly to the desktop (at least on my desktop installation), and sure enough, there's a start menu: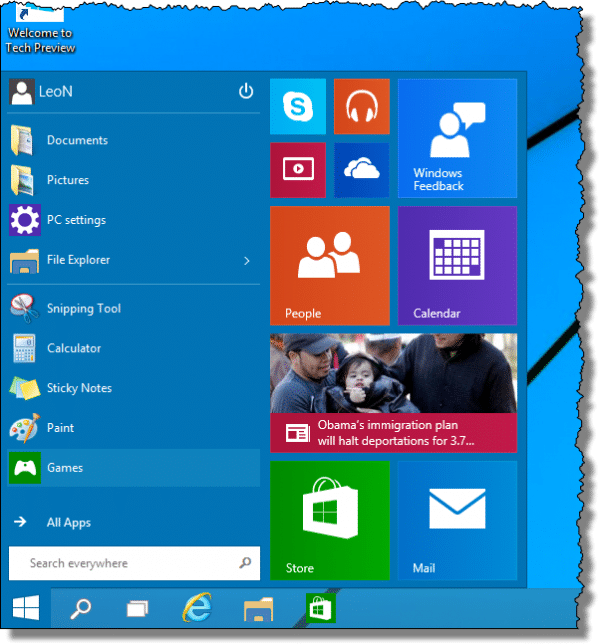 It won't make folks looking for the return of Windows XP happy, but it absolutely avoids that horrid first impression when people were faced with the tiled start screen for the first time. In addition, many of the "apps" that ran only full-screen in Windows 8, like the Microsoft Store, can now be windowed.
In many ways it's a return to some basic Windows operations more familiar to desktop users.
And that's a good thing, in my opinion.
The bad news: Windows 10 backup is still broken
Immediately after installing the preview, I made a bee-line to Windows 10 built in backup.
And was seriously disappointed that it had not changed at all from Windows 8.1.
File history: good. It's a nifty feature and I'll encourage folks to set it up.
Image backup: hidden and crippled. I still can't comprehend why something so important was crippled in Windows 8.1, and why that crippling persists. Once again there's no way to schedule a regular image backup of your system. OK, technically I expect you can use the same command line + task scheduler hack that I outline in Saved! – Backing Up with Windows 8 Backup, but it shouldn't be that hard!
Backups should be easy. File backups in the form of file history can be, if you remember to set it up. The image backup function – a cornerstone of a comprehensive backup strategy in my opinion – is so well-hidden it might as well not exist.
Color me very disappointed.
There's time to fix it
As I said, Windows 10's release is not imminent, and you should not install or use it.
It'll be many months before Windows 10 is released – Microsoft has stated "mid 2015", and some are already interpreting that to mean late 2015. In other words it could be close to a year from this writing before final release.
That gives me hope. Hope that doing a better job with backups will make the priority list of things to be fixed before that release. Because as far as I'm concerned, it's broken and backup is too important not to fix it.
Until it is fixed, I'll continue to recommend using a real backup program like Macrium Reflect to perform backups in Windows 8.1 and beyond.
Podcast audio

Download (right-click, Save-As) (Duration: 4:24 — 4.1MB)
Subscribe: RSS