Many people are annoyed with Microsoft's aggressive promotion of Windows 10. Not only is the "update now" utility being installed as an "important" update, all signs are that things are going to get worse. Microsoft appears to be downloading Windows 10 on the assumption that you want it.
That's a bad assumption, very bad.
Through a variety of means – an application installed automatically, Windows Update performing those updates automatically, Windows 10 being downloaded automatically, the installation process being initiated automatically – Microsoft has been virtually ramming Windows 10 down your throat, whether you want it or not.
The fact that it's a good operating system is being lost in the negative reaction to confiscating people's ability to choose.
GWX Control Panel can block Windows 10 and give the choice back to you.
Caveats, of course
Naturally, I have to include a caveat: GWX Control Panel is from a fairly random third party. I've downloaded and run it multiple times without issue. However, it's always good practice to back up your entire system first, just in case.
Install or run GWX Control Panel
Download GWX Control Panel from here. You have your choice: run an installer and actually install the utility, or just use a stand-alone version of the utility you run after download.
Choice seems to be the theme of the day.
I've done both. Either work equally well.
When the application runs, you'll be presented with its primary interface.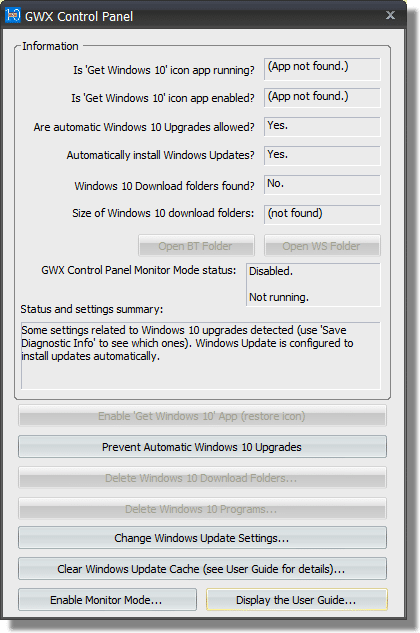 The top part represents an analysis of your current system with respect to the various settings and programs related to downloading and installing Windows 10 automatically.
Block Windows 10
You can block Windows 10 by making several selections in the lower portion of the GWX Control Panel. My recommendation for a complete block would include:
Disable "Get Windows 10" icon app
Prevent Automatic Windows 10 Upgrades
Delete Windows 10 Download Folders
Delete Windows 10 Programs
In addition, click on Change Windows Update Settings.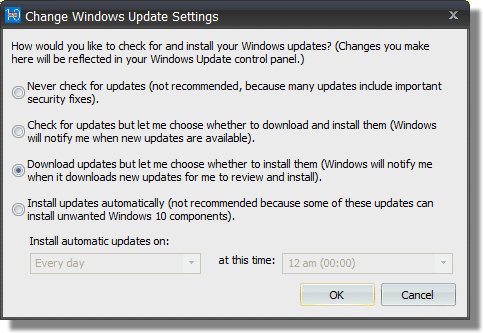 If "Install updates automatically" is selected, instead, select "Download updates but let me choose…" and click OK.
Windows 10 should now not be downloaded or installed automatically, and you shouldn't be pestered by reminders or requests relating to it.
Enable Monitor Mode
To quote the GWX Control Panel User Guide:
"The Monitor Mode feature adds a blue '10' icon to your notification area. The icon serves two purposes:
It provides easy access to some GWX Control Panel features, via a right-click pop-up menu.
It notifies you the moment it detects any new files or system settings related to Windows 10."
If you don't mind having another icon in the tray area of your toolbar, and you're dedicated to blocking Windows 10, I would enable Monitor Mode. I have enabled it on all the machines I intend to leave running Windows 7 or Windows 8.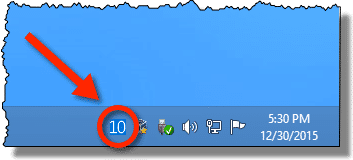 More details
If you're interested in more information about GWX Control Panel, I'll point you at the online user's guide.
If you have problems with the utility, I'd love to hear about them in the comments below, but it's more important that you report them to the developer so he can address them directly.
Bottom line: this might well be the tool we've been looking for to block Windows 10.

Podcast: Download (Duration: 4:06 — 1.9MB)
Subscribe: RSS