You could lose everything, forever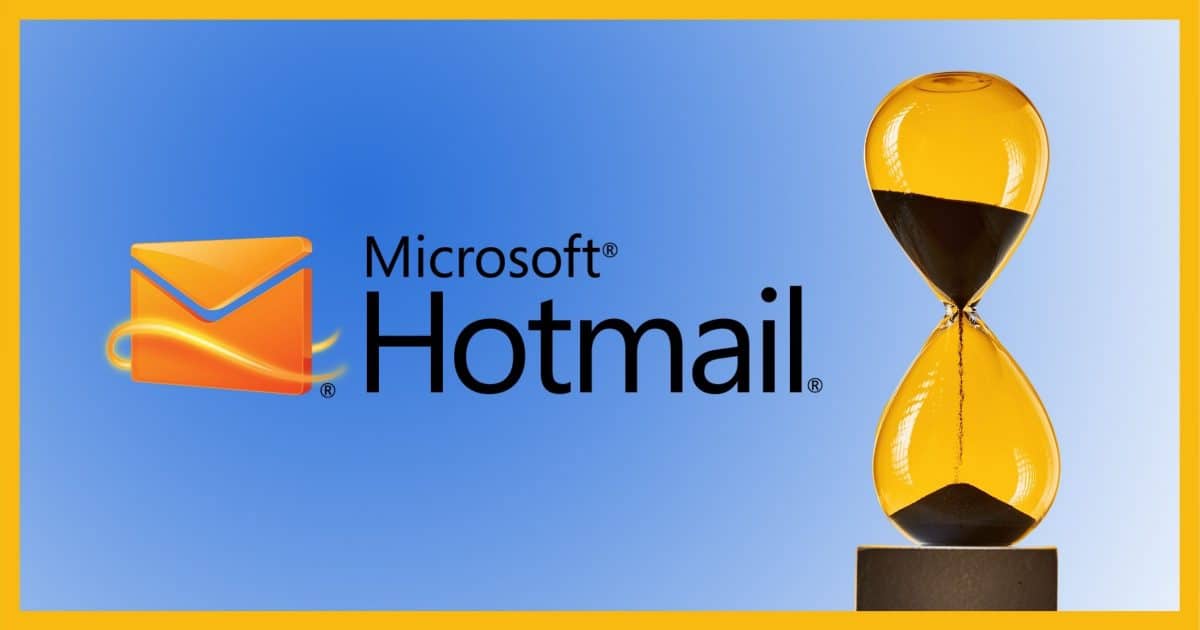 You can lose your account, and everything in it, if you don't sign in often enough. Here's how often you need to, and other ways to protect yourself.
I'm about to go on a trip, and I want to make sure I don't lose any of my online information. I keep a lot of important emails and contact information in my MSN Hotmail account. If I don't log in for a while, how soon will Hotmail discard it? Does Hotmail "expire"?
Yes.
How quickly it expires has changed, but absolutely, if you don't sign in for a long enough period of time, they'll assume you've abandoned the account.
This is true for most online accounts, especially those that are free.
If that happens, in Hotmail's case (or rather, Outlook.com's case), you'll lose your data, and someone else could possibly sign up with your expired email address.
If you don't sign in to your Microsoft account at least once every two years, the account is considered "inactive" and may be removed. This means anything in the account will be deleted, and your email address may be "recycled" and assigned to someone else. Protect yourself by checking your email at least once every two years, and make sure to back up the data stored in your account.
Two years
If you do not sign in to your Hotmail or other Microsoft account, (all now managed using Outlook.com) at least once every two years, the account is considered "inactive" and may be removed.
There are some exceptions. For example, if you've purchased something from Microsoft using the account, it will not be closed for inactivity. There's a list spelled out in the Microsoft account activity policy. Apparently, if you qualify under one of the exceptions, your account will never be closed for inactivity. I wouldn't count on this not changing in the future.
It's also unclear if logging in to your PC using a Microsoft account qualifies as "activity". It probably does — at least I would hope so — but for purposes of keeping your account active, I wouldn't rely on it unless Microsoft clarifies.
Bottom line: sign in to Outlook.com at least once every two years, and you'll be fine.1
Deleting inactive accounts
It's important to know that if your account is closed due to inactivity, anything in the account will be deleted.
That means more than just email; it includes your contacts, any files you have stored in OneDrive, and any files in Microsoft Office Online.
Microsoft doesn't provide any mechanism to recover the data if the account hits that two-year mark and is deleted.
Recycling email addresses
What surprises many people is that once your account is closed — presumably for any reason — your email address may be "recycled", as Microsoft puts it.
That means that after two years of your not using the account, someone else may be allowed to get your email address. They won't get your content; it'll be a new, empty account to them. But they will have the email address that used to be yours.
This is all spelled out in painful detail here: Microsoft Services Agreement – the interesting portion being section 14.h:
The Outlook.com (or @msn, @hotmail, or @live) email address that you use to create your Microsoft account will be unique to you for as long as your Outlook.com inbox or Microsoft account is still active. In the event your Outlook.com inbox or Microsoft account is closed either by you or by Microsoft pursuant to these Terms, the email address or username may be recycled into our system and assigned to another user.
Given that it's not possible to create a new @hotmail.com email address right now, the chances of it being recycled are slim, but clearly, if you let your @outlook.com email address expire, all bets are off.
Problems signing in?
If it's been over two years since you've logged in, and the system tells you that your password is wrong or that your account doesn't exist, your account has likely been deleted and your email address possibly recycled.
You can try to perform an account recovery, but after two years, the chances are slim.
Preventing all this
It's probably obvious, but you can prevent all this simply by using the account more than once every other year. That's apparently all it takes.
Check your email once in a while.
I'd also recommend something else.
Since accounts can be lost for so many reasons — inactivity being only one, and perhaps the least likely — please make sure that everything associated with the account is backed up somehow. Back up your email. Back up your contacts. Back up what's stored in OneDrive, if you use it. Back up any Microsoft Office Online documents.
That way, even if your account is closed and your online data is discarded, you won't lose anything important, other than perhaps the actual email address that was once yours.
But if you've not paid attention to it for two years, how important can it be, really?
Podcast audio

Download (right-click, Save-As) (Duration: 5:25 — 6.1MB)
Subscribe: RSS
Footnotes & References
1: This actually represents a fairly significant change. Prior policies had Microsoft taking actions at 30 and 90 days of inactivity.