You delete what you think is a duplicate copy of a file over here, only to find that the original over there disappeared as well.
What you're seeing is not a duplicate copy of a file, but rather the same file appearing in more than one place. It's common, particularly as Windows tries to "help" you locate and manage your documents.
I'll review some of the ways it "helps".
One file, three places

The image above shows three Windows File Explorer windows, each open on a different location:
Quick access -> Documents
This PC -> Documents
This PC -> C:\Users\LeoN\Documents
As you can see, they all show the same thing: a folder ("Remote Assistance Logs") and a text file ("A Document of Some Sort.txt").
If I were to delete the text file in any of the three, it would disappear from all three.
There's only one file. Windows is just showing it to you three different ways.
Files and file listings
A file is nothing more than a collection of data somewhere on the disk.
A directory listing, or a listing of files in a tool like Windows File Explorer, simply points to the file.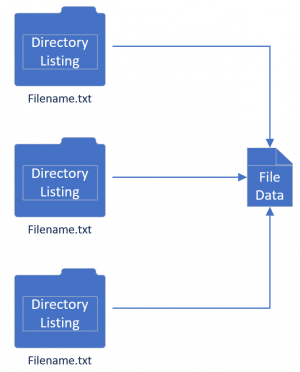 It's perfectly valid to have more than one pointer to the file. That means that the file — even though there is only a single instance of the file — could appear in different directory listings in different folders.
Shortcuts
There are several different ways1 the concept is implemented, but the most common is called a shortcut. It's a special kind of file itself that says the equivalent of "the file you want is really over there", pointing to the actual file.
In the Windows File Explorer example at the beginning of this article:
Quick access -> Documents is a shortcut to the folder C:\Users\LeoN\Documents.
This PC -> Documents is a shortcut to the folder C:\Users\LeoN\Documents.
This PC -> C:\Users\LeoN\Documents is the "real" folder.
So even though they look like different locations, in reality they all point to, or are, a single location. That means anything you place in that single location will appear as if it were in each of the three.
How do you know what you have?
It's surprisingly difficult to know if you're looking a single file or a duplicate. I tend to take the pragmatic approach, and either:
Delete it in Windows File Explorer, and see what happens; if all copies go away, I restore it from the Recycle Bin.
Rename it, and see if all the filenames change.
Change the file in some way to see if all change.
In the case of a shortcut, you can right-click on the item, click Properties, and see where the target of the item is, or where the item itself is located.
Unfortunately, though, that doesn't really help if the shortcut points to a folder, like Documents. The items within that folder won't have any knowledge or information about shortcuts.
System folders
I mention shortcuts because you can create them yourself, and how they work is common and fairly obvious. It's also the most common source of confusion.
System folders — like "This PC -> Documents" — are technically not exactly shortcuts, but something different managed by the system. The important thing is that for our purposes of clearing up the confusion of finding the same file in more than once place, they act very much like shortcuts.
Podcast audio

Download (right-click, Save-As) (Duration: 4:09 — 4.4MB)
Subscribe: RSS
Footnotes & References
1: For the techies who are wondering, aside from the implications in the block diagram I'm explicitly side-stepping the fact that the NTFS file system supports "hard links". Usage is rare and not generally a concern for the average user.