Question: My friend has had her Gmail address for maybe 5 years. She regularly gets emails, which are sent to that address but are from people whom she has never heard of and who obviously don't know her. It's not always the same person. I've had my Gmail address for even longer and I've never, never had such an occurrence. What's going on?
This is actually more common than you might think. There are two possibilities: spam and human error.
Spam or not
What you describe actually sounds a lot like spam: email from people you've never heard of.
Now I'm going to assume from your question that the email your friend is getting doesn't look like spam: it's not trying to sell you anything, ask you for money, or get you to click a link. If it doesn't look like spam it's probably not spam, though emails that don't look like spam can still sometimes be used as probes to see if an email address might be valid.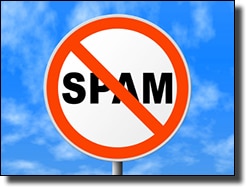 Now, why is she getting emails from strangers and you're not? My guess is she may have put her email address out in more public places than you have. For example, if you regularly post your email address in comments on websites, or anywhere that could be published publicly on the internet, spammers will harvest email addresses from those pages and start sending them spam. Perhaps you've been a little bit more circumspect about how you publish or when you publish your own email address.
Let's assume, for the sake of argument, that it's not spam.
Mistakes or not
What I really think is going on here is that your friend probably has what I call "the curse" of having a simple email address. The email address consists of a relatively common last name @gmail.com.
My guess is that the senders are intending to email other people with that last name, and just getting it wrong. In fact, it reminds me of years ago when we had a phone number that was one digit off from our local poison control line. People would call us thinking that they were reaching Poison Control.1 That same kind of thing can happen with email.
Typing it incorrectly is just one possibility. Making assumptions is another.
A lot of people will assume that, for example, if someone's name is John Smith, his email address is probably johnsmith@ the email service. But people make mistakes.
My Gmail address actually isn't really all that common, and yet I still get occasional email that is clearly targeted at someone else.
Reply or not
Of course, there's a temptation to reply to correct people's errors.
Maybe I'm too cynical, but I actually don't recommend that. You really don't have any idea who you are talking to and ultimately, as I said, you could be giving spammers more ammunition. If the person at the other end of the email is really a spammer, your response says to them "You know what, this email address I sent email to, it's real. There's a real person reading it so let's send it some more spam."