Various tools try to be helpful, but sometimes they aren't.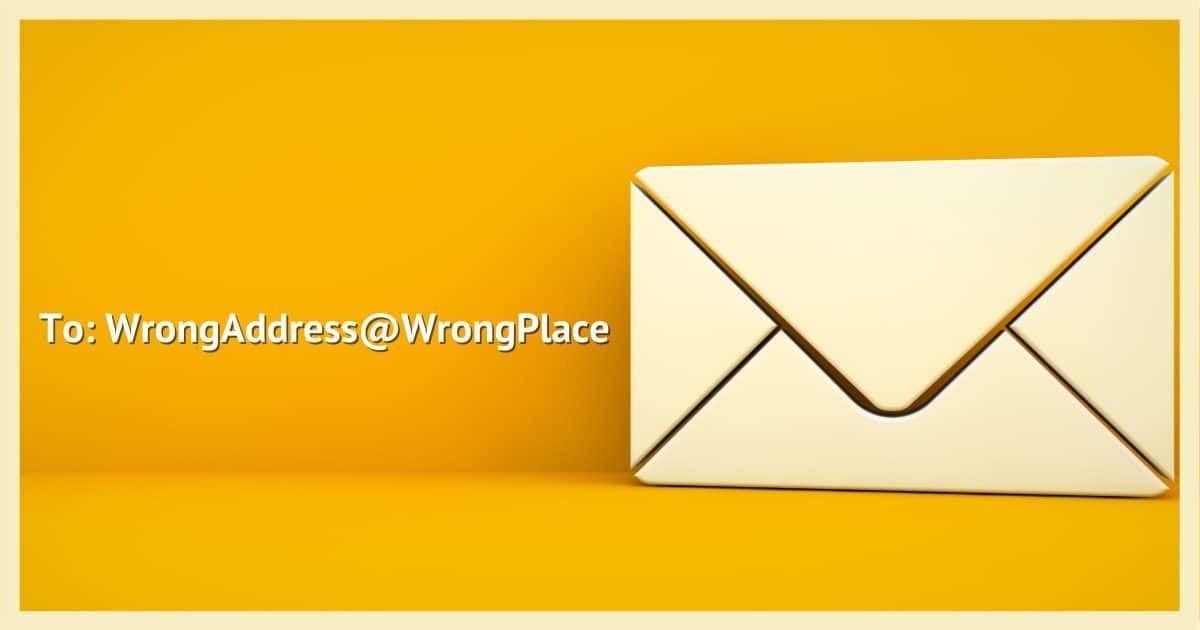 This is all about the many ways your computer tries to make your life easier. Sometimes it tries just a little too hard.
Is there a way to delete an address forever so that it will not come up for autofill for Gmail or Yahoo or Outlook? I keep making a mistake sending emails to an old, outdated address.
Yours is a very common problem. Unfortunately, it's a problem with several different causes because autofill can come from several different sources.
Getting rid of autofill suggestions
Clear your browser's autofill form data, if it's an option.
Remove bad entries added automatically to your address book or contacts list.
Clear individual suggestions by highlighting them and clicking an "x" or typing the Delete key.
Your web browser
The most common source of autofill is your web browser. While you may think your email program is filling something in, it may actually be your browser — Edge, Firefox, Chrome, and so on.
The browser watches for fields that you type stuff into — any field on any webpage — and then remembers what you've typed in those fields. It has nothing to do with email; it just happens to work there as well as in all those other places.
Put another way, the fact it's happening in email is immaterial; it's just remembering, "There's this field called 'To'; it was on this page; this is what I remember it having been used for in the past, so I'll make some suggestions."
You can deal with this easily by clearing the information in your browser. How to do that depends on the specific browser, but it's typically one of the options when you clear your browser's cache. In Google Chrome, as one example, type CTRL+SHIFT+DEL to bring up the Clear History dialog, click on the Advanced tab, and look for "Autofill form data".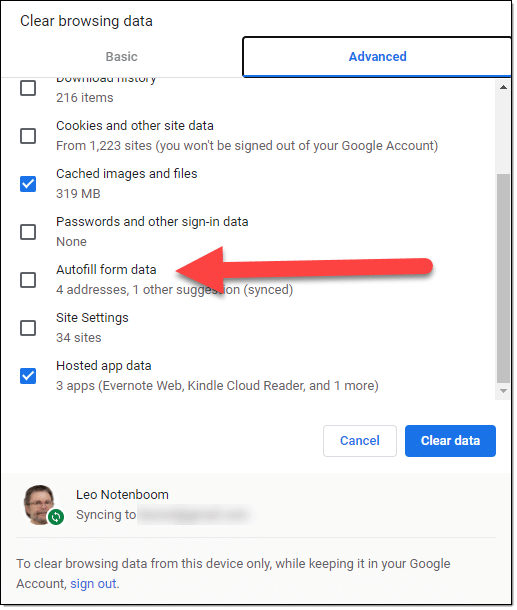 Make sure the 'Time range" (scrolled off the top in the image above) is set appropriately, and that Autofill form data is checked (and make sure anything else you want to preserve is UNchecked), and click on Clear data.
It's this form data that your browser is remembering for you when you're typing in things like your email address or other fields.
Your address book
Bad addresses often make their way into your contact list or address book. For example, if you've enabled an automatic address book addition feature, or if this feature is active by default (which it often is), the email of anyone you email is automatically added to your address book.
If you mistakenly send to a bad email address even once, it'll be added and show up as a suggested address.
The site or program tries to be helpful when you're typing email addresses by recommending entries from your address book, not knowing that one of these suggestions is that bad address you sent to before.
The solution here is easy. Find the entry in your contacts or address book and delete it. You might also want to turn off that "automatic add" feature — if there is one and you're allowed to turn it off. (Not all can be.)
Your email program
Some email programs (Microsoft Office Outlook comes to mind) and web email interfaces keep a list of automatically remembered entries separate from the address book. In cases like this, the first two solutions may not work.
Here's what to try:
Start typing an email address into the "To" field.
As soon as you see the bad email address, use the down arrow key to scroll through the list and highlight the bad entry.
With that entry highlighted, type the delete key.
In many cases, this will remove the entry not only from the current list of suggestions, but from future suggestions as well.
You may also find that as you mouse over the drop-down list, the highlighted item will have an "x" to explicitly allow you to delete it.
This is all about the many ways your computer tries to help make entering email addresses easier.
Sometimes it tries to help just a little too hard, and you find you need to remove invalid email addresses.
Hopefully, I've helped.
Podcast audio

Download (right-click, Save-As) (Duration: 5:53 — 6.9MB)
Subscribe: RSS