Well, you could, but you probably don't want to.
Uploading backup images sounds good until you do the math.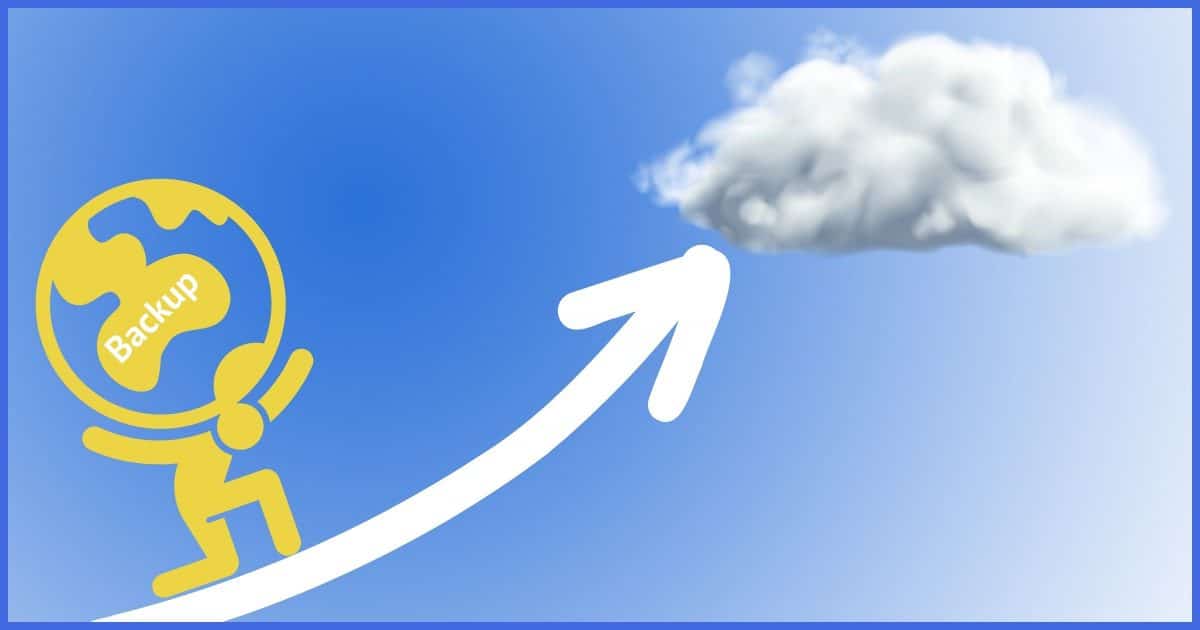 Why an external hard disk? Why not upload my image backups directly to Dropbox or OneDrive or similar?
It's not an unreasonable question. We do emphasize the cloud a lot, as well as the importance of storing some backups off-site for additional safety. It seems only sensible that uploading our image backups would make sense.
Unfortunately, no.
Two reasons: time and space. And unlike certain timelords, we have little control over either.
Uploading a backup image to the cloud?
Backup images are generally too large to be uploaded in a timely manner on most internet connections. Their size also means they can eat up your cloud storage quickly. A better approach is to keep your backup images locally, but use cloud services such as OneDrive or Dropbox to hold your important files.
Image size
We first need to understand what we're dealing with here. Put bluntly, image backups are big… really big.
For example, a full image backup of my desktop machine is about 300GB (gigabytes). The daily incrementals average around 10GB.
Granted, that's a fairly heavily used machine, so let's look at a freshly installed copy of Windows 10, where a full image backup is 12GB.
The average is somewhere in between. For the examples below, I'll run with 100GB to make the math easier. You can adjust appropriately based on the size of your own image backups.
Upload speed
I have a reasonably fast internet connection. My upload speed is roughly 40mbps (megabits per second)1.
It's important to note that this measurement is in bits per second, while the file sizes we talked about above are in bytes. There are eight bits in a byte, so my 100 gigabyte example file is actually 800 gigabits.
800 gigabits is roughly 800,000 megabits. At 40mbps, the upload time would be 20,000 seconds, or about five and a half hours. And that's a best-case scenario. If I'm doing anything else with that computer involving uploads, both my work and the image upload will be slowed as they compete for the upload bandwidth.
And, of course, a full backup image of my machine would take three times as long, or just shy of 17 hours on my fast connection if I'm doing nothing else.
As an example of a somewhat more common internet connection, I was recently helping a friend with a problem, and their upload speed was 2 megabits per second. That means the 100MB image would take 111 hours to upload. And again, that's with ideal conditions and if they're doing nothing else with their computer.
So in the real world, it wouldn't be unreasonable for the upload to take over 24 hours. If you back up daily, you'll never catch up.
It's just not practical for most of us.
On the other hand, if you've got a super-fast connection — such as the 800mbps I've been promised someday — then this may not be an issue for you at all. 100GB could theoretically upload in less than 20 minutes.
Cloud storage space
This may be less of an issue, but it's an important consideration nonetheless: do you have enough cloud storage?
100GB files add up quickly. Even if you have the one-terabyte OneDrive plan that comes with Microsoft Office, you'd be able to hold only 10 backup images.
Now, that might be enough. More than enough, for that matter, as you really only need one or two backup images offsite as long as you're also keeping more on a local external hard drive.
However, none of the free cloud storage options would be enough to hold even one copy. You'll have to shell out some money for more online storage.
Do this (instead)
Offsite backups are important, but they don't have to be the full image of your machine. Instead:
Take regular full image backups to a local external hard disk.
Optionally, enable File History on a local external hard disk to back up files as they change.
Back up your important data in cloud services. It's easiest to use a service like OneDrive or Dropbox that keeps all your files in their respective folders. The service uploads them automatically as they change.
This process is outlined in more detail in How to Back Up Windows 10 (& 11).
Podcast audio

Download (right-click, Save-As) (Duration: 10:55 — 7.8MB)
Subscribe: RSS
Footnotes & References
1: My download speed is 800mbps. This disparity is not uncommon, and allocates resources based on the fact that we download much more than we upload.