It's for the greater good. Sometimes.
Sometimes "Mark as spam" may seem futile, but it has a purpose.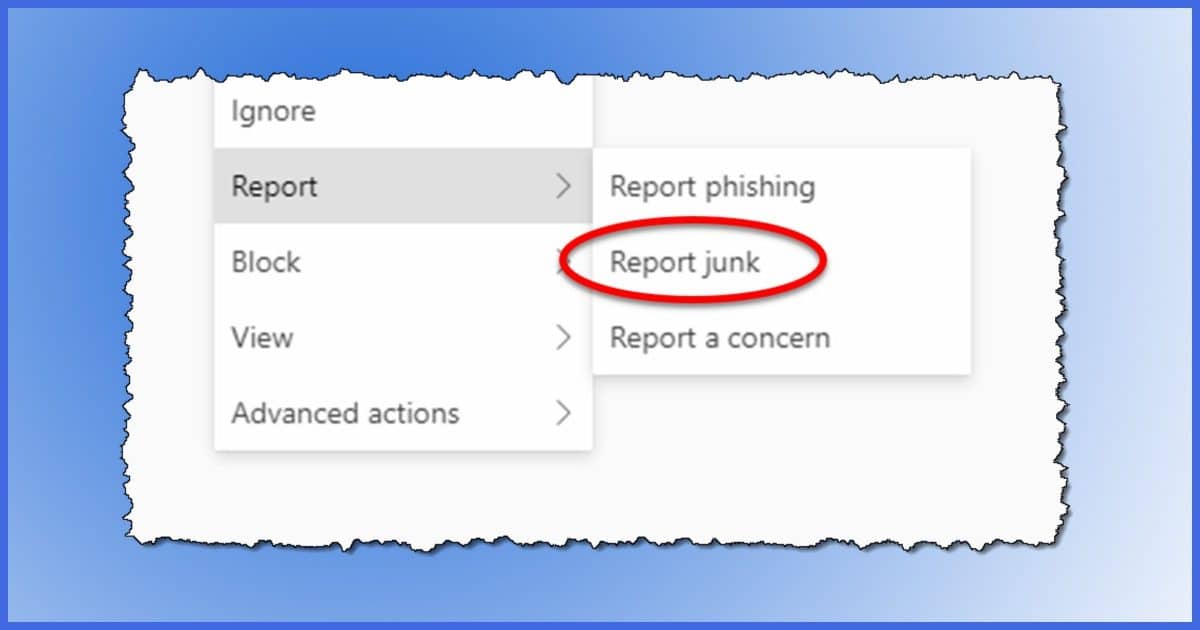 When dealing with spam, you often tell us all we can really do is "mark as spam, and move on." I assume that enough of those clicks on these creeps would be recognized in the e.g., Microsoft system to help mitigate these actions; if not, what would be the point or how that can help others and TYVM again Leo.
Once you start getting spam, there's very little to be done. The only practical thing you can do is mark spam messages that arrive in your inbox as spam. That's the only thing in your control.
But what does that actually do? What's the point?
Mark as spam
The goal of the "Mark as spam" option in an email interface is to train the spam filter to better identify spam in the future. If you're using an online service, "Mark as spam" helps everyone on the service. If you're using a desktop email program, "Mark as spam" generally affects only that program on your specific machine.
Good intentions
Marking a message in your inbox as spam is intended to be used as data to help "the system" better understand what is spam. Conversely, finding something that isn't spam in your spam folder and marking it as "not spam" also helps.
And to be extra clear, if spam is landing in your spam folder, that's the system working as it should. You can't stop spam. The goal is that all arriving spam is identified and routed to that spam folder, where you don't have to see it, and everything else lands in your inbox.
That's the goal. Since spammers constantly change their tactics so as to land in your inbox, telling the system when it miscategorized something is supposed to make the system better at recognizing spam in the future.
The devil is in this thing I'm calling the system.
Online email services
If you're reading your email online via a website like outlook.com, gmail.com, or any of dozens of others, the email system you're using can take your marking something as spam and use that information to improve all of their user's spam filters.
If there's an issue here, it's just that some systems are better at this than others.
Some are wildly inconsistent. I've heard many reports of folks religiously marking emails as spam at Outlook.com, for example, only to keep getting that same spam in their inbox day after day. Gmail seems better at using "this is spam" feedback to adjust its accuracy. With other services, your mileage will vary.
Nonetheless, it's the only tool we have, so marking spam remains the thing to do. Hopefully, the online email service you're using will use the feedback appropriately.
Desktop email programs
Local email programs installed on your computer, like Thunderbird, Microsoft Office's Outlook, the Mail program in Windows, and many others, work differently.
The problem is that once email is downloaded to your system, there's no formal way to get your "this is spam" information back to your email provider.
When you mark something as spam in a desktop email program, you're only telling that program on that machine and no one else. The goal here is that your email program's spam filter will get better, but again, only for your email and only on that machine.
Occasional cross-over
That a desktop email program's "this is spam" affects only that desktop email program is not new. There have been attempts to get that information back to the server, either directly or as a side effect.
For example, I believe that if:
You use a Microsoft desktop email program (Windows Mail, Microsoft Office's Outlook, etc.)
You connect it to a Microsoft email account (live.com, outlook.com, hotmail.com, etc.)
Your "mark as spam" may be sent back to the Microsoft mail servers, thus helping everyone.
I believe most current Microsoft email programs will connect automatically when they recognize you're setting up an account with a Microsoft-provided email address.
Possible cross-over
When you mark an email message in your inbox as spam in a desktop email program, two things happen.
The message is moved into the spam folder.
The message is presumably analyzed in some way to improve the email program's spam detection.
If your email account is configured to connect to your email service using IMAP, and the spam folder is included in the IMAP synchronization,1 then the email service may notice the first step occurring and thus also treat that message as newly marked spam.
The problem is, there's really no way to know if this happens. It's unclear how common this might be.
Do this
Mark spam as spam and carry on.
Regardless of whether or not it helps, and regardless of exactly how many it helps — everyone or just you — it remains the only thing you can do when you find spam in your inbox.
I won't spam you if you subscribe to Confident Computing! Less frustration and more confidence, solutions, answers, and tips in your inbox every week.
Podcast audio

Download (right-click, Save-As) (Duration: 9:21 — 6.8MB)
Subscribe: RSS
Footnotes & References
1: Not all folders are necessarily synchronized, and spam is sometimes one that's not. You'll have to check with your email service to see if and or how you can include it in the IMAP folder list.