They can, but they're also quite normal.
Multiple instances of your browser showing in the task manager is not a problem -- it's how browsers work. It's the total RAM usage you should pay attention to.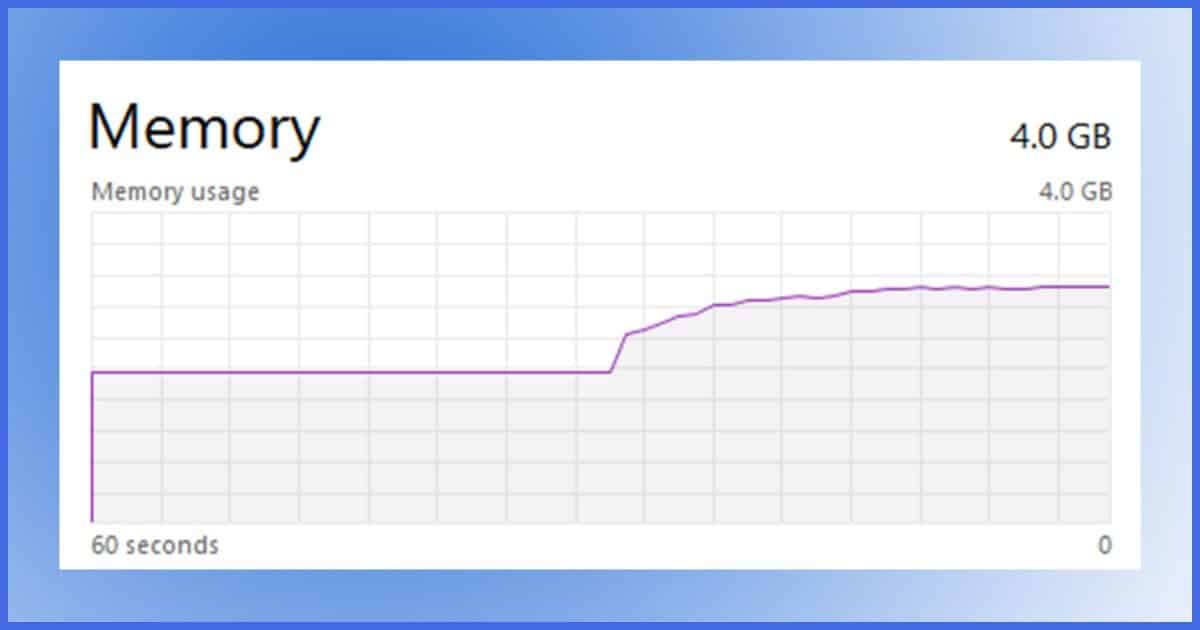 When I open additional links on my homepage, I've been having my browser slow down to the point that it ignores my mouse clicks to either open up an additional page or refuses to close the one I'm currently on. I have to open the Task Manager to stop the process, and sometimes there are four or five instances open and running. It's like they don't close when I hit the close X for those pages, and they just keep running in the background until they can't find any more process space to run with, and I have to manually close them down because they won't close down on their own.
It does seem like you're low on memory. Or rather the browser is using up whatever memory you do have.
Complicating this is the fact that most current browsers show multiple instances in Task Manager even if you have only one tab open.
Multiple browser processes
Multiple browser processes are not a sign of a problem. If your browser is behaving sluggishly, try these steps:
Close browser tabs.
Disable extensions.
Close and re-open your browser.
Turn off background features.
Close other programs.
Add more RAM.
Multiple instances are normal
Run Task Manager by right-clicking on the Start button and then clicking on Task Manager. If there's a "More details" link, click on that to see the process list. Click on column headers above the list to sort the list by that column. (Click a second time to reverse the sort.)
Modern browsers all run multiple instances that appear in Task Manager. It's not a flaw; it's simply how they carry out the work they're designed to do.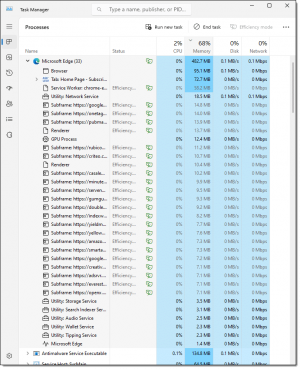 The appearance of multiple entries for your single browser session isn't typically anything to be concerned about.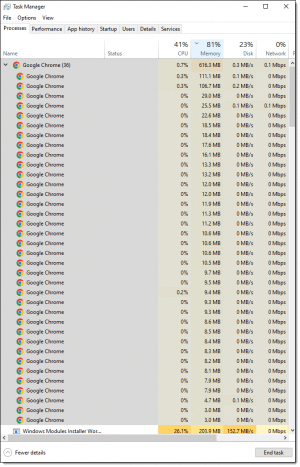 Multiple instances don't imply a performance issue at all.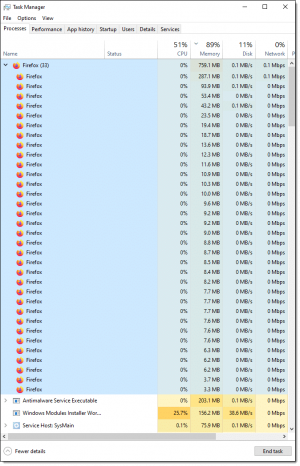 It's simply a software design decision. Using multiple processes is one way to organize the various jobs your browser is attempting to perform.
Memory matters
What does matter is the amount of RAM in your system and how much is being used by the collection of programs you currently have running.
Again, multiple instances do not imply excessive RAM usage. Even if the browser was implemented as a single process, the amount of memory needed to do its job would likely be similar. That's not to say a browser can't use excessive RAM — it can — but the mere appearance of multiple instances is not a reliable indicator that this is the case.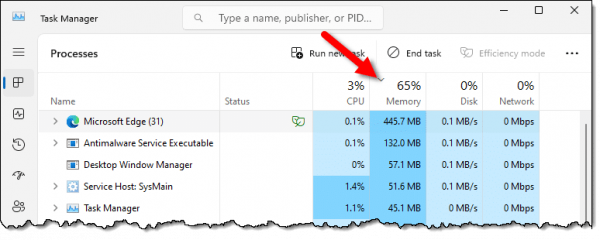 In this example, I've clicked on Task Manger's Memory column to sort the running tasks by how much RAM they're using. You can see that 65% of the available RAM is being used and that all instances of Edge are using 445.7 megabytes. Looking at the performance tab gives us another view, including an indication of how much RAM is installed on this machine.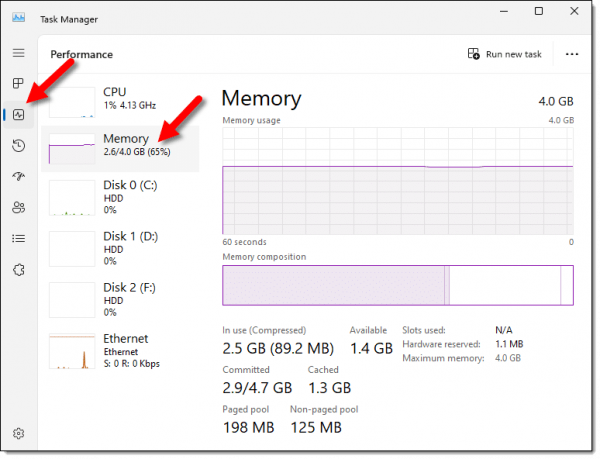 This machine has 4 gigabytes of RAM, so even though Edge had 31 separate entries in the process list, it's only using roughly 10% of available memory.
When you start to suffer performance issues in your browser, look at the process list sorted by memory usage. If it's at or close to 100% usage, it's time to investigate.
Memory-based performance issues
If your browser is performing poorly, we still don't know if it's the browser's fault. It certainly could be, but there are other things to include in your investigation as well.
Here are steps to take (roughly in order of how often they occur) when your browser performance begins to suffer.
Close browser tabs. I know, I know, you can't live without a zillion browser tabs open. Sorry, but start closing tabs anyway. Bookmark them if you need to return to them later. The problem is that each tab requires RAM.

1

More tabs open means more RAM used, which can lead to performance issues. This is the most common cause.
Disable extensions. Extensions use RAM, and not all are well-written. Disable extensions, perhaps one by one, to see if any have an impact on your browser's overall RAM usage. If you find one using excessive RAM, consider leaving it disabled.
Close and re-open your browser. Most browsers won't have this problem these days, but the same can't be said for extensions. Memory leaks can cause the browser to simply use more and more RAM the longer it's left running. A close and re-open resets the usage. But there's a catch. Closing the browser you see may not close the browser completely. So…
Turn off background features. By this, I mean background features that are left running even if you close the browser. In Google Chrome, it's called "Continue running background apps when Google Chrome is closed". Other browsers have similar settings. This way, when you close the browser, all processes should go away.
Close other programs. Your browser may not have a problem at all. If other programs are using excessive RAM, there may not be enough left for the browser to run smoothly. Particularly if other programs are showing up higher on the memory usage list, consider closing those programs.

2

Add more RAM. Again, there may not be a problem other than your system not having enough RAM to do everything you're asking it to do. If that's the case, you can ask it to do less (by closing other programs, above), or by adding more RAM to your system if possible.
Do this
Don't think that multiple browser processes tell you anything useful. Instead, focus on RAM usage — specifically that of all the browser processes, and possibly other programs on your system — to understand if there's a RAM-related performance issue.
Interested in more answers like this one? Subscribe to Confident Computing! Less frustration and more confidence, solutions, answers, and tips in your inbox every week.
Podcast audio

Download (right-click, Save-As) (Duration: 12:00 — 8.8MB)
Subscribe: RSS
Footnotes & References
1: Even if the tab is "sleeping" (a feature in some browsers meant to alleviate this situation somewhat), there's still some amount of resource usage.
2: Sometimes the programs can't be closed because they're Windows itself. If that happens, you'll need to investigate to see if that component has options that can be adjusted to reduce its memory usage.