Whatever it is, it's on the rise, and you need to watch for it.
Smishing is simply text-messaging spam. Learn to recognize and respond appropriately to it.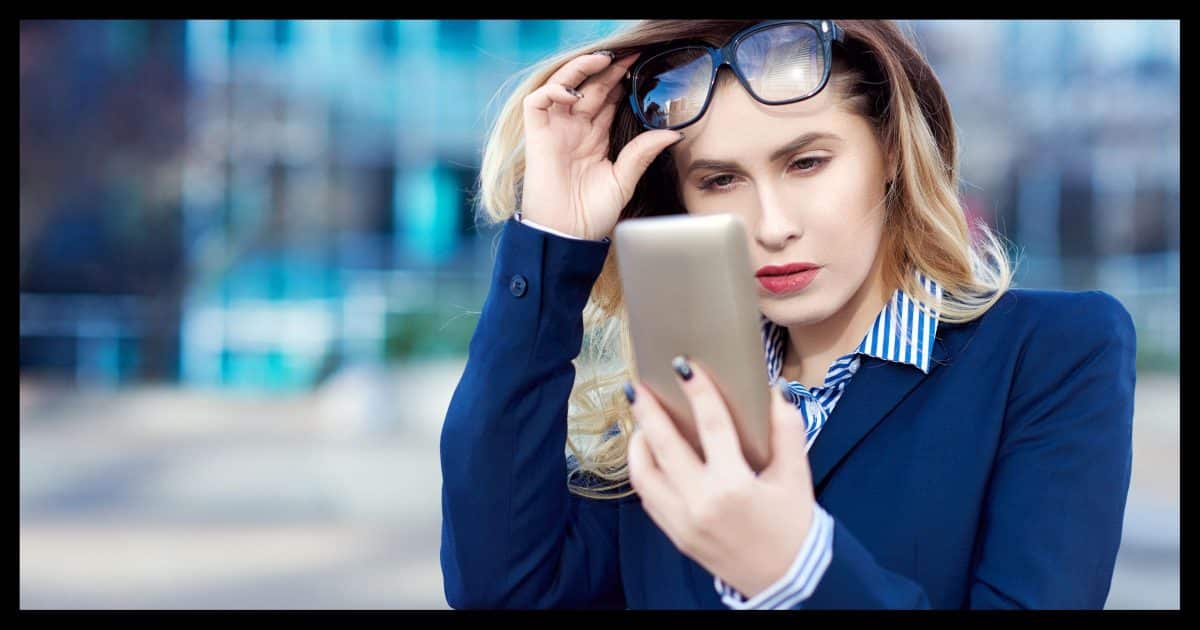 Smishing is nothing more than phishing using SMS text messages.
I'll review some of the examples I've received and go over exactly what you should and should not do when you receive one of these messages.
Smishing: text messaging spam
Spammers are now using SMS text messages to attempt to lure you into compromising yourself. It's important you understand this possibility exists and that you ignore or block text messages from numbers you don't recognize.
It's on the rise
Honestly, I'm surprised there hasn't been more of it sooner.
Phishing via email has become commonplace. We expect it. We learn to recognize it. Hopefully, we don't fall for it.
Text messaging spam, on the other hand, is rather new, at least in the quantities we're seeing today. Not everyone has seen it. That means many don't know what to do when they get it.
It all feels very innocuous until you fall for it — just like email phishing.
What to not do
The single most important thing to take away from this discussion is this: ignore text messages from people you don't know.
This can be surprisingly difficult because of how smishing is constructed. Here's one example.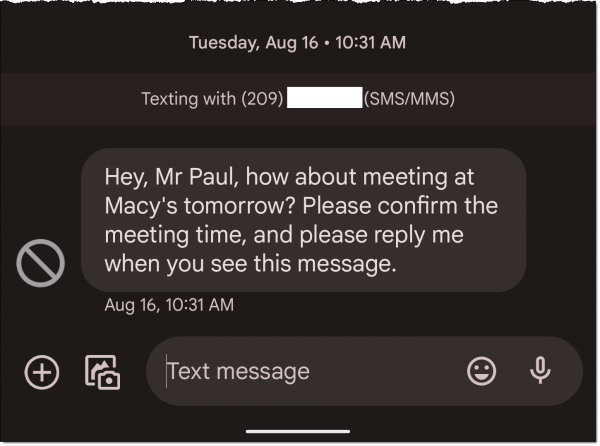 It looks like a misdirected text. It's crafted to make you think that someone is simply texting the wrong number. It plays on your kindness, since many people would respond to this saying, "You have the wrong number."
That's not what's happening at all. If you reply, the person at the other end will politely apologize and then attempt to engage you in further conversation. Eventually, after having built up some rapport, they will encourage you to visit a link.
A link that further misleads you and compromises your security — just like phishing.
Sometimes they don't even try to be creative.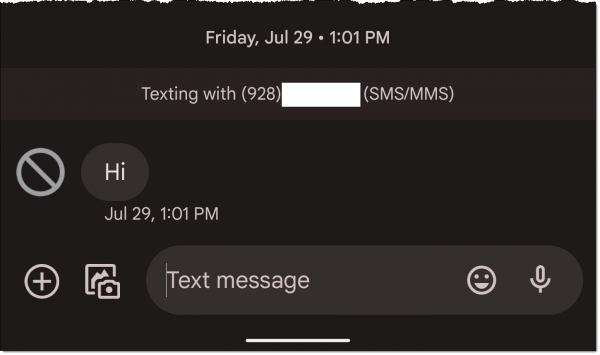 The intent is the same: to get you to respond, engage in conversation, and eventually do something that is not secure.
Do this instead
You'll note that both of my examples above have a 'stop' indicator prior to the message. That's because I marked these as spam in my telephone's messaging app.
Exactly how you do this varies depending on your phone and the SMS text messaging app you use. Most will have either a long press menu or a three dots "…" menu that includes a Report Spam option.
In my case, reporting spam also blocks that number. That means any further attempts to contact me via SMS from that number will not be delivered. I recommend letting that happen, especially when you realize the phone number is not one you recognize.
Finally, some carriers also include automatic spam detection, which I recommend enabling. Many of the text messages I had previously been getting alerts for are now automatically and silently shuffled into that spam folder without me having to notice or do a thing.
Do this
Learn to recognize smishing. In particular, don't respond to text messages from unknown senders. If you have the option, mark smishing attempts as spam in your SMS text messaging app and block those numbers from attempting to contact you again.
But above all, don't click links or do things that sound suspicious if you are engaging in a conversation with someone you've never met.
Subscribe to Confident Computing! Less frustration and more confidence, solutions, answers, and tips in your inbox every week.
Podcast audio

Download (right-click, Save-As) (Duration: 6:15 — 8.6MB)
Subscribe: RSS