How to manage OneDrive when it's bigger than your disk.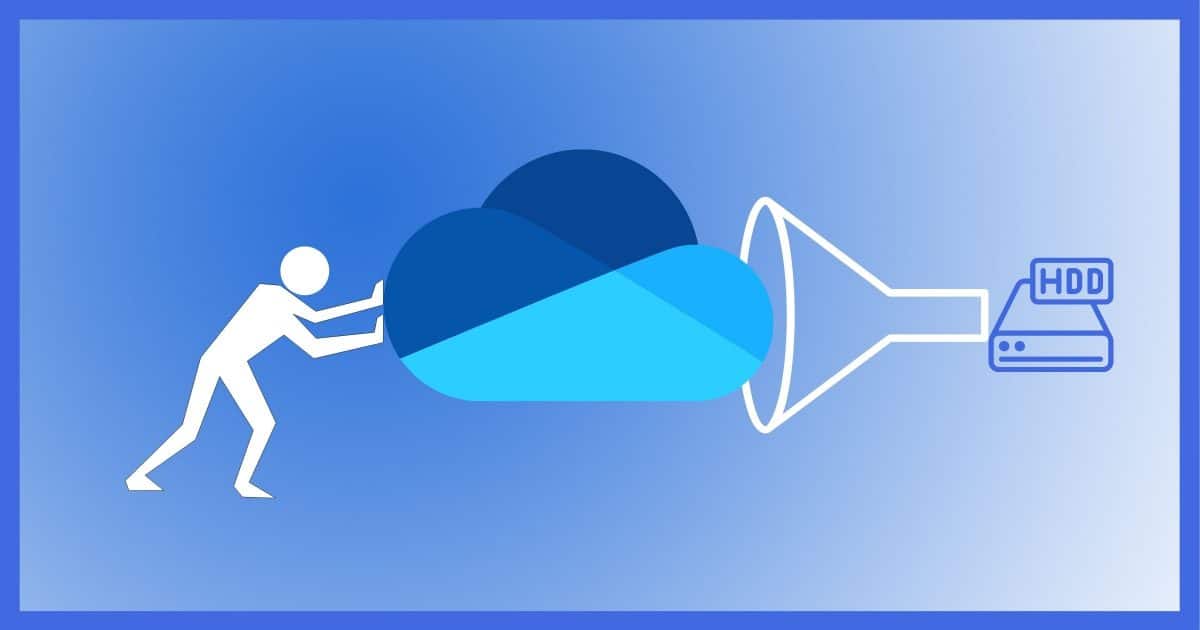 Cloud storage is ubiquitous, convenient, and BIG. There are options if OneDrive is too big for your hard drive.
Question: I have a Surface with limited storage. I want to keep data in OneDrive and not on my local drive unless I need it. I don't know how to arrange that. When I delete items from my computer, OneDrive seems to want to replace them. Is there an easy way to set it up so that doesn't happen?
This is an occasional issue I expect to become more common.
Many cloud storage providers allow you terabytes of cloud storage, and competition has them adding more all the time.
Your OneDrive data may be too much to keep on your hard drive, particularly for portable or smaller devices.
With so much of your data in the cloud, you technically don't need it replicated to every PC you own. What then?
You have several options.
There are several approaches to managing OneDrive disk space usage.
Choose Folders allows you to specify that only certain folders in your OneDrive appear on your computer.
Files On Demand prevents a file from taking space on your computer until you actually need it.
You can change the location of your OneDrive folder to another drive that has more space, if you have one.
You can use OneDrive online only, without any files on your computer.
Using "Choose Folders"
If you have your OneDrive data organized into folders,1 you can choose to have specific folders not appear on your computer's installation of OneDrive at all.
In OneDrive settings (right-click on the OneDrive icon in the notification area and click on Settings), click on the Account tab if it's not selected by default.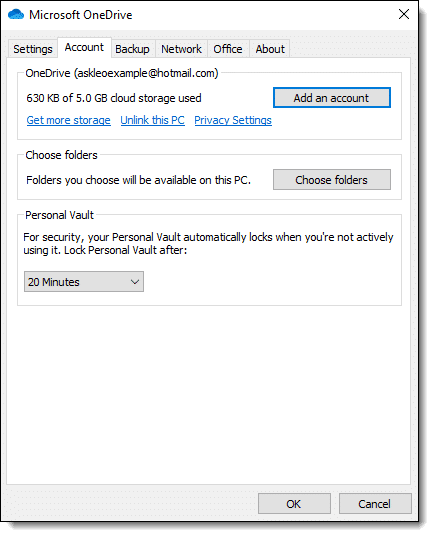 In the "Choose folders" area, click on the Choose folders button.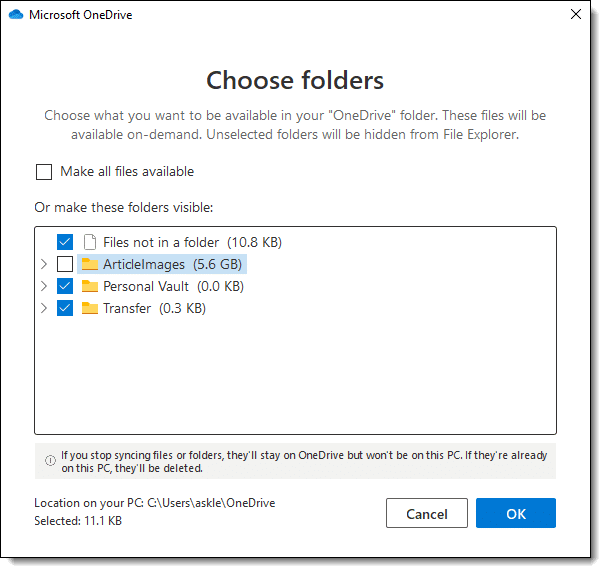 In the example above, the OneDrive folder "ArticleImages" will not appear on my PC at all; my Windows Explorer view of OneDrive looks like this: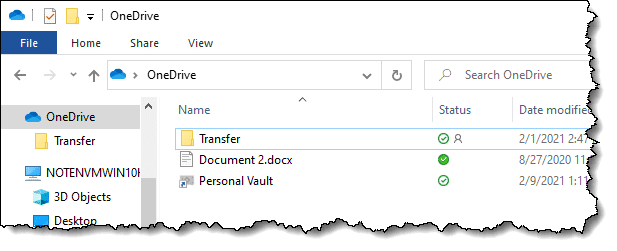 The folders you elect not to have appear on your PC can have as much data as you like in them in the cloud, and it won't impact your PC's disk space at all.
While not directly accessible in your computer's OneDrive folder, you can still access the files in your account using the OneDrive website if you need to.
Using "Files On Demand"
The Files On Demand feature allows files in your OneDrive to be shown on your computer, but not actually take up any space until you want to use them.
In OneDrive settings, click the Settings tab.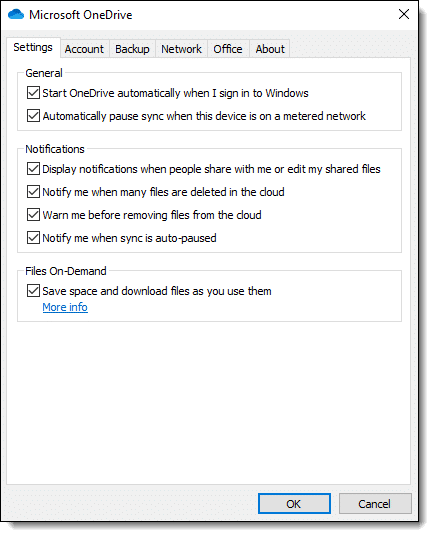 In the Files On Demand section, look for "Save space and download files as you use them."
Checked: Files will not be downloaded to your computer unless you attempt to use them. Depending on the file size and the speed of your internet connection, this can add a small delay when you open a file in your OneDrive folder for the first time. Once downloaded, the file is kept synchronized and updated with any changes across OneDrive and other computers that also signed in to your OneDrive account.
Unchecked: All files are downloaded and kept synchronized on your computer.
You can tell whether or not a file is "really" on your computer or if it needs to be downloaded by looking at the Status column in Windows File Explorer.

The solid green circle with a white checkmark means the file has been downloaded to your computer. The green circle with a green checkmark means it's not actually on your PC and needs to be downloaded if you want to use it. (Downloading happens automatically when you open or use the file.) You can also force a file to be downloaded by right-clicking on the file and selecting "Always keep on this device" in the OneDrive section of the pop-up context menu.

You can also free up the space used by a previously downloaded file by clicking "Free up space". This removes the downloaded portion of the file, though it remains listed and available "on-demand" if you attempt to use it again.
As you use and download more and more of the files in your OneDrive storage, more and more of your disk space will, of course, be used. Windows 10's Storage Sense can be configured to automatically free up space for files that you haven't used in a specified period of time.
Changing OneDrive's location
If you have multiple drives in your system, you can change the location of the OneDrive folder to a drive with more space on it. This is a multi-step process. I recommend backing up fully before beginning, just in case.
Make sure you're not currently using any OneDrive files on your PC.
In the Account tab of OneDrive settings (shown earlier), click Unlink this PC. This will disassociate your computer from your OneDrive account.
Set up OneDrive (unlinking, above, will open the OneDrive setup wizard).
On the "Your OneDrive folder" screen, click on Change location.
In the resulting dialog (not shown), select the folder to contain your new OneDrive location. For example, if you want your new OneDrive to be at G:\OneDrive, select G:\ as its new location.
Verify that your files are properly downloaded from OneDrive.

2

(Optional) Delete the old OneDrive folder (typically c:\Users\<login id>\OneDrive) and its contents, freeing up that space from the original drive.
This is exactly what I've done with the OneDrive installation on my primary computer.
Managing Backup
There is one option in OneDrive that occasionally confuses people and can lead to unexpected duplication of files.
In OneDrive settings, click the Backup tab (not shown here), and then the Manage backup button.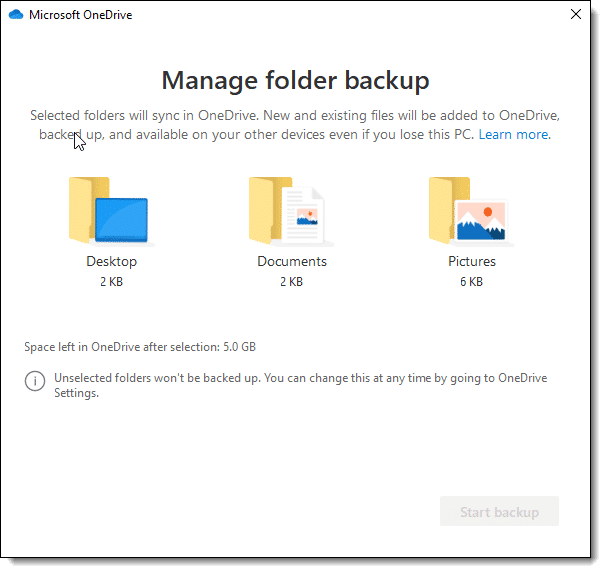 When this feature is enabled, a new set of folders is created and used for each of the folders listed.
C:\Users\<login id>\Desktop becomes OneDrive\Desktop.
C:\Users\<login id>\Documents becomes OneDrive\Documents.
C:\Users\<login id>\Pictures becomes OneDrive\Pictures.
What's confusing is that these are additional, new locations and the previously used folders are not removed. For example, after selecting to have OneDrive back up the "Documents" folder:
C:\Users\<login id>\OneDrive\Documents is created. (Assuming the default location of your OneDrive folder is: c:\Users\<login id>\OneDrive.)
The old Documents folder at C:\Users\<login id>\Documents remains.
The "Documents" shortcut in Windows File Explorer is updated to reference the new OneDrive\Documents folder.
In a sense, you now have two Documents folders: the new one in OneDrive, and the old one wherever it was originally. Be sure and check both places for documents you might be missing or documents that have been duplicated and are taking up space they no longer need to. With OneDrive backing it up, the Documents folder within OneDrive is likely the one you want to use. In theory, you can delete the original Documents folder, but I advise against it. Simply make note that it still exists, and move any documents that remain there into the "new" Documents folder in your OneDrive.
Using OneDrive online only
You don't have to have OneDrive on your computer at all. You can just use the OneDrive.com website to access all the files you have stored in OneDrive.
If you have OneDrive running and synchronizing, unlinking it, as we did above, will disconnect your PC from OneDrive. You can delete the OneDrive folder and rely only on the OneDrive website to view, download, and upload your files as needed.
Another option is to use third-party software to make your online-only cloud storage appear as a virtual or networked drive on your computer. On one of my older laptops that's tight on disk space, I use MountainDuck to "mount" my OneDrive cloud storage as drive O:. I use it like any other drive, except that it's slower since everything is happening over my internet connection.
It's about more than disk space
The options I've listed above are focused on freeing up disk space and not needing to have a complete copy of everything in OneDrive on every machine.
There's another benefit: internet bandwidth.
When files aren't stored on your machine, OneDrive doesn't need to synchronize them. That means when a file changes there's no need to sync it to the computer you're using, resulting in less internet usage. (It'll still be synced to any other computers having OneDrive installed and signed in to your account.)
Particularly on slow connections, or when you're traveling, this can be another helpful benefit of managing your OneDrive disk space.
Podcast audio

Download (right-click, Save-As) (Duration: 14:21 — 17.0MB)
Subscribe: RSS
Footnotes & References
1: Highly recommended.
2: This approach does re-download OneDrive files into a new, empty OneDrive folder. There are techniques that move the existing OneDrive folder, but in my experience, it's easy to lose what you're moving. It's safer to simply re-download. Remember, you can choose either or both of "Choose folders" and "Files On Demand" to reduce the amount being downloaded.