How to get better answers faster.
Searching the internet is an art of sorts. I'll share my two-step approach to better search results.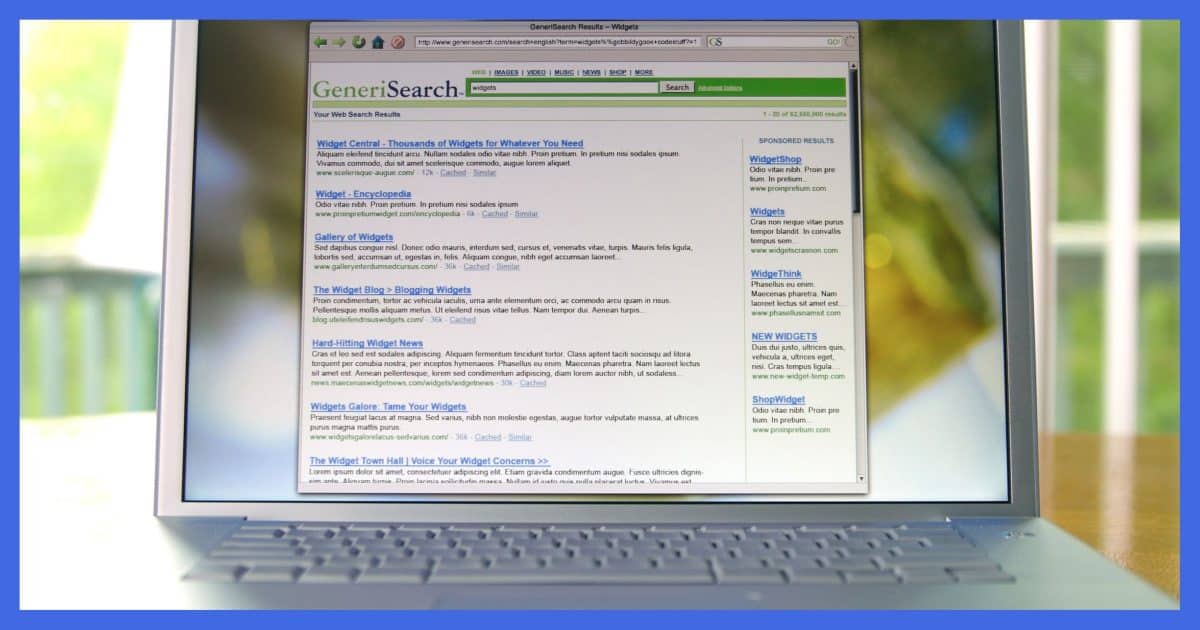 In a previous article, I pointed out how people are often confused as to what is and is not "searching". But even when they know they're searching, they often give up in frustration when they don't quickly find what they want.
Searching effectively is the key to unlocking the vast amount of information available to us on the internet. Unfortunately, searching well is a bit of mystical art.
While advanced stuff you can do with most search engines (like Google or Bing or others) is pretty impressive, you don't need to be a search engine jockey to get better search results.
I want to share the two most common mistakes as well as a two-step approach to getting better search results. I'm convinced it will get you what you're looking for well over 80% of the time (assuming what you're looking for exists, of course
).
Better search results
Start broad with a couple of key words related to your search.
Refine your search term by adding or changing words based on the results.
Don't give up too quickly. Instead, refine your search and your skills to circle in on the results you're looking for.
Mistake #1: Starting too specific
What I often see in the search logs for Ask Leo! are questions that are almost complete sentences. For example:
help i cant get my computer i just bought from an auction, says need administator password, i dont know it….what can i do to get on my computer??????
Forget the grammatical and spelling errors for a moment (also very common). Putting a lengthy phrase or entire sentence into a search engine is a recipe for failure in most cases. That's not how search engines work.
Now, to be fair, search engines are getting better at distilling what you mean as opposed to exactly what you typed.1 But the fact is, computers are still better at finding and matching words and phrases than they are at trying to figure out what a sentence — particularly one full of grammatical and spelling errors — means.
Mistake #2: Giving up too soon
If the answer isn't obvious on the first page of ten results, many people just walk away. "Can't find it," they say.

It's not uncommon for that initial search to be very close to the desired result. That it isn't immediately obvious isn't a sign that the answer isn't there.
It's a sign that you need to dig deeper. And there's often much to dig into.
Bonus mistake: confusing ads with search results
With so much of the internet supported by advertising (including Ask Leo!), it's critical to learn to recognize advertisements and not confuse them with actual content like articles and search results.
Don't just click on whatever's at the top of the page thinking that's the first result from the search when in fact someone paid money for it to appear there. The actual search results appear further down the page. Sometimes there are no ads, and sometimes there are more ads on a search results page than there are actual search results.
Step #1: Start broad
When you're looking for information on the internet, start simple. Use only a couple of words or a very short phrase that distills what you're looking for down to its essence.
To use our lengthy tortured-English example of the individual who's won a computer at auction and doesn't have the administrator password to log in, I'd start with a very simple search:
administrator password
There may be thousands of search results on that theme, but it's best to cast a wide net to start.
In fact, because that's such a common scenario and a popular article, the answer to our searcher's query is the very first result when you search Ask Leo! for administrator password.2
In fact, if you just Google those two words, the results will show link after link to articles dealing with lost administrator passwords, including that same article here on Ask Leo!.
There was no reason to type that entire lengthy question into a search box when two words would do. Yes, they had to be the right two words, but they were two words that represented the essence of the question — a question many people have.
Step #2: Refine
The reason many people don't start broad is they believe the terms are too generic and not a good match for their query. As we've just seen, that's not necessarily the case. Sometimes the basic terms will get you just what you need.
And sometimes not. That's when it's time to refine your search.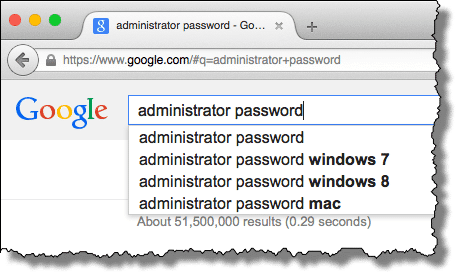 Add a word or two that makes your search a little more specific. Don't fall back to the entire sentence; just a couple of terms that give the search engine a little more information about what you're looking for. Google often makes suggestions, as seen above.
administrator password windows 8
An additional word or two — like "Windows 8" added to our administrator password question — can help zero in on what you're looking for.
If those results are off-target, then perhaps a couple of more words, or, more realistically, a couple of different words, can help.
The key here is to look carefully at the results you're getting and think about what words you can add or replace to give the search engine a better clue of what you're looking for — without being so specific that valuable results are excluded because they don't include those exact words.
For example, adding the word "lost" to "administrator password" might exclude articles that don't include that word. Trying other words — like, for example "forgot" — might increase the odds of finding what you're looking for.
It's a balancing act.
Use just enough words to tell the search engine what you want,
but not so many words as to cause potentially valuable results to not show up.
Do this
Give it a few tries.
The key is not get frustrated and give up too quickly.
Much like aiming a gun, pointing the search engines at what you're looking for takes practice. As you find what works and what doesn't, your aim will get better and your searches more productive.
It's true: sometimes what you're looking for doesn't exist. But practice refining your aim a few times before you give up.
Want another good source of information? Subscribe to Confident Computing! Less frustration and more confidence, solutions, answers, and tips in your inbox every week.
Podcast audio

Download (right-click, Save-As) (Duration: 7:10 — 9.9MB)
Subscribe: RSS
Footnotes & References
1: Google is often impressive in this regard. This mess of a sentence still turned up relevant results. It's just not something you can count on, and more work than is necessary on your part.
2: Remember also that searching on a website returns only results from that site. Searching the web by using google.com or other search engines hunts all sites known to the search engine.