In a previous article I discussed my two-step approach to search: start broad, and then narrow your results.
In this article I'm going to talk about a different approach, and remind you of an important search operator, to help you find sometimes the most precise and yet most obscure stuff on the internet.
And it all starts with my wife and me watching TV.
The movie background
My wife and I were watching a movie and in that movie was a scene where the characters were meeting at some kind of outdoor memorial. It was an interesting piece of architecture with some statues, and in today's world of computer-generated landscapes I was curious about where that memorial actually existed in the real world.
Everything I had to go on was in the background shots of the movie. The biggest clue was that I could see some of the words on the memorial: 'Remember here in peace, those who…' That's all I saw.
Searching for that returned many things, but not a one was what I was really looking for.1
Getting specific
Looking at the search results in more details, something became clear:  the words were there, but not exactly in the way I had specified.
When you search for a group of random words most search engines simply look for "a page containing these words in any order". Naturally it's much more complex than that, and while the search engines may give preference to results that have them in the exact order you specify them, they may give more preference to sites that are considered more authoritative, or less spammy, or more active, or any of a hundred different criteria.
What I wanted was an exact match.
And that's exactly what the quote operator is all about. If I put the string of words in quotes, that tells Google to look for exactly this. So I searched for:
"remember here in peace, those who"
And, sure enough, the first item on that list was the Welsh National War Memorial. The scenes from the movie were shot inside this structure. The wording we saw in the background is inscribed around the inside of the monument's upper ring.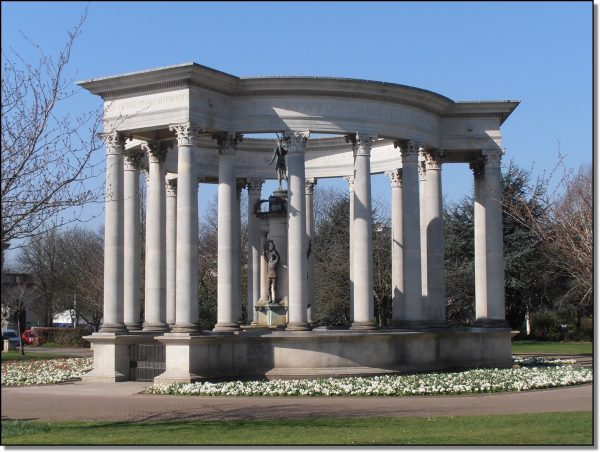 REMEMBER HERE IN PEACE THOSE WHO IN TUMULT OF WAR
BY SEA, ON LAND, IN AIR, FOR US AND FOR OUR VICTORY
ENDURETH UNTO DEATH
When to get specific
It's often exactly the right thing to throw together a couple of words, and and then narrow down your search. However in a case like this where you have something that is a specific phrase, using quotes can often get you exactly where you want to be. In my example not only was it a single step, but in fact the results page included several additional items also relating to that same thing.
My movie is just an example, but perhaps of much more interest might be error messages. When your computer presents an error message, try searching for that error message, or even a fragment of that error message:
typed in

exactly

(or copy/pasted)
and
enclosed in quotes ("double quotes" are safest – 'single quotes' may have different meanings to different search engines)
will often get you to exactly what you're looking for.
Podcast audio

Download (right-click, Save-As) (Duration: 3:55 — 3.7MB)
Subscribe: RSS