Everyone has an agenda.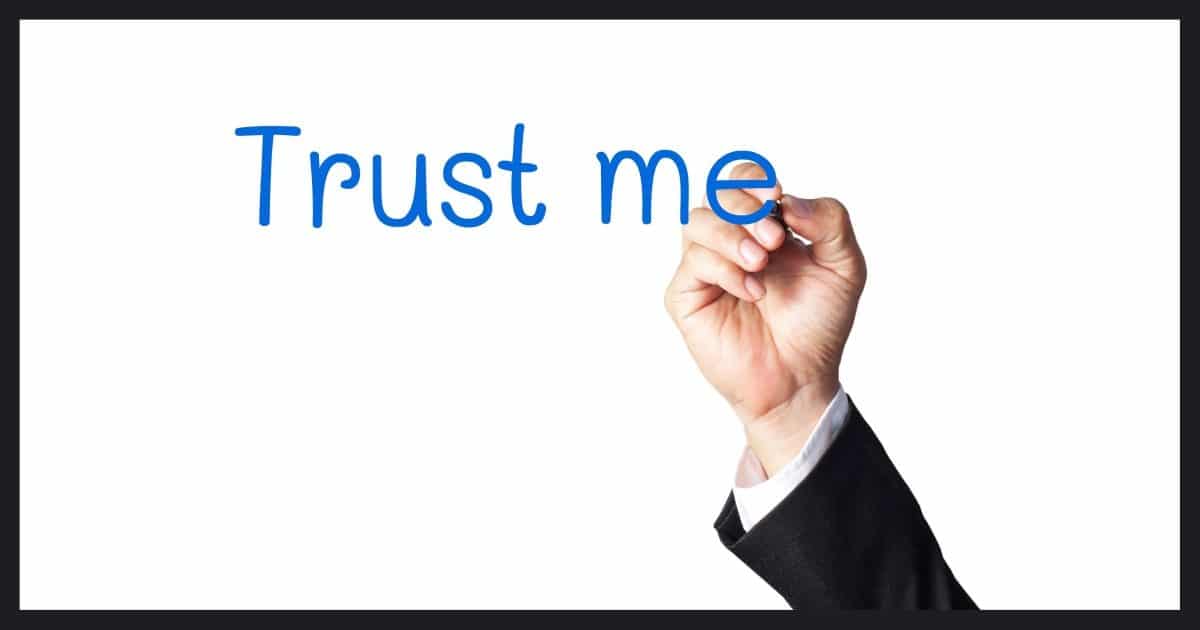 A snide remark about one of my recommendations raises an important point about any recommendation you find online: there are many opportunities for abuse.
From: Billy Bob Macrium
Mr. Leo, your check is in the mail :-)
I got that as a comment to my article How Do I Restore a Backup to a Smaller Hard Drive? Presumably, the commenter believes my reasons for recommending Macrium Reflect are financially motivated and is trying to make some kind of snide remark to make his point.
There are two completely separate reasons why the implication is wrong; more on that in a moment.
I'll admit that it irritated me. No one likes having their ethics questioned.
But as I cooled down, I realized while the comment delivery is immature, hidden in the sarcasm is a concept worth understanding: there are reasons you shouldn't blindly accept recommendations you find online.
Perhaps even those you find on Ask Leo!
Trusting Online Recommendations
It can be difficult to know whether recommendations you find online are legitimate or financially motivated. Even those claiming to be above board might not be. Be skeptical of any recommendation you find online, and try to develop your own collection of sources you know and trust.
Affiliate programs
If I were to re-word the comment to be clearer and more respectful, I'd say this:
Leo, you must be getting some kind of monetary incentive to promote Macrium Reflect as much as you do.
It's a valid concern. There are relationships known as "affiliate programs" where individuals can receive a percentage of the price if someone purchases a product after clicking on a link provided by the affiliate program member.
For example, when I link to a product on Amazon — say a Kindle Fire, as I have here — I use what's called an affiliate link. If you click on that link, Amazon knows it was my site that sent you. Should you buy the device (or, in Amazon's case, almost anything else), I'll get an affiliate commission or "finder's fee" of around 5%.
This doesn't affect the price you pay. If no affiliate link is used, Amazon keeps the 5% for themselves.
Some producers of digital goods have affiliate programs. Commissions run from the sub-5% range offered by stores like Amazon to 20%, 40%, 50%, or sometimes even more.
It's nothing new. Affiliate programs and affiliate marketing have been around for years and are considered a respectable approach to getting a product promoted by others. Chances are you've already purchased things via an affiliate link and never even known it.
Affiliate relationships can be abused
The problem is, of course, that with a monetary incentive to promote a product, the motives of those doing the promoting become suspect.
Let's say product "Z" offers a 25% affiliate commission on each sale, whereas product "Y" doesn't have an affiliate program at all. Both products perform the same function.
Everything else being equal, it might make sense to promote product Z over Y. I mean, if there's honestly no difference, why not get an affiliate commission on every sale?
But there's always a difference. Product Z might have a bad reputation. Product Y might honestly be the better product for a variety of reasons.
This is where affiliate relationships get abused. Inferior products may get promoted simply because they have an affiliate revenue opportunity.
This is the first of the two reasons my commenter's inference about my situation is wrong. Macrium Reflect is product Y: they have no affiliate program I could find, and I make no money when people purchase it.
It's just a good product and worthy of your consideration — in my opinion.
Comments and reviews can be faked
The motives behind online recommendations are questionable for more reasons than just affiliate revenue.
Besides snarky questioning of my ethics (thankfully infrequent), a more common scenario on AskLeo! are comments which are left to promote a particular product. Sometimes they're completely unrelated to the topic at hand; those are simply treated as spam and deleted. However, sometimes they're seemingly on-topic but self-promotional.
I know you like product "Y", but I've been using "X" and honestly, it's way, way better. Here's a link so you can check it out…
As a reader of my site, you might consider it a legitimate opinion based on someone's experience. In reality, it's someone working to promote sales of their product, good or bad. (Often bad, since good products rarely need to resort to this technique.)
But there are also totally legitimate comments from other readers (like you) sharing experiences that add significant value to the discussion.
It's difficult to know the difference sometimes. My staff and I try to weed out the spam, but we're not always successful. Other sites that accept comments or product reviews make no such effort at all — it's something that Amazon, for example, is criticized for since product reviews have been known to be faked.
The author might have an agenda
Within moments of receiving the comment implying my Macrium Reflect recommendation was less than objective, I received a comment on a different article, lambasting me for recommending Windows Security — nearly accusing me of being nothing more than a shill for Microsoft. (Sadly, I still face that inference, having worked there for 18 years, even though I left over 20 years ago.)
My guess is that the commenter has a strong anti-Microsoft agenda — something I see frequently. That agenda can't help but bias his comments and reviews. They're likely to be less than objective.
His visceral reaction to Windows Security is not born out by my own experience, nor the experiences of many other reviewers and tech support personnel. Of course, it's not 100% positive — no product gets that — but it's significantly better than he would have us believe.
He's most certainly entitled to his opinion, but it makes evaluating comments and reviews that much more difficult for the casual reader.
The author might not be qualified
I like to believe I know what I'm doing. The 45+ years I've put in computing, plus my background, plus hands-on experience with the various technologies I talk about here make me at least somewhat qualified to do what I do.
I know there are areas where I'm not well-suited — for example, I rarely take on Mac-related questions, even though I use them in addition to PCs, because that's not my strength. There are better resources out there.
But being qualified is certainly not a requirement to publish on the internet, or make comments on blogs, or even set up entire websites on some subject.
And let's face it, we all run the risk – myself most definitely included – of thinking we know more than we do, or that we are better than we are.1

But that doesn't stop us from posting.
How I come to my recommendations
I can't speak for other sites and other reviewers, but I can tell you how I most often come to recommend products on Ask Leo!.
Almost all are products I use personally, and more often than not, use heavily. When the time came to drop my recommendation of a previous back-up solution, I researched a little and discovered that Macrium Reflect met my requirements – not just for myself, but as something that I might recommend to others. So I bought it and started using it. I liked what I saw.

2

The product has to be "significant enough" to warrant a recommendation. This is a little fuzzier, but I don't make recommendations lightly, so the product needs to solve a real problem, and do so in a way that I believe is significantly useful to the average user or someone attempting to solve the specific problem the program addresses.
Only after I decide to recommend or link to a product, and only if that product is not free,

3

do I go looking for an affiliate program. This is the second way that the commenter's inference is wrong: revenue potential doesn't drive what I recommend. While I'll certainly take advantage of affiliate programs if they exist — it helps defray the costs of running Ask Leo! — it's certainly not a requirement.
At least, that's what I say I do. You have no way of knowing for certain.
And you and I have no way of knowing with certainty how others do it, either. This is the internet – anyone can put up anything for any reason.
(This is also covered in my article Product Reviews, Recommendations and Affiliate Links Disclosure. That's a statement the FTC looks for on websites that recommend or promote products for sale. On AskLeo!, there's a link to it on the bottom of every page.)
Find someone or a venue you trust
So what's a person to do?
My recommendation is you invest a little time in finding someone you feel you can trust. Naturally, I hope that's me, but that's not as important as finding a resource you feel comfortable with before you need a recommendation.
Sign up for a few tech newsletters and see which feels best to you.
Join, watch, and participate in a few online tech discussion forums.
Visit a few support and news sites regularly.
In all cases, watch for specific people making recommendations. Don't trust everything you see on a discussion site, for example, but look at the specific people who are making comments and recommendations. Judge their reputation and form your own opinion about their trustworthiness.
Even then, as I said, remember this is the internet; take every recommendation with a grain of salt. But starting with a site or individual whose opinion you feel some affinity for will give you a leg up as you make your own decisions.
It's all about trust
It really is all about trust.
Approach the internet with a healthy dose of skepticism.
If you don't trust a site or recommendation, then don't follow the recommendation, it's as simple as that. If you think there's an ulterior motive, walk away.
Leaving snide comments rarely helps anyone, but asking questions absolutely can. Simply expressing reservations or respectfully disagreeing can provide food for thought for site visitors who follow — particularly if the author responds. This is the reason I regularly leave the comments of those who disagree with me on AskLeo!: to get future visitors to think.
On the other hand, finding and sticking with a site or individual whose reputation, opinions, and recommendations you trust can make finding the right tool or solving that problem a safer, hopefully quicker experience.
You don't even need to always agree; what you do need is to trust the intent, integrity, and ethics of whatever source you use.
As I said, I hope that's me, but if it isn't, I strongly encourage you to find a source you can trust to get the advice and the support you're looking for.
Do this
One way to build trust is to look at what someone has to say over time. Do they have a track record, are they consistent, are they helpful… or do they drop a recommendation and disappear?
I've been doing this since 2003. Join the journey forward, see what I have to say, and decide if I'm worthy of your trust. Subscribe to Confident Computing! Less frustration and more confidence, solutions, answers, and tips in your inbox every week.
Podcast audio

Download (right-click, Save-As) (Duration: 15:07 — 13.2MB)
Subscribe: RSS
Footnotes & References
1: There's even a term for that: the Dunning-Kruger effect: "… a cognitive bias in which unskilled individuals suffer from illusory superiority, mistakenly rating their ability much higher than average."
2: Ironically, as I was writing this article, Macrium popped up a dialog letting me know that it had completed its full backup of my machine. I continue to use it daily.
3: Also ironically, the vast majority of my recommendations are for free software, for which the entire concept of commissions doesn't even apply. I only recommend non-free software when I think it's most suited to the job.