Overseer.exe is apparently installed sometimes by Avast Free Anti-virus (and possibly other packages). The problem, as I discovered myself, is that uninstalling Avast did not remove overseer.exe.
That takes some extra steps.
Overseer.exe
Overseer.exe is explained in an Avast support forum as "an application that is going to help us detect common (technical) issues with our products." The gist is that it periodically looks for common problems in Avast software and (presumably) attempts to fix them.
It showed up on my system after I accidentally installed Avast as a PUP while installing CCleaner.1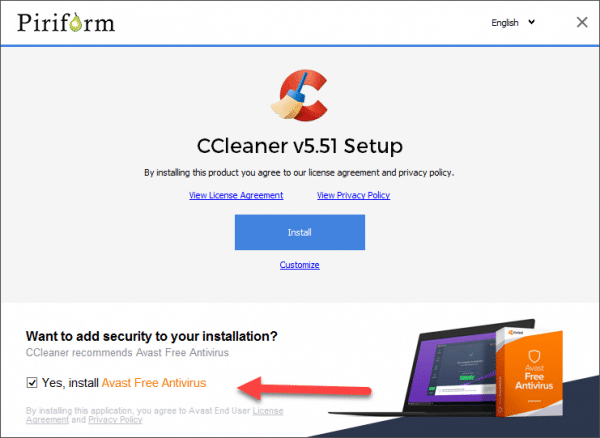 I uninstalled Avast, only to note that "Avast Overseer" was still running even after the final reboot. I didn't find it in any start-up information, so I dug deeper into finding out where it lives and how it gets run.
The short answer is that it lives in C:\Program Files\Common Files\AVAST Software\Overseer, and it's run by the system's Task Scheduler.
We need to deal with both.
Removing the overseer task
Click the Start icon, start typing "scheduler", and click on Task Scheduler when it appears in the results.
In the left-hand pane, click on the greater-than sign in front of "Task Scheduler Library" to expand its contents, and then click on "Avast Software". The middle pane will show a single task, "Overseer". Right-click on that task and click Delete.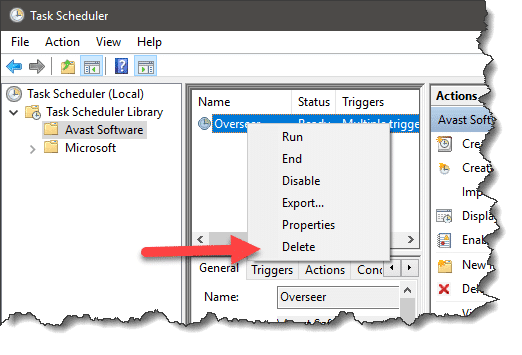 You'll need to confirm that you want to delete it, and after doing so, it will be gone.
Removing overseer.exe
In Windows File Explorer, navigate to C:\Program Files\Common Files\AVAST Software.

Right-click on Overseer, and in the pop-up menu, click on Delete. (You may need to confirm a UAC prompt to perform this administrative task.)
Overseer should now be gone.
This whole experience reminded me to be careful, always, when installing software. PUPs appear in various places, and the only way to avoid the majority is to be vigilant. I wasn't.
Podcast audio

Download (right-click, Save-As) (Duration: 2:52 — 1.4MB)
Subscribe: RSS
Video Narration