See which ones will work for you.
Booting Windows is complex, but there are several possible opportunities for improvement.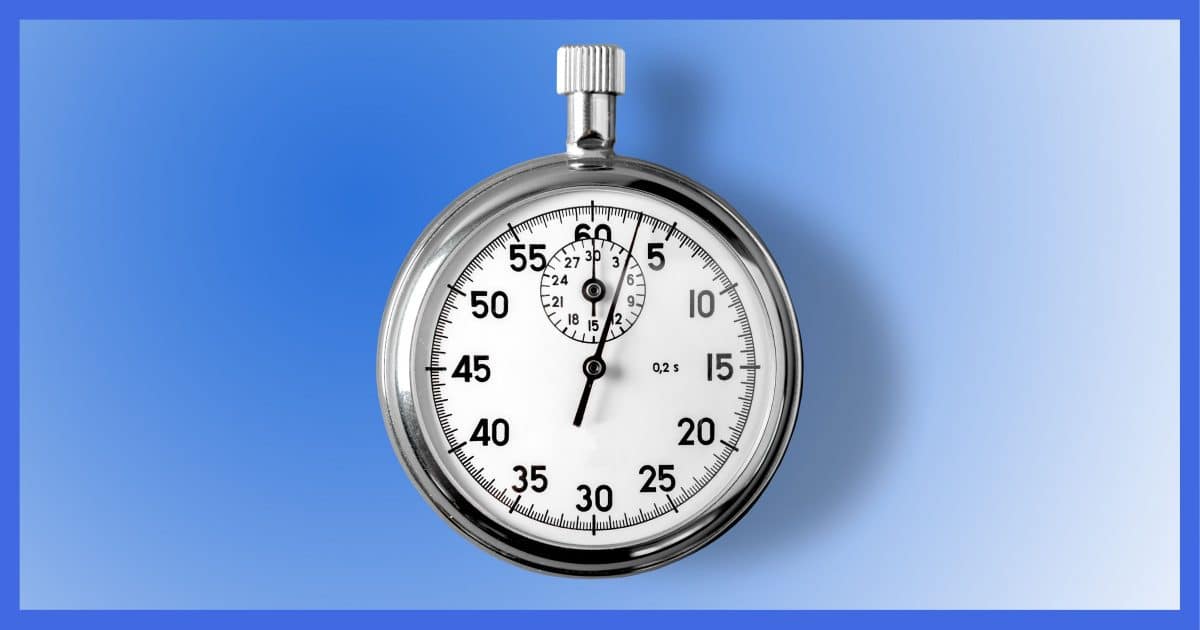 Would a smaller C: drive boot up faster?
Probably not. Put another way, I can't think of a reason that making your C: drive smaller would speed things up when you start your computer.
So let's explore a few other ideas to speed up your computer's boot.
Speeding Up Windows Boot Time
Upgrade from an HDD to an SSD.
Add RAM if your machine is low and has room.
Uninstall software you don't use.
Disable unneeded Startup entries in Task Manager.
Carefully disable unneeded startup entries in Autoruns.
Defrag older HDDs.
Replace your HDD with an SSD
An SSD will speed up much more than your Windows boot time, but that's where it'll probably be most noticeable. Solid state drives are significantly faster than older spinning-platter hard drives and can be one of the most cost-effective upgrades you can perform.
The process is simple: take an image backup of your existing hard drive, replace the drive, restore the image, reboot, and go. While there are occasionally some pesky details along the way, it often is that easy.
Here's the process I went through some years ago: Replacing an Old Hard Disk With a Solid State Drive (SSD).
Add RAM
This really applies only if your system is low on RAM and your motherboard has the capacity for more.
"Low on RAM" is somewhat subjective, but one thing you can look at is your RAM usage as you boot up. Fire up Task Manager, switch to the Performance tab, and click on Memory in the left-hand pane. Watch the amount of memory used in comparison to how much is installed in your system.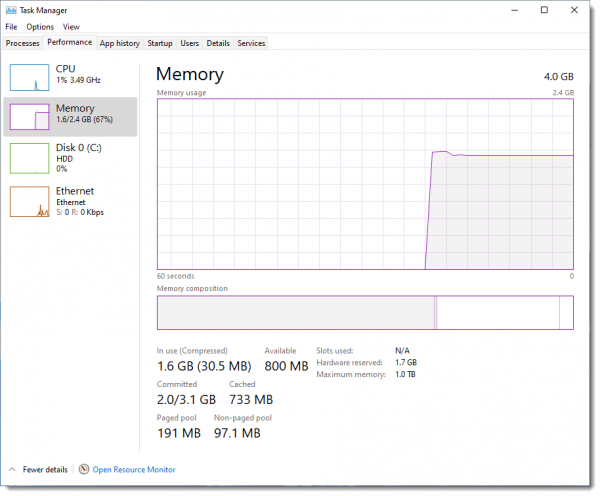 If it looks like all RAM is in use at some point during the boot process, your machine might be a candidate for an upgrade.
Uninstall software you don't need
Another approach is to use less RAM to begin with. One of the sneakier ways software can affect your system is by installing things that run automatically at startup. Uninstalling that software is the best way to remove not only the software you never use, but any pesky startup items it added.
I recommend you do this before explicitly disabling Startup items (our next step) because very often the things software adds don't appear on the Startup list and aren't easy to disable. Uninstalling the software gets around this. The software's uninstall process removes these startup entries regardless of where they appear.
Take a walk through the Apps & Features list in the Settings app.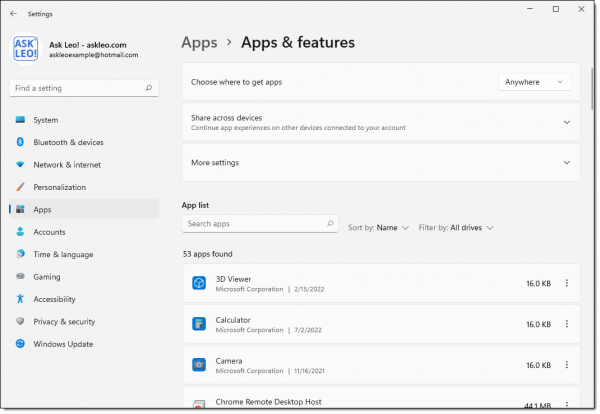 For each program you know you don't use, click the ellipsis at the end of its entry, and if there's an option to Uninstall, use it. (Not all have an uninstall option, and it's probably not worth the effort to force the issue in other ways.)
Now that you've pared down what's installed on the system, we can look at the Startup list.
Remove Startup items
In Task Manager, click on the Startup tab.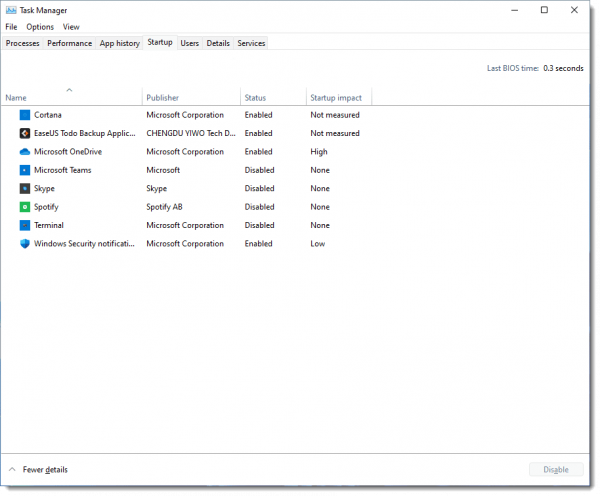 You can see in the list above I have a few things set to Disabled.
You'll want to evaluate what's in this list and decide what's important to you. In my case, I never use Microsoft Teams, for example, so there's no reason that it be running at all, much less slowing down my computer's boot time as it starts up.
The good news here is that it's difficult to damage anything. If you mark something as disabled and it has an unintended side effect the next time you boot your machine, just return here and enable it again.
Remove Startup items: advanced
This is a step I recommend only if you know what you're doing.
I mentioned above that not all auto-start items are listed in the Task Manager's Startup tab. The autoruns program included in the SysInternals Suite (a collection of Windows tools free to download) lists everything.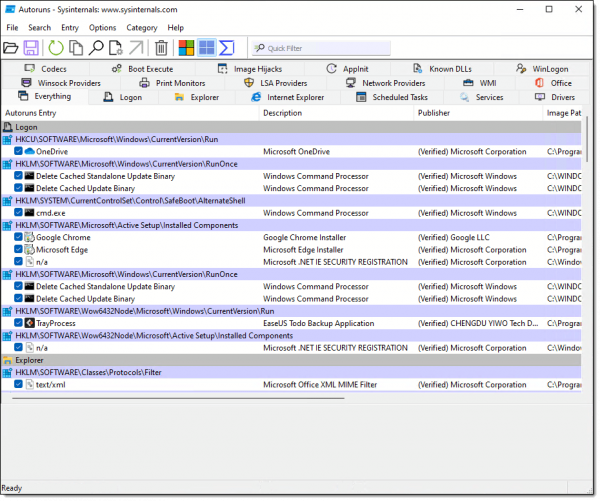 You can delete or disable anything. The catch is that if you delete or disable the wrong thing, you can break things and can even render the system unbootable.
I'd use this tool as a last resort, and only if you're certain that there's something at startup that:
Is responsible for a slow-down.
Is something you can live without.
Is something you can't or don't want to uninstall.
Is something you know won't break your system if disabled.
Just to be safe, make a backup image before you play much with Autoruns.
Defrag your HDD
This doesn't affect as many people as it once did for a couple of reasons. Windows automatically defragments HDDs once a week, and HDDs are becoming less common for all the reasons getting an SSD was my first recommendation.
That being said, if you can't replace your HDD with an SSD, then checking how fragmented it is or running the defragmenting tool certainly can't hurt, and might improve startup time somewhat. A heavily fragmented disk can certainly impact startup.
Do this
Whether it's spending money, removing software, or tweaking your startup menu, there are several ways to try to improve your computer's startup time. While not all apply to everyone, those that apply to you might make a significant difference.
If you found this helpful, be sure to subscribe to Confident Computing! Less frustration and more confidence, solutions, answers, and tips in your inbox every week.
Podcast audio

Download (right-click, Save-As) (Duration: 8:27 — 11.7MB)
Subscribe: RSS