A valuable collection of Windows utilities.
Microsoft has made these free tools easier to get and keep automatically updated.
I've long recommended SysInternals like Process Explorer, Autoruns, and more for an assortment of maintenance and diagnostic tasks.
They've always been a bit of a pain to install, typically involving downloading a zip file, extracting it, and perhaps putting the resulting files in the "right" place, whatever that might be.
No more. Microsoft just made installing the SysInternals tools easier than ever.
Getting SysInternals Tools
Sysinternals tools like Process Explorer and others can now be installed easily by finding the "Sysinternals Suite" in the Microsoft Store. As a bonus, they'll be kept up to date automatically once installed.
SysInternals Tools
Originally a separate collection of tools, many years ago SysInternals was purchased and made part of Microsoft. The collection includes dozens of tools. The ones I reference most often include:
Process Explorer – something I've referred to as "Task Manager on steroids." Even though Windows Task Manager has improved in recent years, Process Explorer still provides more detailed information about your system and the processes running on it.
Process Monitor – as the name implies, this tool monitors process activity, collecting data — often lots of data — about what's happening on your system that you can filter and analyze to assist with diagnostic work.
Autoruns – this is the canonical tool for determining exactly what's automatically running on your system every time you boot, sign-in, and more.
I've long carried my copies of these tools with me, because without fail when diagnosing some issue or another I'd need one of them.
Now you can just install the entire suite, and it'll be automatically kept up to date by Microsoft and Windows.
It starts in the Microsoft Store
Open the Microsoft Store, and search for "SysInternals".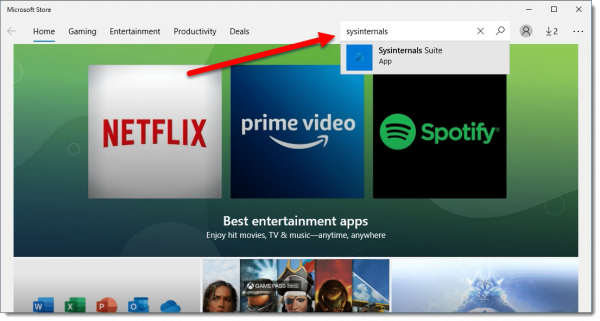 Click on "Sysinternals Suite" when it appears.
You may need to click Get to actually "own" this app in the store. (The Sysinternals Suite is completely free.) Click Install to install the suite of applications.
Once the installation is complete, the apps will simply appear in the Windows Start menu.
In the Windows 10 Start menu, the apps will appear individually in the full list of apps on your machine, as shown above.
In the Windows 11 Start menu, the apps will be collected under a "Sysinternals Suite" item in "All apps", as shown below.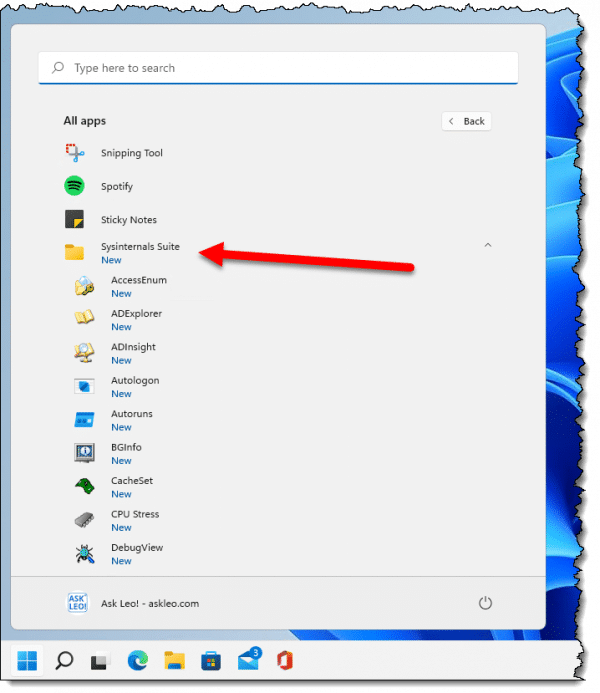 In both cases, there will also be a separate "Sysinternals Suite" item that is a shortcut to the Sysinternals webpage, as shown at the top of this page.
Podcast audio

Download (right-click, Save-As) (Duration: 5:30 — 4.8MB)
Subscribe: RSS