Before I upgraded my primary desktop machine to Windows 8, I decided to replace its hard disk with a solid state drive.
There was no other reason than "wouldn't it be cool" to really drive my decision. The expectation was that certain operations on the upgraded machine would be faster.
As it turned out, my machine had plans of its own, and the timing of my upgrade honestly couldn't have been better.
Here's what I did.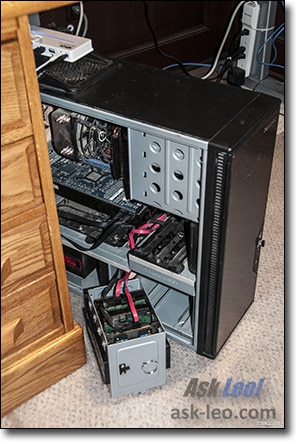 My failing drive
My process was to be actually pretty simple. As you might expect, it starts with an image backup of the drive to be replaced. I'd been taking nightly backups (or so I thought), so technically, a last-minute backup would be redundant, but it's also a great safety measure. It's also slightly more convenient to have an actual, single full-image backup rather than an image backup and some number of incremental backups.
The problem was that the image backup that I attempted to take failed. (At the 99% mark, of course.
).
In fact, the hard disk had developed a bad sector on the day that I ordered the replacement drive. As a result, my nightly backup program had been failing since that day as well. On top of that, it failed to notify me because of a change that I'd made to my email configuration; I hadn't updated the  program yet. It tried to tell me that things were failing, but I never got the message.
So when it came time to perform the upgrade, I had a disk with a bad sector and my latest backup was roughly three days out of date.
Rather than sucking it up and reverting to that three-day-old backup, I elected to run both SpinRite and CHKDSK /R on the drive over the next two days.
Then, finally, I could grab an up-to-date backup of the machine's existing drive.
The moral of the story so far: check up on your automated backup from time to time to make sure that it's actually working as expected. (And, apparently, don't let the drive know its replacement is on order – it would seem this knowledge makes drives cranky.
)
The replacement process
Centered around backup disk imaging software, the process that I used was actually very simple:
Create the rescue media used by your backup and restore software.
Create a full backup image of the disk being replaced. While that took me two or three days because of the problems that I described above, this should only take you a couple of hours.
Replace the drive physically. As you can see from the photo above, that involved extracting the bay on my machine which holds the drives and then disconnecting, unscrewing, replacing, re-screwing, and reconnecting the components involved. The specifics will vary dramatically depending on the machine that you have. Two things are constant: unplug the machine from power before you begin and make sure to discharge any static by touching the chassis often and before inserting new components. If you're in a particularly static-prone area, you may even go so far as to get a grounding wrist-strap to connect you to the chassis throughout the entire operation.
Boot the machine from the rescue media that you created earlier.
Restore the backup image you took from the old drive to the new drive.
Remove the rescue media and reboot your machine. Watch it reconfigure itself a little to the new drive.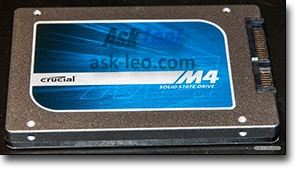 You're (hopefully) done.
I actually had an additional step that I'll cover in a separate article: when my machine rebooted, it reconfigured for the hardware just fine, but the amount of change apparently triggered Windows Activation. I had to take additional steps to re-activate my copy of Windows online.
If the new drive is smaller
One of the issues that I glossed over was that my old drive was one terabyte, while the replacement SSD was only half that size at around 500 gigabytes. In other words, the new drive was smaller than the drive it was replacing.
As long as you plan ahead, and as long as you're using good backup and restore software, this typically doesn't present an issue.
My approach was:
Reduce the amount of data on the old 1TB drive to something less than 500GB. There's obviously no way to move more than 500GB of data to a 500GB drive, so that issue I had to manage myself by moving data around on my machine. I believe I actually got it down to around 250GB.
Use backup and restore software that can handle the partition size changes when performing the restore.
That last item concerned me. I'd been down this road before a couple of years ago and the backup software that I was using at the time came up short. It simply refused to restore the image of a partition that was larger than the new drive, even though there was ample room for the data.
Macrium Reflect, on the other hand, just worked. During the restore, it didn't even ask, it simply noted that the 1TB image was being restored onto a 500GB drive, and as there was room for all the data, it would simply resize the partition appropriately.
If the new drive Is larger
When replacing a traditional hard disk with a solid state drive, "downsizing" is common; when replacing a hard drive with a hard drive, it's not at all uncommon to take advantage of that time to increase the drive's capacity.
Depending on the capabilities of the backup and restore software being used, there are several approaches to dealing with the extra capacity.
It. Just. Works. This is the case when the backup software notices that its restoring a smaller partition to a drive with larger capacity and automatically increases the partition size to encompass the entire disk. I'm not sure how common this is, and I would expect that the software would ask first. The restored partition remains the same size as the original drive, and the
new drive is left with some amount of unpartitioned space when you are done. In this case, you have two options:
Create an additional partition that encompasses the additional space. For example, you might create a D: drive that you would use to access the greater capacity.
Extend the partition that was just restored to encompass the entire drive. In this case, the C: drive would just get bigger.
I tend to prefer the later option.
The good news is that either option can be performed with Windows 7's built-in disk management tool.
Footnote: My splurge
As I noted, I replaced my 1TB C: drive with a 500GB SSD. It works, and indeed my machine boots faster and programs load more quickly.
But I have less space.
I couldn't let that stand.
So I also purchased a 3TB drive to add to my system. That should last me for a while.
If you look closely at the image of my machine, you'll see that the drive bay actually holds three drives:
(That photo was taken while the work was in progress, as only two of the drives have cables connected.)
I now have three drives on my system:
C: – 500GB Solid State Drive; the system drive with Windows installed.
D: – 1TB hard disk. It sat by patiently throughout this whole process and was not changed.
B: – 3TB hard disk. Yes, I assigned it the drive letter B: so as not a need to alter any of my other assignments. B: is historically held aside for the second floppy disk on a machine, which is simply not going to happen here.
So, I think I have enough space.
For now.