The Start menu in Windows 8 was its most strikingly different feature. While it was tamed down a little in Windows 10, it's still quite startling if you're upgrading from, say, Windows 7.
Unfortunately, that tiled Start screen leaves many with a very negative first impression — a first impression that goes on to color their entire Windows experience.
It doesn't have to be that way.
Open-Shell (formerly Classic Shell) is free software that gives you your favorite Start menu back, as well as restoring and adding functionality to Windows Explorer.
Start is…
This is what most people react to.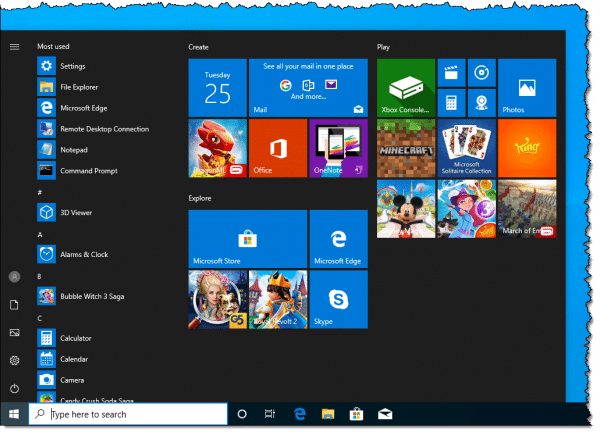 On the left is Windows 10's traditional list of installed programs (not present in Windows 8.1), and on the right is the object of most people's concern: the tiled portion of the Start menu.
It's powerful, it's customizable, and works well with the mouse and on touch screens.
And not everyone likes it.
With Open-Shell — also known as Open-Shell-Menu — you can get the old-style Start menu back.
Installing Open-Shell
Open-Shell is free, open source software available on GitHub.
Visit the Open-Shell homepage and look for the release button.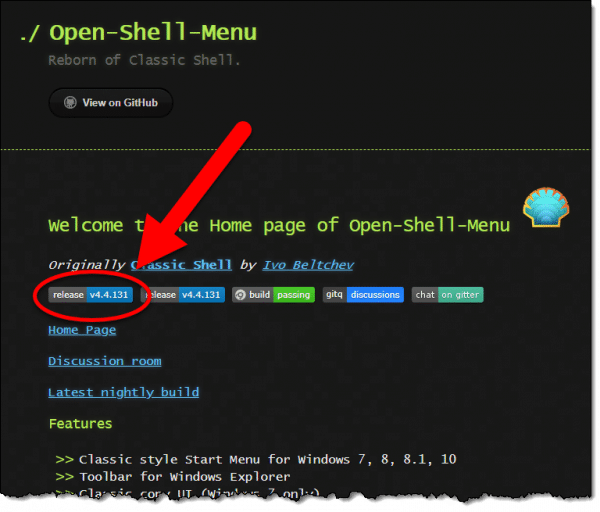 Click on that. On the resulting page, scroll down until you see the installer — OpenShellSetup_xxx.exe.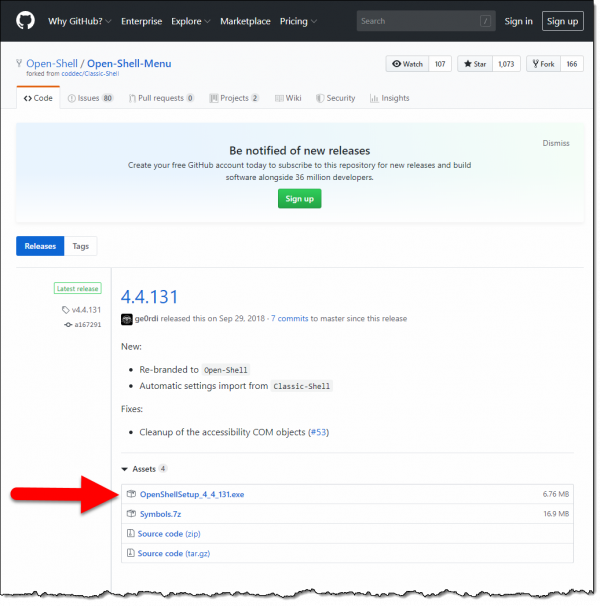 Click on that to download the installer, and select "run" if prompted. You'll be presented with a welcome message.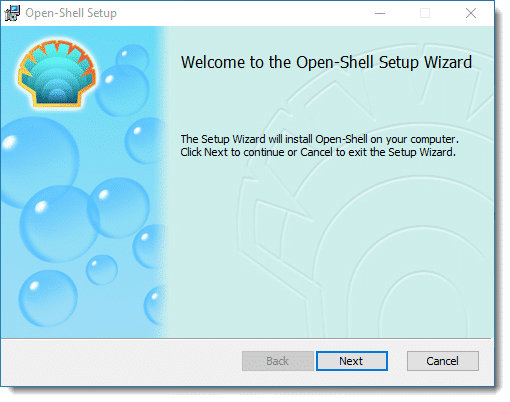 Click Next to view and agree to a license agreement; click Next again to view a menu of installation options.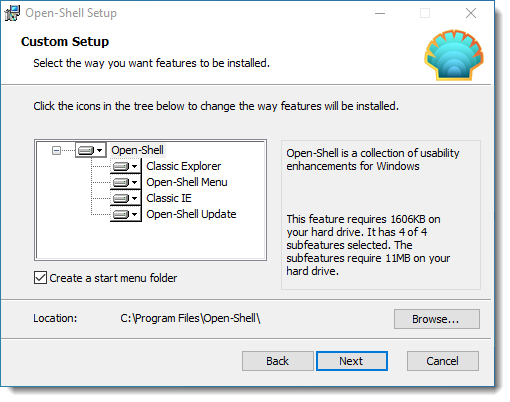 Open-Shell has three separate components:
Classic Explorer adds a toolbar and a status bar to Windows Explorer (now referred to as the File Explorer or Windows File Explorer).
Open-Shell Menu adds a Start button and a highly customizable traditional Start menu.
Classic IE adds a caption bar and status bar for Internet Explorer.
Each of these can be selected (or not) at installation. The default is to install all, and so far, I've seen no harm in doing exactly that.
The fourth option — Open-Shell Update — enables checking for future updates. I recommend leaving it selected.
I'll focus on the Start menu — Open-Shell Menu — for the rest of this article.
Click Next and then Install to complete the installation.
Open-Shell Menu
After installing Open-Shell (and making a choice or two, which I'll cover in a moment), my Windows 10 Home edition now has a Windows 7 style Start menu: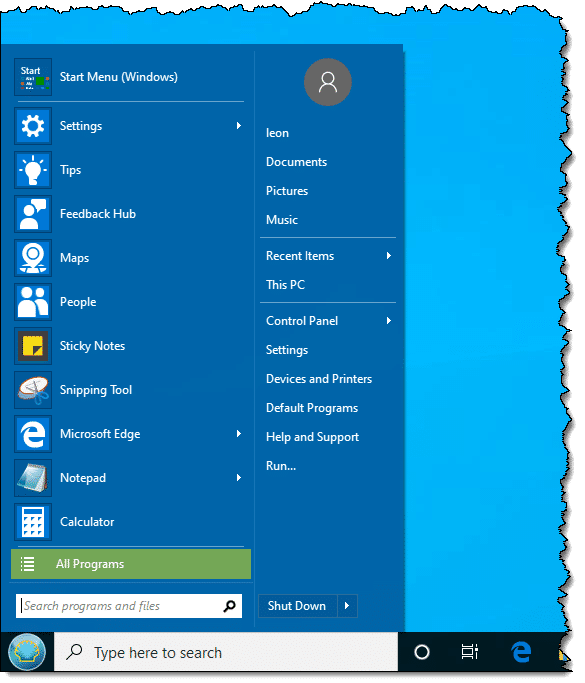 If you're not a fan of Windows 7's approach to Start menus and prefer something even more basic, we can do that, too.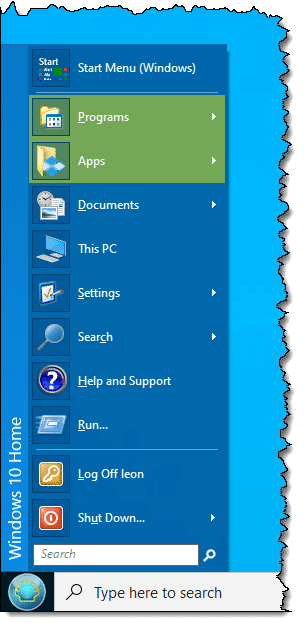 You choose the style you prefer the first time you click on the Start button.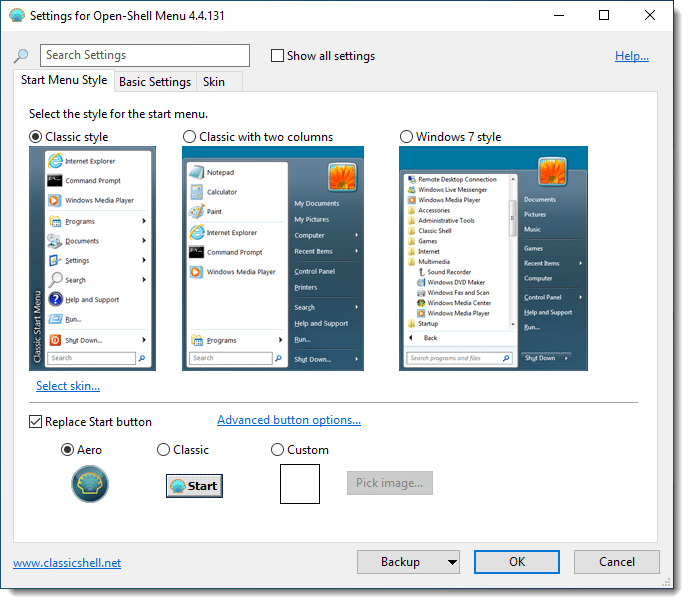 Using Open-Shell
Open-Shell has been integrated into Windows very well. It feels very natural and familiar in almost every circumstance.
Of particular note, however, is that Classic Start hasn't removed anything. In fact, if you want to re-visit your tiled Start menu, just hold down Shift as you click on the Start button.
And, of course, if you decide you'd rather not use Open-Shell and want to run with the native Windows 10 interface, you can simply uninstall it as well.
Options, we have options!
To be honest, I've really only scratched the surface of Open-Shell's capabilities.
Right-click on your Open-Shell start button and click on Settings, and then make sure that the "Show all settings" checkbox is checked.
The options available allow you to customize just about every aspect of the Start menu.
It's not just for Windows 8 & 10
While Open-Shell is most popular for users of Windows 8 and 10, it works in Windows Vista and Windows 7. In fact, it was developed in response to changes in those operating systems. It became a powerful alternative for folks now struggling with Windows 8 and 10.
My recommendation
My true recommendation is that you embrace the characteristics of the operating system you have. If you're on Windows 10, learn to use the Windows 10 Start menu. That will serve you well into the future and keep you less dependent on third-party tools like Open-Shell1.
However, if you're struggling with the newer Windows Start menu, give Open-Shell a try before you give up on that version of Windows.
It might change your mind.
I recommend it.
Podcast audio

Download (right-click, Save-As) (Duration: 4:43 — 2.2MB)
Subscribe: RSS