Question:
So when I access the command prompt and enter ipconfig/all one of the entries listed is "DNS Server" and IP address 192.168.x.x. I understand that my wireless router is my LAN's default gateway and acts as the DHCP server – but DNS server? My operating system is Windows 7 Home Premium.
Yes, your router could in fact be acting as a DNS server. There are various reasons that it might be doing that, most of them related to speed.
First, let's quickly review what DNS actually is.
DNS
I'm sure by now you realize that every machine that's connected directly to the internet is identified by a number called an IP or Internet Protocol address. An example might be 67.225.235.59.
Now, that's hard to remember. Humans prefer to remember things by name, like AskLeo.com. DNS is a service that computers use to ask the question, "What is the IP address of AskLeo.com?", and get an answer.
Traditionally, the DNS servers that handle these requests are provided by your internet service provider.
There are also third party DNS services. One is called OpenDNS, and I think Google has a DNS service that you can use instead of your ISP's for various reasons (again, most of which relate to speed). OpenDNS also offers a filter that you can apply to prevent people from going to known bad locations, and I think there's a porn filter that's available as well.
DNS requests
So, that DNS request that's being made by your computer normally goes out over your internet connection to your ISP's DNS servers. And then the response comes back, for every domain name you access; be it mail, websites, the ads appearing on those websites, internal things used by Windows, and much, much more.
There are lots of different internet domain names that you end up accessing these days by simply using your computer over the course of a day. So, given that your DNS server is used so heavily, it's something we can try to optimize for speed.
Speeding up DNS
That's where your router comes in. Many routers will actually set themselves up to be your DNS server. When you make a request for something that the router's DNS server has never heard of before, it asks your ISP's DNS server for the answer. In other words, the request gets passed upstream.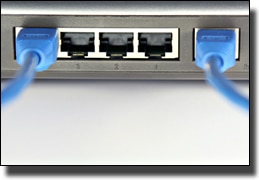 The important thing is that when the answer comes back, the router remembers it.
For example, the first time you go to AskLeo.com, your router's never heard of it, so it asks your ISP's DNS servers, "What's the IP address for AskLeo.com?" The DNS server responds with 67.225.235.59. The router remembers that answer and then of course, it passes the response back on to your computer.
The next time you ask for the IP address of AskLeo.com, the router doesn't have to ask anybody else. It just knows right then and there, which means it doesn't actually have to pass that request across your internet connection and get the response back again over your internet connection. It all happens locally, and it typically happens much faster than if you were relying only on your ISP's DNS server.
Not all routers do this, and some don't act as DNS servers by default, but can be set up to do so. Sometimes your ISP will configure things completely differently from what I've described. To be honest, whether or not your router is acting as a DNS server will not make a huge difference in your internet speed, but it can make a small one.
If you're not sure and if things are working, I typically recommend you leave well enough alone.