I receive about 300 emails daily. I have no one to help me and I would like to be able to block all this crap. I am not very smart about PCs and need some simple instructions to follow. If I continue to receive certain pornographic or offensive emails, how do I ban them? If I open it up to get their email address to try to block them, what happens then? I need all of the help that I can get because this is too much to take care of daily. I do delete my history daily, but I don't think that helps in blocking them. I use Yahoo! as my mail provider and I am on Windows 7.
Assuming that you mean you get 300 spam emails a day, I'll agree that's a fair amount. Between all my various email accounts, I suspect that I get probably around that much.
The question is not how to stop spam. Ultimately, there's no way for you or I to do that.
The questions are how to deal with it when you get it so that it's merely a minor annoyance rather than an overwhelming chore and how to avoid it, or at least minimize it, in the first place.
You can't stop spam
The bottom line is that anyone can send you email, period.
That's good in that anyone who knows you and your email address can communicate with you via email.
It's also bad because anyone who knows your email address can send you junk trying to sell you stuff or fool you into handing over your private information when you shouldn't.
Blocking doesn't work
On the surface, email blocking or banning seems like the perfect solution, but if you look deeper, spammers can work around it almost instantly.
Blocking simply tells your email provider or email program that whenever you get email from this email address, discard it immediately.
So why doesn't that work?
Because spammers change their email address often. In fact, I'd guess that your 300 spams a day are probably from close to 300 different email addresses. And those are 300 different email addresses than the 300 spams you got yesterday, and the day before, and the day before that.
Even worse, spammers fake the email address. They can fake spam to look like it comes from your friends and acquaintances. If you ban one of those because you got spam from it, then you've blocked your friend, who had nothing to do with the spam in the first place.
Blocking just isn't a viable approach any more.
(And for the record, deleting history does nothing with respect to spam.)
Unsubscribing does the opposite
I often hear from people who have been getting spam and clicking on the Unsubscribe link that is sometimes included.
Don't.
Because if you do, you will get more spam, not less.
Spammers do not honor unsubscribe requests. Period. In fact, many use unsubscribe requests as a way to identify which of the millions of email addresses that they're using actually belong to real people. Those email addresses are more valuable and as a result, they will then get more spam.
Now, there's a very, very important distinction to be made here:
Do use unsubscribe links from reputable providers, such as people you know and mailing lists that you signed up to join.
Do not use the unsubscribe links in emails that you don't recognize or are obviously spam.
Spam filters make life bearable
What does work are good spam filters.
Spam filters work by looking not just at where email comes from, but the nitty-gritty technical details of the email, what it's about, what it says and how it says it, and how many other people are getting that same email message. If it looks like spam, then the email is simply placed in your spam or junk mail folder instead of your inbox.
Of the hundreds of spam emails I get per day, I'd say less than five, perhaps even less than one or two, actually show up in my inbox.
If you have 300 spam emails arriving in your inbox every day, I'd guess that you're not protected by a spam filter at all.
Your spam filter
If you're using web mail, like Yahoo! as you are, then you have available to you a pretty good spam filter already.
In fact, in Yahoo! Mail, Google Mail, and Outlook.com, it appears that you can't even turn it off! (Right now in Outlook.com, it appears you can adjust how aggressive it is, but that's about it.)
Most modern email programs like Outlook or Thunderbird now also come equipped with a spam filter built in. Once again, most will have it enabled by default, and most will allow you to tweak how aggressive it is in the program's settings. Exactly how this works will depend on your specific program.
Now, just because you have a spam filter, that doesn't mean you're done.
Training the filter
The default spam filter offered by most email services and most email programs is typically relatively good.1
But you can, and should, make it better.
You do that by telling the service or program every time that you find spam in your inbox. When you see spam in your inbox, click the checkmark next to its line in the list of email, and then click the Spam button on the toolbar: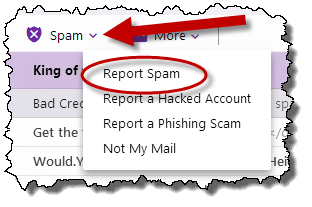 Then click Report Spam. The message will be moved to your spam folder.
Doing this tells Yahoo! that messages like this are spam to me. It then takes this information and uses it to refine its spam filter to get better at automatically detecting spam in the future. This could be either globally if enough other people say the same things about emails like that, or perhaps just for you if the system's spam filter supports that level of personalization.
Keep doing that and the amount of spam that you find in your inbox should decrease – perhaps dramatically – over time.
If you're using a system other than Yahoo!, such as Gmail, Hotmail, or any of quite literally hundreds of other services, or if you're using an email program such as Outlook, Thunderbird, Windows Mail, or dozens of others, take the time to learn and understand its spam filtering features. Most now have this type of "learning" spam filter that relies on you marking spam in your box when you find it.
False positives
One of the things that worries people is that they may lose email that is incorrectly filtered as spam.
It's a valid concern.
You should check your spam folder every so often looking for email that has been mistakenly filtered as spam.
But, and this is important, instead of just moving that email back to your inbox, mark it as Not Spam instead.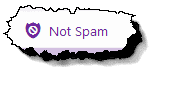 This does the opposite of what the Report Spam button does. It tells your email service or program that the selected message is not spam. The spam filter is then adjusted accordingly. As with spam, it make take correcting a few false positives before the filter starts getting it right consistently.
Preventing spam in the first place
As I said, there's no way to stop spam, only deal with it in a way that makes it less of an issue when you get it.
Similarly, there's no way to prevent it from starting. Eventually, all email addresses will get spam. Eventually.
What you can do is avoid asking for spam. Asking? Yes, asking.
Many people unknowingly ask for spam in various ways:
Posting an email address publicly. If your email address is visible on a web page somewhere that anyone can get to, then "anyone" includes spammers. They have been known to harvest email addresses from web pages on the assumption that they are more likely to be real, active email addresses than simply guessing randomly (which they also do).
Responding to or acting on spam. Replying to any form of spam is really just a signal to the spammers that they have a real, live person at this email address, and that they should send you more spam – lots more spam, even if you ask them to unsubscribe you. Similarly, acting on spam (such as clicking on a spammer's link or – horrors! – purchasing a product through spam) also tells spammers, "We got a live one!"
Enabling pictures on spam. The reason that pictures are disabled by default on most spam-filtered email is that the mere act of accessing an image so that it can be displayed can tell a spammer they have a real email address. Expect more spam.
Giving your email address to the wrong person, company, or agency. This is actually one reason why many people have more than one email address or create one-time or "throw-away" email addresses. Many companies will share their email lists with others or even sell the list of their customer's email addresses. Reputable companies do not, so keep shopping at Amazon and the like, but be careful when dealing with a company you've never dealt with before. Consider creating and using a different email address for this purpose.
The list actually goes on. What's worse is it includes items that are not in your control:
When you send a joke, photo, urban legend, rant, or what-have-you to a friend, and they then forward it on without removing your email address from the forward, your email address is now in the wild. Worse, when a friend sends you an email like that and does so by putting you and 200 other people on the To: or Cc: line, they've just advertised your email address to everyone else that got that email. And when they forward it without trimming … your email address makes it out to potentially hundreds or thousands of people whom you don't know. And some are spammers. There's literally nothing you can do, except perhaps admonish your friends not to do that – but by then, it's too late.
That's why I say that sooner or later every email address will get spam.