It's fashionable to criticize the technical support offered by many companies.
And it's not without good reason. I've run into too many instances myself of completely incompetent, incomprehensible, or seemingly robotic technical support.
And yet, after doing Ask Leo! for over a decade, I've also developed a lot of sympathy for the folks who are trying to do it right. Ask Leo! affords me a small window onto their world.
There are days where (to put it bluntly) it ain't pretty.
Did you reboot your machine?
One of the frustrations that lead me to leaving an ISP some years ago was their insistence that they follow the same technical support script – every single time I called. They assumed:
Every customer was clueless.
Every customer was calling for the first time.
Every support technician was incapable of making intelligent decisions.
The result was that every time I called over the same issue, I had to repeat the exact same preliminary steps even though:
I had performed those steps before calling.
I had performed those steps on each of my previous calls.
I could tell the technician that the steps had exactly zero impact on the problem we were diagnosing.
The steps had exactly zero impact every time I repeated them.
And that was all above-and-beyond the fact that I knew what I was talking about when I contacted them.
But we had to follow the script. The customer support representative was not much more than a script-reader1 who was unable to deviate from that script.
But … I have sympathy nonetheless.
Here's the problem: I'm absolutely certain that 90% of the time, the script works.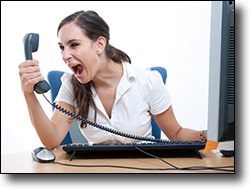 90% of the time:
The customer is not tech savvy.
The customer is calling for the first time.
The customer has not followed any diagnostic advice already available to them.
The support technician doesn't need to make intelligent decisions and can simply follow a script. Heck, they don't even need to understand what they're talking about.
While it's absolutely frustrating if you're in the 10%, it makes total sense when viewed as a cost-effective solution to provide support.
And don't think for a moment that it's not about cost.
Support is expensive
My feeling is that most folks don't really understand just how incredibly expensive providing customer support can be.
Providing wages and facilities to people to answer the telephones is expensive. Factoring that into the price of a product can cause a company to price itself out of the competition. We'd like to think that people will pay a premium for a product that includes quality support, but in the consumer market at least, that's simply not the case. We're cheap. We want our products cheap.
But we still want quality support.
So companies look for ways to reduce the cost of support. Replacing telephone support with online knowledge bases that a customer can search is one solution. Making front-line staff nothing more than less expensive and less knowledgeable script-reading robots is another. Sending support to lower-cost overseas call centers is still another.
This is how inexpensive products remain inexpensive.
Or in some cases, free.
If they'd just fix the bugs / stop changing / make it simpler…
One common refrain among both software vendors and users is that if they could just make software good enough, it wouldn't need customer support.
If they'd just fix all the bugs, there'd be no problem. If they'd stop making changes, we wouldn't be so confused and frustrated. If they would just make everything simpler, we wouldn't have any questions.
Those are all pipe dreams. Every single one of them.
Believing in these has caused many companies to provide much less support than they should ("Our product is so great you won't need support"). It's also caused many users to have completely unrealistic expectations and inordinate amounts of frustration.
All software has bugs. Period. Software has become incredibly complex in part because we insist that it do so much (typically proven by what sells and what does not). A company that tries to "fix all bugs" will never ship their product. Every release of every product is a trade-off.
Software must change. We keep asking and expecting more and more of our technology, but in a competitive marketplace, any vendor that stops improving their products will simply die. That's not to say that all improvements make sense. All too often, companies embrace the "we need to change to stay current" idea a little too hard and end up alienating their user base completely. But to insist that products never change is both unrealistic and will result in your favorite, unchanging product to eventually whither away and die.
Simple isn't simple. What's simple for one person is incredibly complex for another and vice-versa. Some of the things that we expect our computers to do just aren't simple. While there are definitely improvements that can and should be made to most user interfaces to make them easier, the fact is there is no single solution that would count as "simple" for everyone.
All of this simply leads to two pragmatic results:
Companies need to understand that no matter how good they think their product is, customer support needs to be included.
Consumers need to realize that part of the "cost" of low-cost software is bearing some of the responsibility as well.
Responsibility? Yes. They need to at least make an attempt to understand the products that they use and to be prepared to help out the customer service reps when they turn to them for assistance.
The thingamajig isn't working
Lack of information is the bane of my existence.
I can only imagine what telephone and other support people deal with.
It's completely understandable that the average consumer doesn't know all of the technical names for every part of or program on their computer. It would help if they understood a few basic ones, but let's be realistic – most people have better things to do.
But it would be nice if they followed instructions.
Here's a quote from my own ask-a-question page:
PLEASE be complete. That means the version of any software involved (particularly Windows), the full text of any error messages, the specific make and model of computer (if that's going to apply), and of course, detailed steps to reproduce the problem you're seeing.
I'd wager that less than 5% of the questions that I get from people include this information. I'll say less than 20% include even the version of Windows being asked about.2
This is why telephone scripts insist that you follow certain basic steps before they'll address your question. This is why most online forums have stock answers that they provide to initial inquiries.
The art of support
The practical reality is that none of this is likely to change.
You hopefully will be a little more complete when you bring a question to technical support and a little more understanding when you're run through the script for the nth time. But ultimately, massive changes in the technical support landscape will be slow and even then the direction of that change is unclear.
What I do appreciate are support people who get it. They can decipher incomplete and oddly worded text and actually find a solution to the question that was really being asked. They have the knowledge and ability (and permission) to go off script and the experience to know when that's appropriate. They can understand me and are able to communicate in a way that I can understand.3 They know what they're talking about and have the smarts to recognize and take action when they don't.
I've also come to appreciate companies that "get it" and not only insist on high-caliber support representatives (because they do represent the company to the public), but then trust them to do the right thing.
But I've also come to appreciate those folks who, when asking for help, "get it" as well. These are the people who follow instructions, make their best-effort to find answers and resolve issue on their own, and just generally show that they're taking some responsibility for ultimately helping me to help them.
Even if that's just including the version of Windows in their question.