The msn.com page has changed again and there seems to be no way to revert back to the original. Why does Microsoft impose this on people without giving a choice? Everyone just HATES the new version of msn.com. Is there a way to revert to the page as it was before?
As I update this article for the latest round of changes, I'll show you what's happening. I'll also make some guesses as to why the changes were made, and what your options might be. The answer might very well be "not many".
MSN Preview
As I write this today, September of 2014, the changes are in "Preview" mode. As of October the preview appears to be over and the change appears to be permanent.
If you visit MSN you'll see the site's home page looks something like this: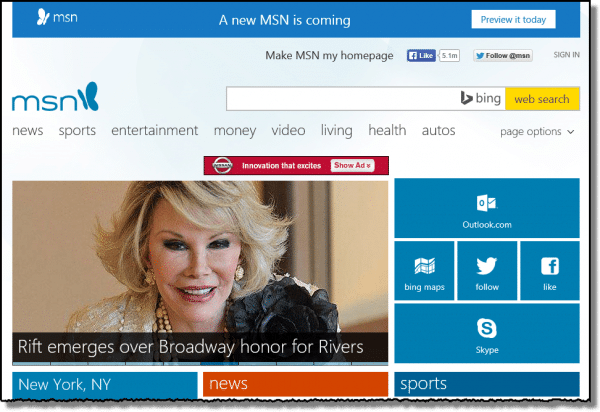 Notice the preview announcement banner at the top. Click on Preview it today and you'll get a little promotional pop-up telling you how wonderful the new MSN will be: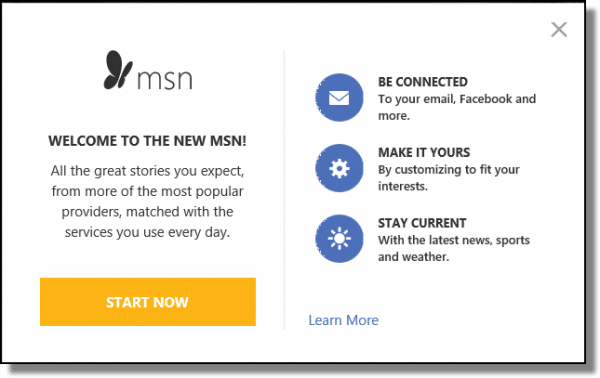 Click Start Now, and you'll switch to the new MSN look-and-feel.
The new MSN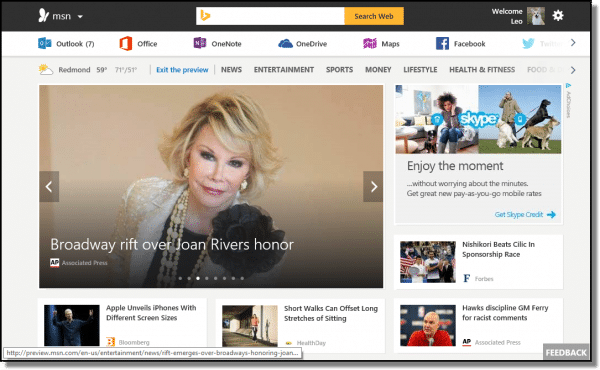 As you can see it's quite different.
Note that there is a Feedback button in the lower right. Click on that, and you'll get a "Send Feedback" form that you can fill out: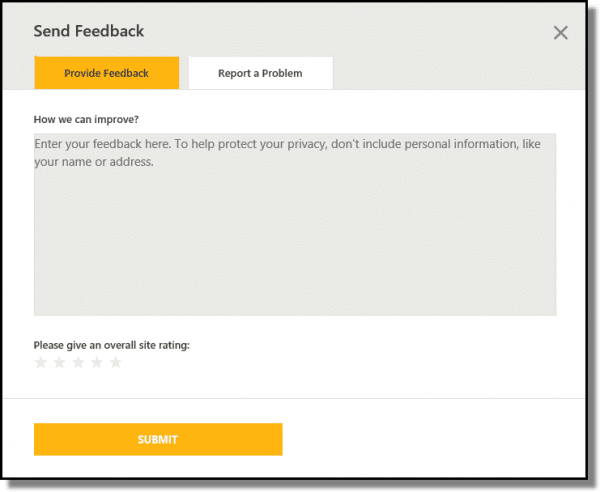 So you do have a way to get your comments on the change back to Microsoft. However, I don't want you to get your hopes up. As I'll discuss in a moment, it's extremely unlikely that changes like this can be avoided.
Reverting the preview
While this new look is in "preview" mode, you can go back to the old interface. Click on the gear icon in the upper right of the MSN home page, and you'll get a drop-down menu: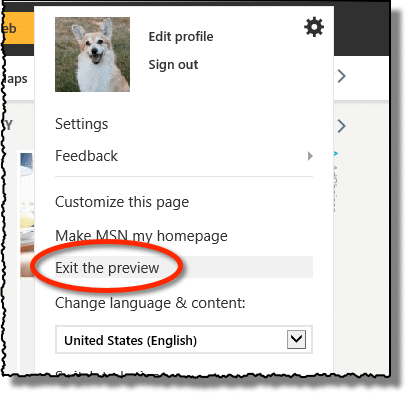 Click on Exit the preview and you should end up back with the old MSN interface as it was before this most recent change.
Important: if the "Exit the preview" item is not present, then it's very likely that the preview period is over, and the new interface has become the interface for MSN.com.
Why change?
Simple, really: the internet almost demands change. Competition requires change.
The fact is that many sites must update their look and feel periodically to move to more current design standards, to look "fresh", to learn from usability issues encountered in previous versions, and ultimately to remain competitive.
Change is absolutely inevitable. I've written about it before.
The design of a website is also a matter of taste. What's important to some is unimportant to others.
I disagree with your comment: "everyone" doesn't hate it. Perhaps most of your circle of friends and contacts, but almost certainly not everyone.
I'm sure that as many people will love the new msn.com look and feel as will hate it. And many others will simply not care. In fact, if Microsoft has done their usability research properly – as they likely have – the number of people who like the new MSN will far outnumber the people that don't.
I realize that means nothing if you're one of the people that don't like it.
Offering a choice
Unfortunately, having Microsoft maintain all versions of every web site forever and allowing you to choose which version you want to use is simply not an option.
The old look of msn.com will disappear eventually. It's unrealistic to expect Microsoft to maintain both the old version and the new simultaneously beyond the trial/preview period. Especially for a free website, the expenses of doing so simply don't come even close to justifying it.
And we've been here before. Hotmail changed its look, and then later changed to Outlook.com. Eventually the old Hotmail disappeared completely as Outlook.com became the new official interface.
Your options
If you don't like the new look and feel of MSN, the news isn't good. It's likely that the old interface will also disappear forever.
Your choices at that point are limited:
Personally – I have no strong feelings about the change. It's just another website, and its design is just another, using what are current design practices. I can take it or leave it, so I expect as needed I'll simply adapt.
But, as I said above, it's all a matter of taste and that's just me.
And no interface, old or new, will please everyone.