Question: I have two personal Facebook accounts under my name. To make a long story short, while I was on vacation two years ago, I could not access my original Facebook account, so I created a second one using an alternate email address. The problem that I am facing now is that people connect with me through both Facebook accounts while I would rather use just one. I did look into deleting one of them, but I'm afraid that both of my accounts will then be deleted as both are under the same name, but have their own email and password. How do I safely delete just one of my accounts? 
As long as you have access to both accounts, deleting one of them safely is no problem at all.
The "problem" that many people run into is when they don't have access to that "second" account — because they didn't set it up in the first place!
Your email address, not your name, identifies your Facebook account.
You can safely delete an account by using its login email address.
You cannot delete fake or impersonation accounts, but should report them to Facebook instead.
Identifying a Facebook account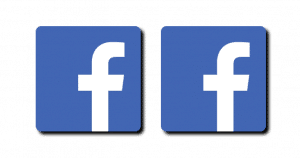 Don't take this personally, but Facebook doesn't care about your name. (Well, within limits, of course.) What uniquely identifies a Facebook account is the email address. Each account has one and only one email address that's used as the login identifier (think "user name") for that account.
While there aren't many Leo Notenbooms out there, there are plenty of John Smiths in the world.  If Facebook used only a name, then the first John Smith to disable his account would disable all of the John Smiths! (Arguably, the first John Smith to create an account would prevent all the other John Smiths from creating their own.)
The bottom line is, that's not how it works. It's the email address that matters.
Delete one account by email address
Pick the account you want to use. Make sure your friends who connected with you on the other account know that you're moving. Then sign in to Facebook using the email address of the account you want to delete, and delete it. (Aside from a little confusion, there's really nothing wrong with leaving the account open.)
But deleting one of your two Facebook accounts should be completely safe if done properly, since it's identified by a unique email address.
If you don't have access
One reason some people believe they have two accounts is if they encounter an account with their name — perhaps even their photographs and more — that they didn't create.
The bad news is that since you didn't create it, you don't have access to it. You don't know what email address was used to set it up, so you don't have access to that either.
You've encountered a fake, cloned, or what Facebook refers to as an "impersonation" account. You cannot delete this account because it doesn't belong to you. It belongs to the impostor.
Your options in this case are limited to reporting the account as fake and possibly asking your friends to do the same (make sure they report the correct — fake — account).
Since this is a pretty common problem, my understanding is that Facebook should take care of it relatively quickly.
Podcast audio

Download (right-click, Save-As) (Duration: 3:35 — 1.7MB)
Subscribe: RSS