A long time . . . usually.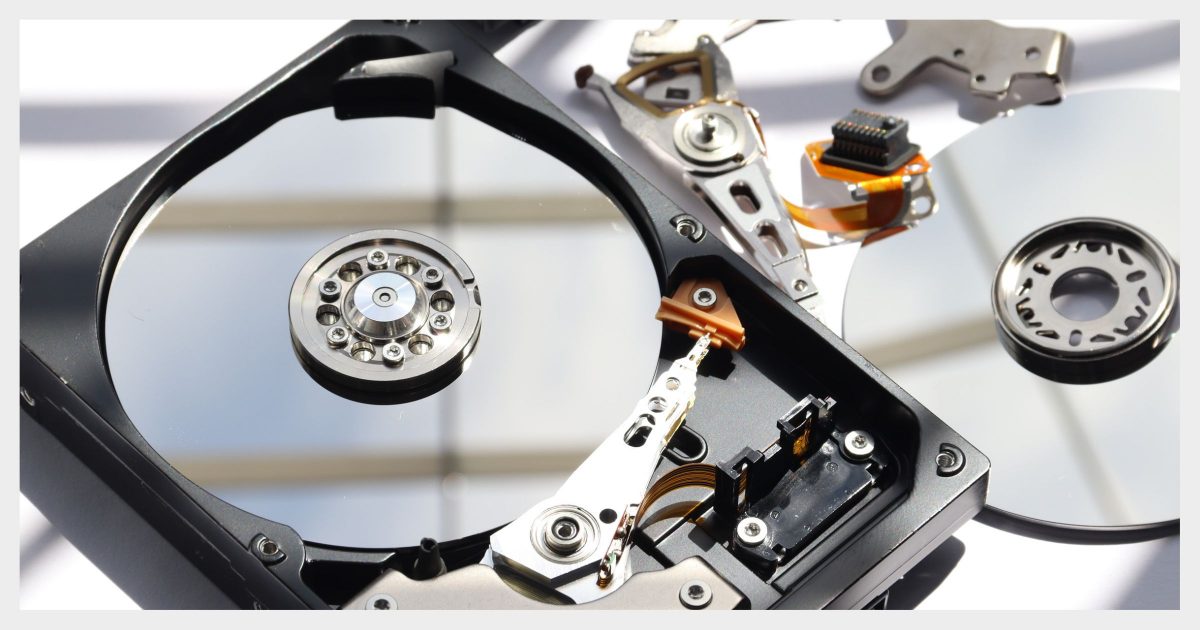 Hard disks can last a long time, but it's important to realize that they could still fail at any moment.
Question:
You had an article about the
life of SSD drives
. Now, I have a 15-year-old PC with an ordinary hard drive and it is still working fine. How long do drives like that usually last? This is oldtimerstuff.
Talking about the lifespan of SSDs (Solid State Drives, a new technology) does beg the question: what about hard disk drives, or HDDs?
There's a reason we focus on SSD lifespan more than we do HDDs, and it's a good one.
But first, we need to begin with the (hopefully) obvious.
HDD lifespan
Traditional spinning magnetic-platter hard drives can last for many years, as reported in data center studies. While failure rates do increase over time, they remain relatively low during the useful life of the computer containing the drive. Regardless of the expected lifespan, it's critical to assume it'll fail at any time and be prepared with backups, so as not to lose any data.
Anything can die at any time
Remember that your old hard drive could die tomorrow, so make sure you're backing up.
That's not a value judgment on the drive, its age, or even how you're using it. Hardware can die suddenly, completely, and without warning at any time.
That's true for SSDs as well as HDDs, and true for the newest of the new and the oldest of the old.
Even a "guarantee", if a drive comes with one, doesn't mean it won't die unexpectedly. All it means is you might get your money back. You won't get your data back, though, unless you're backing up.
With that out of the way, we can move on to the meat of the question.
HDD life expectancy
One of the industry benchmarks is the BackBlaze Hard Disk Reliability Report. Here's a recent one. They report quarterly on the failure rates they see in their data center, right down to the specific drive and model, over the lifespan of the drives. They've been reporting since 2014 and have a nice collection of data to generalize from.
The comparison is slightly off-target for consumer drives, as they're specifically looking at the drives in their data center. Unlike most consumer computers, these are likely to be higher quality drives that are in use 24 hours a day, seven days a week.
But I think the patterns, if not the specific numbers, are still valuable to look at.
The short answer appears to be: A Really Long Time.
Looking at the trend line, there's an initial bump of drives that fail within the first year, often referred to as "infant mortality". Clearly, having worked for 15 years, your drive is well past this stage.
After that, drive failures seem to accumulate at a rate roughly (very roughly — remember, I'm over-generalizing here) at a percentage rate proportional to their age in years. Put another way, from their graph it appears that 4% of all four-year-old drives will fail, 5% of all five-year-olds, and 6% of all six-year-olds, etc.
If we apply this data-center data to your 15-year-old consumer-level drive and extrapolate, it implies you're looking at around a 15% chance of failure. Put another way, an 85% chance it'll just keep chugging along.
Pragmatic life expectancy
Once past the window of "infant mortality", hard drives seem to last for years and years and years.
So much so that I believe they tend to last longer than the useful life of the machine they're a part of. The result is, most machines are decommissioned due to old age or other hardware failures with hard drives that are still functional.
Functional, perhaps, but due to the fact that hard drives are also getting larger and larger, those old still-working hard drives are often discarded for another reason: they're just not big enough anymore.
SSDs are different
The reason lifespan is an important talking point for SSDs is that flash memory has a specific lifespan.
It's gotten better — much better, even — but it does wear out over time. And even though they've been around for a while, we don't yet have the same track record to evaluate SSDs that we do for HDDs. BackBlaze, for example, only has a couple of years of data on SSDs, as they've slowly been making their way into the data center.
Traditional spinning magnetic-disk hard drives don't "wear out" in the same way. They tend to die for other random reasons at other random times.
The only life expectancy you should consider
Sure, consider life expectancy when you purchase a machine or a hard drive or SSD. Stack the deck in favor of it lasting a long time.
Then, after you put it into service, expect it to die tomorrow.
Every day.
In other words, keep backing up.
Podcast audio

Download (right-click, Save-As) (Duration: 6:00 — 6.9MB)
Subscribe: RSS