Starting with the basics.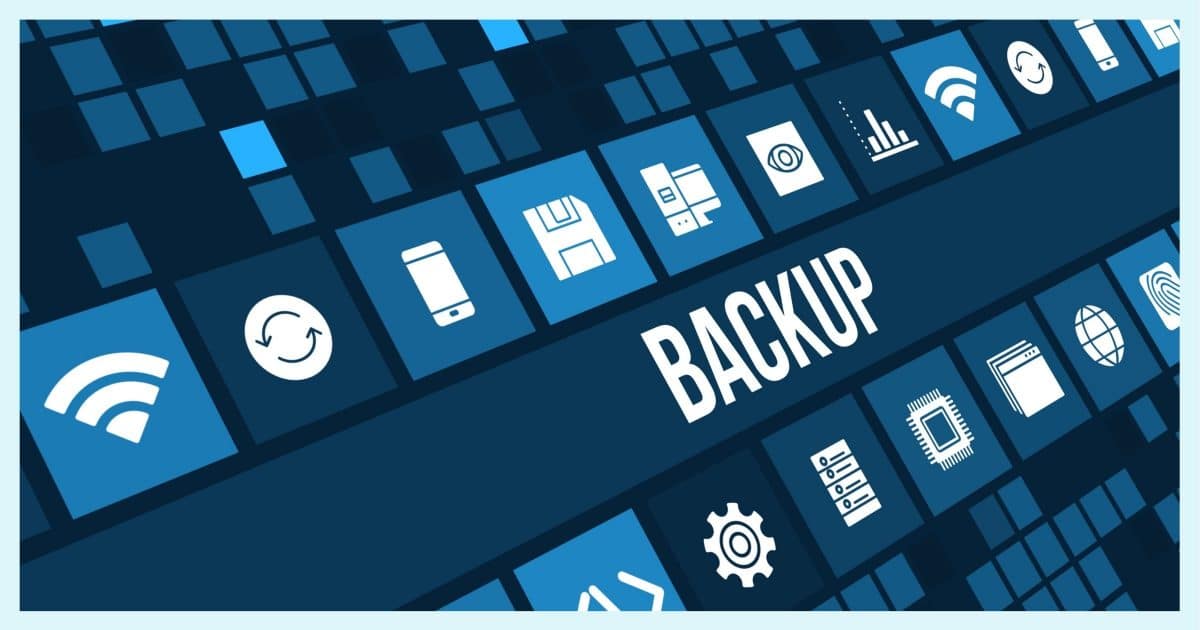 I talk about backing up a lot, and I do practice what I preach. I'll explain what I do to back up my world.
Question: I would be interested if you would explain in more detail your backup system…
I talk about backing up a lot. The arrival of my new machine has prompted me to set up my backup regimen once again, and it seems like a good time to answer a fairly common question: if I'm all about backups, how do I do it for myself?
Fair enough. Chances are it won't all apply to you, but much of it will. It's also a peek behind the curtain that might give you some ideas to further protect yourself from disaster.
I have two warnings: first, I'm a geek, which means that some, though not all, aspects of my approach are, well, geeky.
And second: when it comes to backing up, I'm a belt-and-suspenders and duct-tape-and-baling-wire kinda guy.
How I Back Up
I start with nightly image backups using Macrium Reflect. I then use both OneDrive and Dropbox for nearly continuous backup of what I'm working on, as well as off-site storage and file sharing with my team. I also have a nightly script that copies certain collections of files among the machines here at home. Finally, once a month I download and/or export key online resources so they're backed up as well.
The basics
My very basic backup, and the very first thing I installed when my new machine arrived, is essentially what I recommend everyone do: nightly image backups.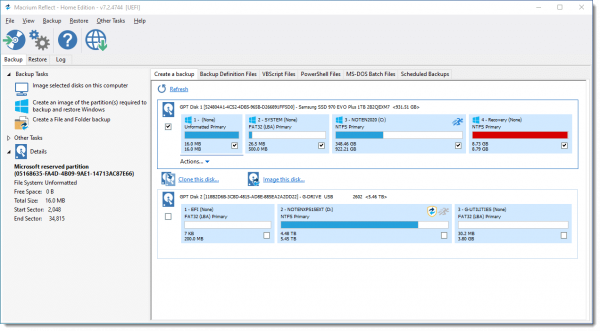 Specifically, I configure Macrium Reflect to take full image backups of the primary hard drive once a month, with incremental backups every night.1 This includes the recovery partitions as well as the partition containing my primary "C:" drive. The backup image files are stored in a sub-folder on my 6TB external drive.
The backups are configured to automatically delete the oldest backup files should the external drive run low on space.
The external drive, like the machine itself, is always on and always connected. Backups happen whether I'm around or not, without my needing to lift a finger.
I often hear objections to the always-connected state relating to ransomware: there are variants of ransomware that can encrypt files on external drives. Not only do I do my best to avoid any and all malware2, but Reflect has an option called "Macrium Image Guardian" that locks down the generated backup images such that only Reflect can alter or delete them — they can't even be deleted manually in Windows File Explorer, much less encrypted by ransomware. (I understand other backup utilities may have similar options.)
Honestly, if you stop reading here and simply do what I've done to this point, you'll be in great shape.
OneDrive and Dropbox
With one exception, which I'll discuss shortly, my data lives in either OneDrive or Dropbox. The files I work on, the photos I take, the documents I save — all are in one or the other of the two services.
What this means is that any change I make and save to disk is immediately copied — backed up — to the service's online storage. Then it's downloaded and synced to my other machines.
This gives me nearly real-time backup of anything I am working on.
There is one caveat, of sorts. My Dropbox includes over a terabyte of photos, and my internal hard disk would not have room for all of that. So I make heavy use of a feature in both Dropbox and OneDrive that only downloads specific files or folders to my machine. I've set it up so only photos from the current year are downloaded to my machine; older photos live in the cloud, and on my other machines that have space.
My use of OneDrive and Dropbox mimics, in some ways, Windows' own File History, except that File History only stores to an external drive. I've elected not to use that, but rely on the off-site, automated capabilities of the cloud storage services.
Now, if you stop reading here and implement everything so far, you're even better off: in addition to nightly image backups of everything, your work in progress is being automatically backed up as you go.
Naturally, I have to go a little further.
My nightly batch file
I do have some folders that are too large to back up to the cloud — mostly the raw video files that go into creating the various videos I publish, and the hard disk images for the various virtual machines I run.
Each night at 1:00 a.m., a batch file that does several things runs automatically. It:
Copies all those video and virtual machine files from my primary hard drive to my external drive.
Copies all those video and virtual machine files again, this time from the external hard drive to a hard drive attached to a machine in my basement.
Copies a set of backup folders from the external hard drive to the machine in the basement.
Since it's running anyway, I also have that batch file run a few additional administrative tasks, but when it comes to backing up, those are the big things: making copies of those collections of large files.
For the terminally curious: the batch files are scripts written in Python3 and scheduled with Windows Task Scheduler.
And, no, I have no expectation that you do anything like this.
But wait, there's more
That's all the automated stuff. On top of that, once a month, I manually:
Download a copy of the questions placed into the "Ask Leo!" question system (ZenDesk).
Download a copy of all Ask Leo! newsletter subscriptions.
Export a copy of all my LastPass data and encrypt it.
Download a copy of all email.
Export copies of my calendar and address book, as well as my wife's.
Export all of my Evernote notes.
Download all video, audio, and image files published on any of my websites.
Clean up the backups made periodically during the previous month of all my websites (and those of a couple of friends).
The majority of those files get copied to a folder on my external drive, which is then copied to that machine in the basement every night.4
WHEW!
As you can see, backing up is important to me. While the vast majority of it is automated, much that is not is streamlined so as to take as little of my time as possible — but it's still a lot.
And it should be. This is my business. This is what I do. It's about much more than practicing what I preach; it's about due diligence for a technology-centric business. Honestly, I'd expect no less from any other tech business, but that expectation is rarely met.
You probably don't need to go nearly as deep as I do. Do those image backups, use OneDrive or Dropbox or similar, and you'll be ready to handle 99.9% of any issues you might encounter in the future.
Podcast audio

Download (right-click, Save-As) (Duration: 6:56 — 7.6MB)
Subscribe: RSS
Footnotes & References
1: Full disclosure: not quite true. This most recent installation, I elected to try one of Macrium's template schedules, "Grandfather, Father, Son", which also includes a weekly differential backup.
2: So far, knock on wood, I've never had a single infection at home. My one experience with compromise was on a Linux server several years ago.
3: The only reason it's Python is that I wanted to learn Python. In the past, it's been written in PHP, as well as Perl before that. And even plain old DOS/Windows Command Prompt commands.
4: Actually some — such as some of the media associated with websites — are placed in what are called "source code control projects" and end up getting copied to private areas on the Ask Leo! server.