My wife's PC, which was running Vista, died. Fortunately, we have a backup hard drive. We're replacing our old computer with a new machine running Windows 7. Can we do a complete restore using the new machine? Or will that overwrite Windows 7 as the operating system? How do we restore all of her content including the applications that were on the old machine? Do we just copy folders? Sorry, but I'm a Mac guy and I know very little about PCs.
There are several approaches to restoring what you have from a backup. Unfortunately, when you're restoring to a new machine,  things aren't nearly as clean as you might want them to be.
Overwriting everything
Restoring a backup completely would indeed overwrite the operating system. By definition, that backup image is an image of absolutely everything. It has the operating system, programs, data, and whatever else was on that hard drive at the time the backup was taken. When you restore that, you're overwriting everything that might be on the hard disk with the contents of that backup image.
Now, that may or may not work because it will also overwrite any hardware-specific drivers for that new machine with the drivers for the old machine. In other words, your machine may not know how to access the new hardware after the overwrite. Sometimes, Windows can recover from this, depending on the version and how different the new machine is from the old.
Some backup software (like Macrium Pro) does have the option to try and make the transition. Macrium actually detects that you're restoring to a different hardware configuration and it tries to compensate by locating the right drivers. If it works, your old Windows Vista, applications, and data will be on your new machine.
Most people want to keep the new operating system that comes with their new machine. That's fine, but then you actually need to reinstall all of the applications from their original installation media. There is no way to move an installed application from one backup image or from one machine to another.
Some software packages try to do this, but that's not the way that software is designed to work; it's not the way that applications expect things to happen.
The cleanest, most reliable approach
After you get your new machine, you should:
Install all of the applications that you've been using  from their original installation media or downloads, if this is software that you've been downloading. The problem is that the software that needed to run a setup originally will need to run a setup on that new operating system.
Copy the data that you have on your backup to your new machine.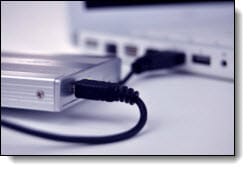 The real value of an image backup (and the reason that an image backup is something that I stress so much) is not for the new machine scenario. It's for the fix-the-broken-machine scenario where you're just replacing a hard drive or recovering from malware or any of a number of other scenarios.
In those cases, simply restoring the backup image in its entirety is fast and does deal with the scenario with which you're dealing. But when you're moving yourself to a brand new machine, especially when you're running with a brand new operating system or a new version of the operating system, then the right scenario really is to reinstall your applications from scratch and restore only the data that you care about from your backup.