Advertising is a necessary evil that makes the free internet possible — and occasionally frustrating.
Advertisements support the free information available online. It's critical that you can distinguish ads from genuine content.
I get that advertising is annoying, but sites like Ask Leo! would not be able to exist without it.1
On one hand, that's a great thing. It means that vast information resources are available to anyone at any time for no additional cost.
Of course, anything that can be used can be abused, and advertisers are not above trying to trick you. That's where you come in: you must remain vigilant.
Don't be fooled by ads
Ads keep the free internet free, but can also be misleading. It's important to remain skeptical and look for the signs of advertising so as not to mistake it for legitimate website content. Clues include:
Actual labels that say advertisement or sponsored
Overly blatant promotion of a specific product or solution
Location on the page or breaking the flow of the content around it
Sections that look visually different than the overall design of the site
For tech sites specifically, beware of the "Download" button, which all too often is an ad instead of the download you're looking for.
Misleading ads
Have a look at the image above. It's the homepage for the popular ImgBurn software. Would you know where to click to download the software?2
Advertisers attempt to play on your confusion. They create ads that include the word download — often looking like buttons you should click — that have nothing to do with the download you want. Click, and you'll download something else you weren't looking for. Thinking it's the thing you wanted, you might even install it before realizing the error.
By then, it's too late. Whatever it is — at worst malware — is on your machine.
I chose the example above because it's particularly misleading: the ads even say "ImgBurn Free Download". They're using advanced advertising customization and targeting to further imply that the download is somehow related to ImgBurn. It isn't. It's for something else entirely.
I've seen pages plastered with these ads — occasionally even on my own site, I'm sad to say. (As you'll see below, I'm not in complete control of which ads show up on my site.)
So block the advertisers!
I truly wish it were that easy.
Because of the question-and-answer nature of my site, I often see ads from services purporting to just answer technical questions. The catch, of course, is that they promise the moon and charge you accordingly. Whether those answers work is unclear. Because they feel so misleading, I've blocked what I can.
But here's the catch: it's a game of cat-and-mouse. Or maybe whack-a-mole. They keep coming back with different names, different schemes, and from different sources.
There are tens of thousands, perhaps hundreds of thousands, of different advertisers out there that might place ads on the websites you visit. There's simply no way for a website owner to vet and approve all of the possible ads that might appear. The best we can do is choose advertising networks that attempt to do so for us and will work with us when we have an issue.
I, for example, don't have direct control over the ads that appear on my site. It would take all my time and then some to vet all the ads, leaving me unable to actually answer your questions.
Ask Leo! is just an example. This applies to all sites across the internet supported by advertising.
What to look for
Ultimately, it's your job to recognize ads and act appropriately.
The single most important thing you can do is look for them. By that I mean accept that they exist, realize that many unscrupulous advertisers will try to mislead you, and learn to recognize ads when they appear.
In the example above, the ads are labeled as advertisements — in tiny print. You may also see the "Ad choices" and "Stop seeing this ad" icons.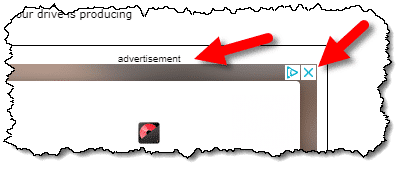 Look for the word sponsored associated with what might appear to be traditional content. These are often ads designed to look like genuine content, but are, in fact, paid placements.

3

If the content appears to be pushing a specific product, it might be an ad. Regular content is typically less blatant. Even recommendations are more often positioned as opinions rather than pushy sales.
Ad placement can be another sign. Things you see in sidebars, banners, or anything that interrupts the flow of the main content could be an ad.
Ads often look different than the overall site design. As we've seen, advertisers may try to mimic the look and feel, but rarely get it quite right.
Beware of ads that look like "Download" buttons. This is a particular scourge on tech-related sites.
Clicking on an ad will take you to a completely different site. Often, hovering over something questionable will expose the destination URL.
If you're running an ad blocker,4 you may find that it'll show you that ads were on the page, but you won't know exactly what they looked like. Don't assume your ad blocker has blocked all ads. Advertisers know ad blockers exist, and — not unlike malware authors — wage a constant battle to get their content past them.
While not all the rules above are absolute — there are always exceptions, which can make things even more confusing — they're a start.
The bottom line: you must remain vigilant.
Do this
Visitor beware.
I'd love to wave a magic wand and make the problem go away on Ask Leo!, but as I said, the site wouldn't exist without advertising. More importantly, though, all advertising-supported sites suffer from this problem.
Gain experience. Watch for the things I've listed above, and learn to develop a sense for what is and is not real. Eventually, you'll be able to trust your gut most of the time.
But, sadly, you can never let your guard down completely.
Want another excellent source of information? Subscribe to Confident Computing! Less frustration and more confidence, solutions, answers, and tips in your inbox every week.
Podcast audio

Download (right-click, Save-As) (Duration: 12:22 — 17.1MB)
Subscribe: RSS
Footnotes & References
1: I mean that quite literally. The revenue from patronage and product sales, while significant and appreciated, is not enough to cover the cost. Without advertising, Ask Leo! would not exist.
2: The "Download" button on the menu bar under the ImgBurn logo, and nowhere else.
3: I don't accept paid placement, even though I get multiple requests daily.
4: Which I used to be opposed to, but — because of the way advertisers have abused the system — I now use myself.