How do I print free Hotmail emails full width without ads, using Internet Explorer & Windows XP, without that right half of email eliminated?
There is a trick that's very simple to use. Best of all, you can use it on major web-based email programs other than Hotmail (or Outlook.com, as it's now called).
Don't use the browser's Print function first.
Printing Email
As I mentioned in an article, "How do I print an email in Outlook.com (formerly Hotmail)?" the way to print in Outlook.com is to either:
Click the Action menu on the message that you're looking at and select Print.
Click the three dots near the top and select Print.
Either of these actions opens a new window that displays your message without most of the navigation and ads. In fact, it's sort of like a Print Preview. In many browsers all that you really need to do next is click Print.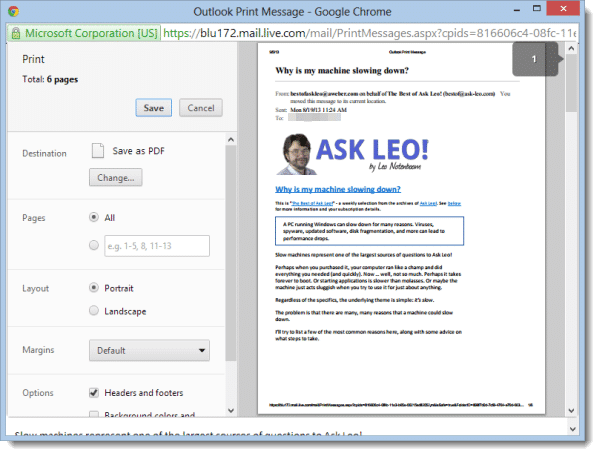 In other cases, that's the point at which you click File > Print or use the browser's Print functionality to print this version of a page.
Most of the major email services will actually allow you to do this. Somewhere on the page, they'll have a Print command, a little printer icon, or a Printable Version link that you can use to print.
If that doesn't work or you don't like that solution, there are some other approaches.
Copy/Paste is your friend
The most common alternative is to use the mouse to select the message body (in other words, click at the top and hold down the mouse button to drag to the bottom so that you actually have the entire message or maybe just a part of the message that you want to print selected). Right click on that and then click Copy to copy that text into the clipboard. Then open another program: Microsoft Word, Notepad, or whatever makes sense for you. Paste the email message into that program and then print from there.
In this case, you've copied only the message so you're not going to see all of the extraneous stuff.
Forward, but not really
Another shortcut that often makes printing easy is to first begin to forward the message. When you forward a message in Outlook.com or Gmail, a window opens below your existing window, displaying the email message that you're forwarding. If you click in that, you're actually able to edit the entire message if you want.
You then click in that forwarded message before you send it, type Ctrl-A to select the entire message, and then type Ctrl-C to copy it. Open your word processing program, paste it in a new document, and then print it from your word processing program. That way, you get the entire message in a form that you can then print.
Don't forget to discard message you began to forward, as you're not actually planning on forwarding it. The point is that using the forward function is a very quick way to get the message into a form that makes it very easy to select all, copy, and then paste elsewhere for printing.