It's common courtesy and easy to do.
Edit a reply before sending it. Clean up your message, remove email addresses, and more.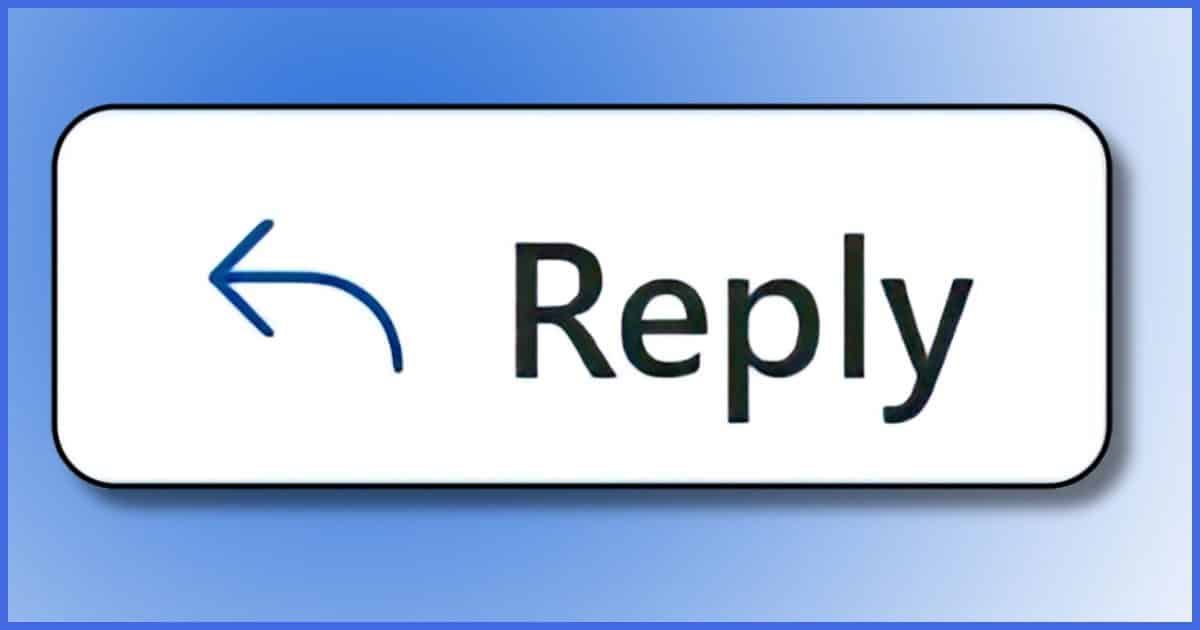 Question: I've been told by a mailing list moderator that when I reply to a message sent to the list, I need to edit the reply to remove most of the original message. I don't see where or how to edit a reply. What am I supposed to do?
That's not an uncommon request. Even though you might not see it, most email programs include the original message as part of your reply. If you don't edit the reply yourself, your one-line response might be accompanied by the entire original message that everyone's already seen. It can make your email excessively large, and potentially quite confusing for recipients.
How to edit the entire reply often isn't obvious.
Editing a reply
When you compose a reply, most email programs include the original message, though it may be hidden. Expose it and you can (and should) edit it to only the most relevant content. Otherwise, the entire original will be included with your reply.
Your mileage may vary
I have to start by throwing out the usual caveat: how you edit a reply varies depending on what email program or service you use, and possibly how you've configured that service or program.
It also changes as email services and programs change.
In my experience, web-based services often make it the least obvious, so I'll use a couple of those as examples.
But more important than any specific step-by-step instructions are the concepts behind what it means to "reply" to an email message and how you edit messages in general.
A reply is just a new message pre-loaded with "stuff"
When you click on the "Reply" button in an email, your email program generally does the following:
Creates a new message (often in your "drafts" or similar folder).
Sets the "To:" line to whatever email address was in the "From:" line of the original.
Sets the "Subject:" line to whatever the original subject was, often with "Re: " placed in front of it.
If you clicked on "Reply All", then in addition, the program:
Adds any email addresses that were on the original To: line to the "To:" line (except yours).
Adds any email addresses that were on the original "Cc:" line to whatever it was in the original.
The most important thing, in either case:
It places the original message into the body of your new message.
An Outlook.com example
Here's an example message received in Outlook.com.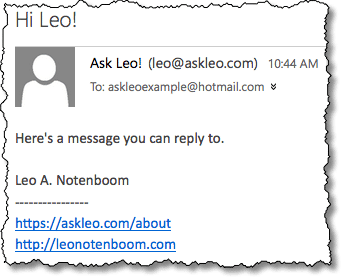 When I hit Reply, the new message is displayed with everything set up as I just described above.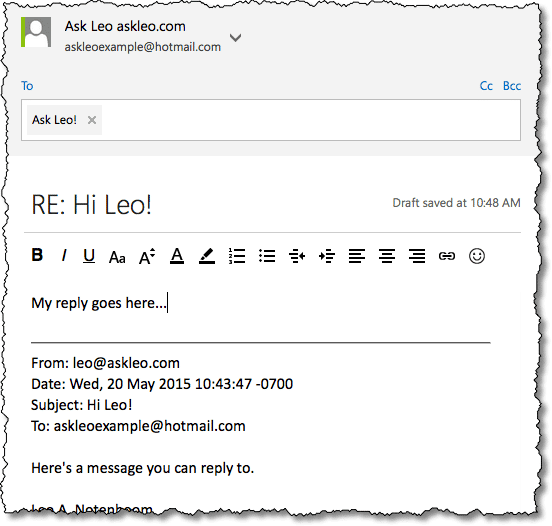 The cursor is placed above the message being replied to, so whatever I type automatically goes there. In the example above, I typed "My reply goes here…"
Not-so-secret #1: you can edit the original
Many people don't realize that everything in your new message's body — both the original message and anything you type in reply — is editable. You can edit your reply and you can edit the original message you're replying to. For example, I can change the "Here's a message you can reply to" text from my original message to something else entirely.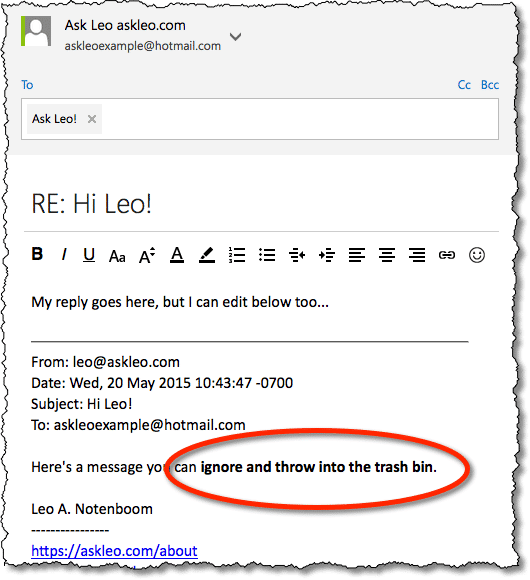 This is another example of email's inherent lack of security — you can't believe everything you see in an email reply (or forward).
On the other hand, this ability to edit the original is also a powerful mechanism for cleaning up replies or forwards. You can:
Remove email addresses of anyone included in the original message who doesn't need or want to read your reply.
Remove signatures and email addresses in the original message you're replying to.
Remove content in the original message that isn't relevant to your reply.
It's also exactly what your list moderator is asking you to do: edit the original and remove it (or enough of it to meet your list's requirements). One list I moderate puts it this way:
We ask that replies to messages include only about 4-5 lines of any original or quoted message – just enough for context – otherwise things quickly get confusing…
In fact, my personal preference would be a much more compact reply, placing my responses closer to the actual text they apply to.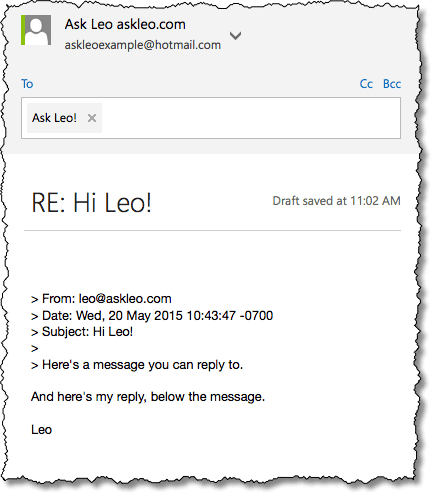 All I need to do is click in the original message and remove anything I don't want to include in my reply.
Not-so-secret #2: sometimes the original is hidden
I find this very frustrating, but I know of no way to turn it off when it's in place.
For example, when you reply to a message in Gmail, it opens the reply box, but the original message is nowhere to be seen, even though it is still part of the message you're about to send.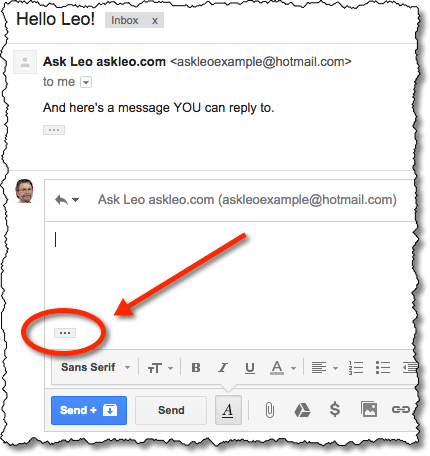 The trick, with Gmail, is the ellipsis — the three dots — in the small rectangle. They represent hidden content. Click on the one in the reply area, and you'll see the original message.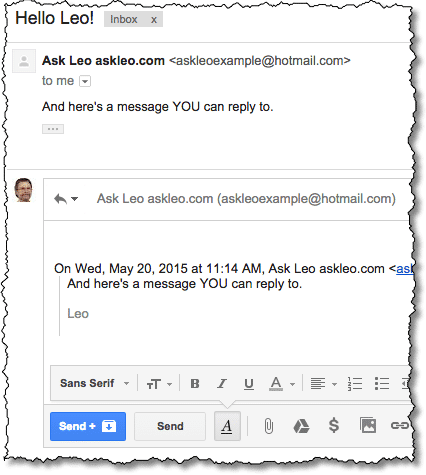 Once displayed, you can click and edit the original message included as part of your reply. Gmail can get quite confusing in this regard, as they often choose to hide additional portions of a message (or a reply) using multiple boxed ellipses.
Yahoo Mail does something similar. It's more clearly stated, but you often have to scroll down to find it.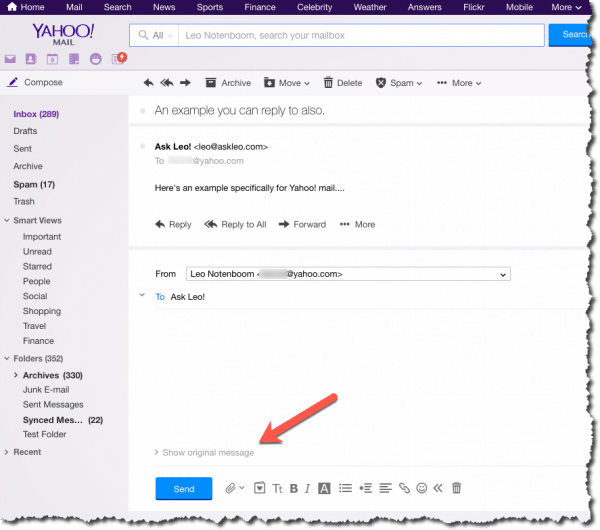 Again, regardless of whether you click on the boxed ellipsis or "Show original message", the original message will be included in your reply unless you explicitly edit it out.
Other obstacles
I can't cover every email program and interface here; there are too many.
However, I can provide a couple of tips and things to consider as you manage and edit your email replies.
If, when you reply, your email program does not automatically include the original message in your reply, look for an option (in Settings, Tools, or similar) to make it do so. Almost every email program or interface has this ability. Look for options like "include original when replying".  Sometimes, you'll find options that control whether the original is indented, or automatically prefixed with a specific character to set it apart (often > or a vertical line on the left).
As with Gmail, look for email programs and interfaces that try to be "helpful" by including but not displaying the original message. Gmail's use of ellipsis is perhaps the most common indicator, but there may be other approaches.
All of this applies to mobile email programs and interfaces. The concepts are the same, but the settings, options, and indicators will likely be different to fit the smaller format. The Gmail mobile app, for example, includes options to "Quote text" (include the original) or "Respond inline" (making the quoted text part of the message you're editing).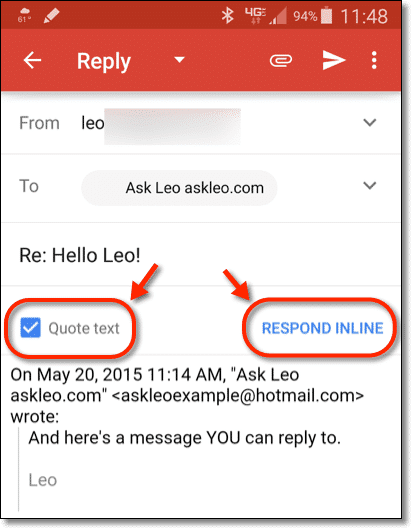 Do this
By now, I hope you see that the process is pretty simple.
Make sure your email program or service is set to include the original text when replying.
Reply to the message.
Treat all of that reply — both the text of your response and the original message– as a single message.
Click wherever in that message you want to edit — the top, bottom, or somewhere in between — and have at it. The more you edit, the more readable and concise your reply will be.
Got questions? You can reply to my emails! Subscribe to Confident Computing! Less frustration and more confidence, solutions, answers, and tips in your inbox every week.
Podcast audio

Download (right-click, Save-As) (Duration: 7:19 — 5.0MB)
Subscribe: RSS