It's probably not what you think.
Some things never change.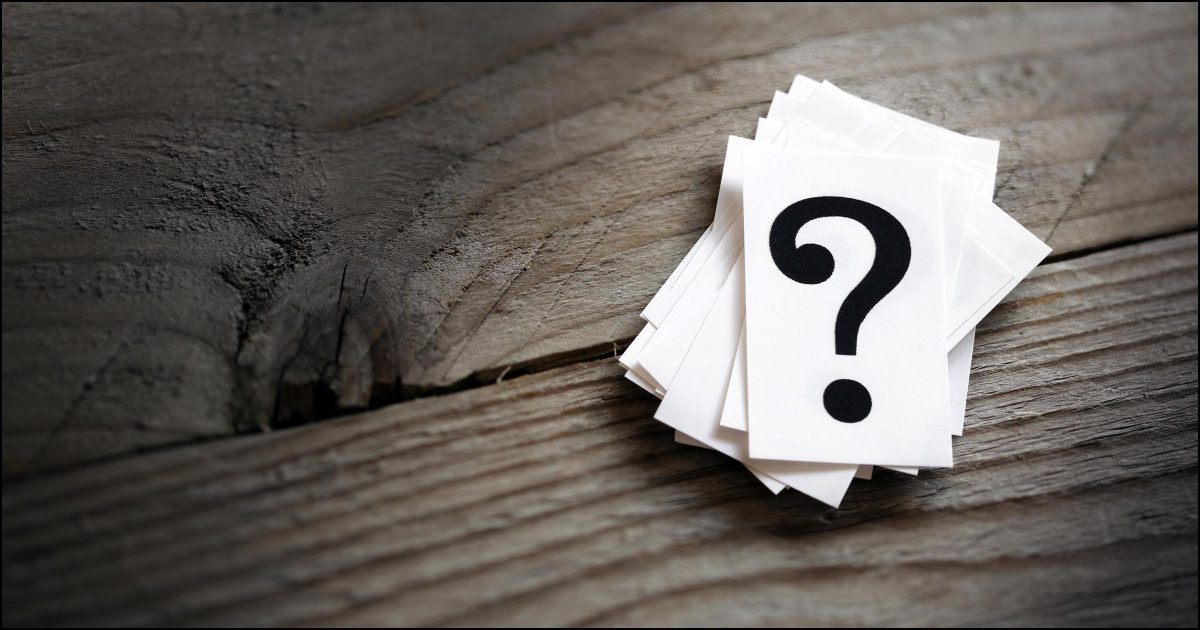 Over the years I've been asked many, many questions. As I close in on 20 years of Ask Leo!, it is fascinating to reflect on the fact that some things never change.
My most common question today and 18 years ago differ only in one detail.
My most frequently asked question
My most common questions are variations on "How do I get back into my account?" The sad part is that preparation beforehand almost always removes the need to ever ask. Prepare by securing your account, setting up recovery information, and keeping it up to date.
Eighteen years ago
In a podcast episode I recorded in 2005, two years after I started Ask Leo!, I began:
I field tons of questions every day on Ask Leo! and they run the range from detailed hardware oriented issues to questions around spyware and virus problems, windows applications behavior, networking, email and much more. Right now there are over 500 questions and answers up on the site, with more being added daily.1

So what's #1? What's the most frequent question I get these days?

The question I get asked most often is this: "Can you recover my Hotmail password for me?"
This was such a common question at the time that it became a running joke among my friends.
Today
What's my #1 question today?
Well, people aren't asking it quite as directly because they're finding the answer on the site and on YouTube, but it boils down to this:
"Can you recover my Gmail/Facebook password for me?"
The answer today, much like it was nearly 18 years ago, is still no.
I've addressed many variations that boil down to the same thing:
The modern twist, as you can see, is that apparently folks aren't setting up or are losing their account recovery information.
My takeaways
Services like Google need to invest in customer support. There's simply no way around this. People lose their Google (and Facebook, and Microsoft, and, and, and…) accounts constantly. And when I say lose, I mean forever. Gone with no hope of recovery. This is particularly devastating given how much we've come to rely on these accounts.
I get that ensuring you're not accidentally turning over an account to a hacker is hard (because you know they're trying — just ask the mobile providers trying to prevent SIM swapping), but the fact remains there needs to be a better recovery mechanism other than "It's your fault for not setting up multiple different recovery phones, addresses, and whatever elses."
You and I need to be better prepared. This is the flip side: knowing that there is no customer support, and knowing that account hacking is such a problem, and knowing that people are losing their accounts permanently every day, it's clear that we as customers need to take responsibility. And yes, that means setting up multiple different recovery phones, addresses, and whatever elses.
Honestly, as much as we might want them to, the services are unlikely to improve. The only thing under our control is how we prepare. That means keeping our accounts secure, setting up recovery information, backing up our important information, and staying alert for phishing and other hack attempts.
Ultimately, passwords and authentication need a major revamp. They're simply too error and loss prone, especially without support from the services we're using. Several alternatives are in the works, but that's been true for years. Hopefully, we'll see some progress soon.
Do this
Take responsibility for setting up your account security. Do everything you can to avoid being the person who needs to ask me, or anyone else, how to get back into your account.
As I said, preparation is the only thing in our control.
It shouldn't be this way, but it is.
While you're here, subscribe to Confident Computing, my weekly newsletter! Less frustration and more confidence, solutions, answers, and tips in your inbox every week.
Podcast audio

Download (right-click, Save-As) (Duration: 8:16 — 5.9MB)
Subscribe: RSS
Footnotes & References
1: Currently over 5,500.