It's easy if you're quick. After that, it gets complicated.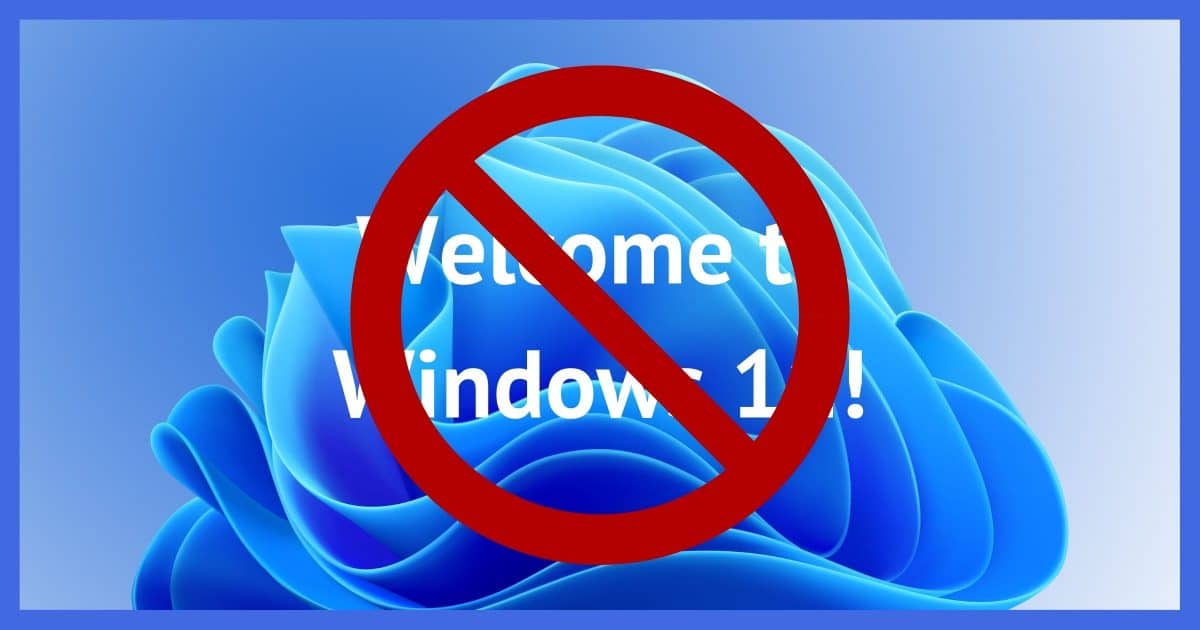 Give Windows 11 a shot, but know that you can go back to Windows 10 if you need to.
I don't like it. Windows 11. I want to go back to Windows 10. How?
You tried it. With the best of intentions and hope for the future, you upgraded your Windows 10 machine to Windows 11.
Or perhaps you had Windows 11 forced on you somehow.
Regardless, after spending time with it, you've decided Windows 11 just isn't for you.
You're not alone.
You can downgrade Windows 11 to Windows 10, but exactly how painful it'll be depends on how quickly you decide to do so and whether you prepared for just this possibility.
Downgrading Windows 11 to Windows 10
Windows 11 includes a "Go back" option available for 10 days after the upgrade. Use that if at all possible. If not, back up to save your recently changed data and then restore a backup image taken prior to the Windows 11 upgrade. If you have no backup image to restore, reinstalling Windows 10 from scratch remains the only option.
You have 10 days
If you upgrade to Windows 11, you have 10 days to change your mind.
Within those 10 days, Windows 11 includes an option in the Settings app, System > Recovery section.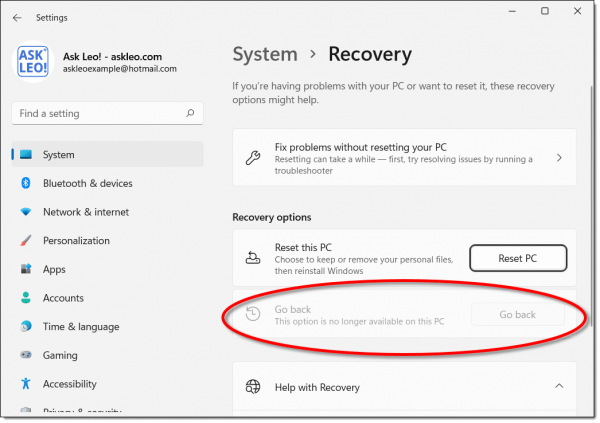 When available, clicking on Go back will ask you a question or two about why you want to go back and then restore your system to Windows 10.
Exactly what you're looking for.
But what if those 10 days have passed? Or what if the option to "Go back" is greyed out for some other reason, as it is above?1
Then things get complicated. But we start with a familiar step.
First, back up
The options below are all destructive. By that I mean that reverting to Windows 10, regardless of which approach you end up taking, will overwrite your data, or at least the changes you made to your system and data after installing Windows 11.
That means before proceeding, back up.
As always, I recommend you perform a full system image backup so as not to have to worry about missing something important. An image will have everything. You can pick and choose the files you need to restore from the image later.
But back up now, before you do anything else.
If you prepared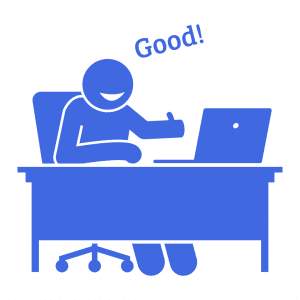 One of my strong recommendations is that you create a full system image backup prior to any major upgrade. This is one reason why.
Restoring an image backup is the next fastest and most reliable way to return to Windows 10.
If you have a full system image of your Windows 10 system taken immediately before you upgraded to Windows 11, you can restore that image and return to that point in time.
Then, after restoring that image, you can use the backup you created above to retrieve any of your files changed while you were running Windows 11.
You'll also want to run Windows Update, since Windows 10 will not have been updated for the duration of your Windows 11 use.
If all else fails
There is, of course, the ultimate safety net. It's just painful.
Reinstall Windows 10 from scratch. Reinstall your applications from scratch. Recover your data from the backup taken above.
Since you had Windows 10 on the machine before, there's no license key to worry about. Setup will recognize it as already authorized.
But it does mean you'll be starting over.
Like I said: painful.
Is it more painful than just learning to live with Windows 11? Only you can make that decision. My only advice here is to remember that Microsoft will support Windows 11 much longer than Windows 10. At some point, you'll probably need to upgrade anyway.
Do this
My recommendation remains to give Windows 11 a chance if you're already running it.
However, realizing that's not an option for everyone, if you can make the choice to revert to Windows 10 within 10 days, by all means do that. It's by far the easiest way to get there.
If that's not an option, it's up to you based on the resources you have available: restore a backup or reinstall Windows 10 from scratch.
Subscribe to Confident Computing and get weekly advice in your inbox, as well as the occasional heads-up to be prepared for situations like this in the future. Less frustration and more confidence, solutions, answers, and tips in your inbox every week.
Podcast audio

Download (right-click, Save-As) (Duration: 6:35 — 6.5MB)
Subscribe: RSS
Footnotes & References
1: I suspect that disk cleanup might also allow you to remove the old copy of Windows 10 at any time, making the roll-back impossible.