The feature's built in; no additional media is needed.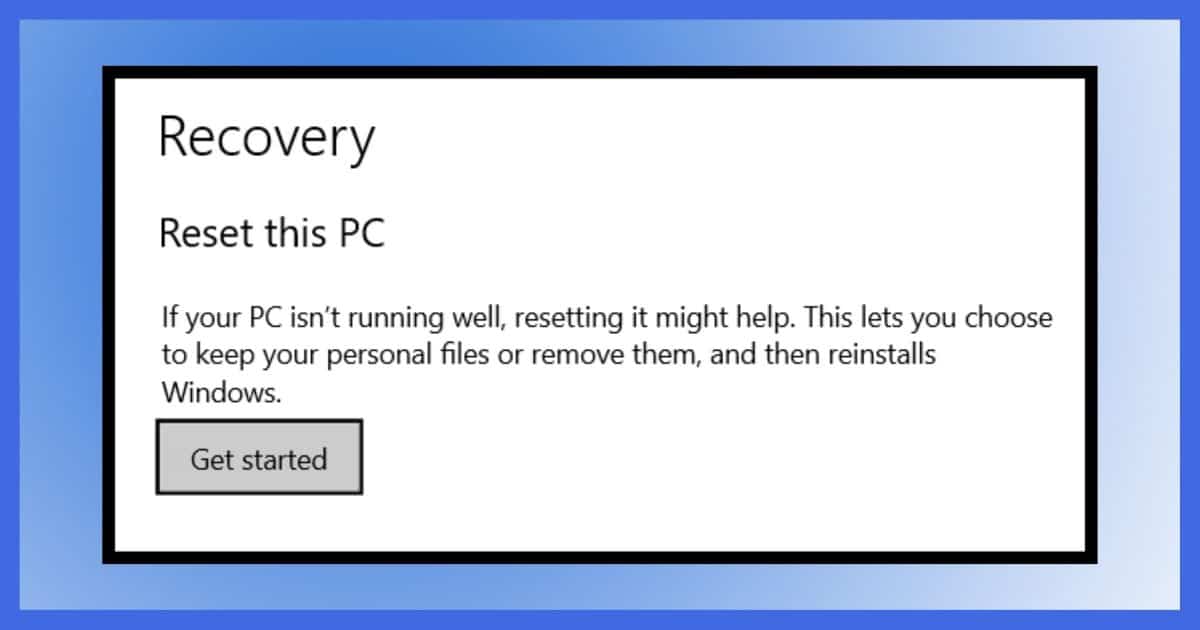 It's relatively easy to reinstall Windows and keep most of your data while doing so, though it can be a bit time consuming.
My machine wasn't completely broken, but it wasn't well. Months of turning things on and off, installing and uninstalling, and just generally "fiddling" while researching and documenting Ask Leo! articles left this particular Windows installation a couple of features short of a full package.
This presented a great opportunity to experiment with the "nuclear option" built right into Windows: "Reset This PC".
There's also what I'll call a "light" nuclear option as an option to the traditional "delete everything and start over" approach.
Reset this PC
Windows includes an option to "Reset this PC" that reinstalls Windows from scratch. You'll find it in the Settings app. Options include saving your files, or wiping everything and getting the new copy of Windows from a partition on your hard disk (or downloading it from Microsoft) as part of the process. Be sure to back up prior to starting to ensure you won't lose anything important.
When to reset
It used to be common to consider reinstalling Windows from scratch "every so often" depending on how you used your machine. More recent version of Windows have become more stable, and that's less of a rule of thumb than it once was.
Even so, stuff happens. Sometimes the most pragmatic solution is to start fresh, rather than spending an excessive amount of time looking for and trying random fixes.
When that might be called for is difficult to say as it depends on your specific situation. If your system is just generally unstable, has slowed down excessively, or you're banging your head against a wall trying to resolve a problem, a reset might be the most expeditious approach.
What this won't fix
This assumes your system is mostly working.
"Reset this PC" uses information stored on a separate disk partition, so the disk itself has to be working.
In addition, we begin the process from within Windows. This implies, of course, that Windows itself is working, at least enough to get us there.
If you're replacing a disk or are suffering a more major failure that prevents you from booting, "Reset this PC" isn't what you want to use. You'll need to boot from installation or backup rescue media and use those tools to recover.
Speaking of backups…
Step one, no matter what
Take a complete image backup of your system as it is today. What we're about to do is a massive reset, and there are many things that could go wrong. It's also possible to encounter unexpected side effects after a reset that may make you regret having done so.
Be it a complete restore to the way things are before the reset or the ability to recover specific files, an image backup is your ultimate safety net. I strongly recommend you not skip this step.
Keep files or remove everything
In the Windows Settings app, search for "Recovery". On the resulting page, underneath "Reset this PC", click on Get started.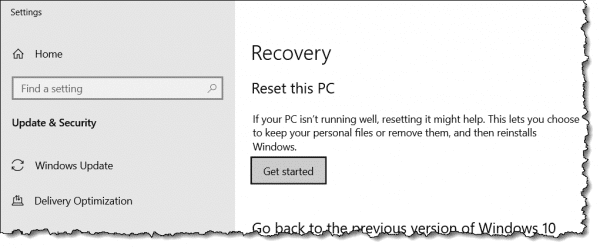 The first choice to make is whether to "Keep my files" or "Remove everything".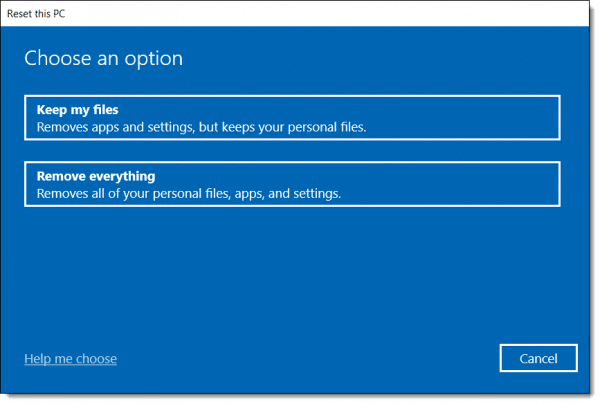 It's unclear exactly how much "Keep my files" keeps, but I can make an educated guess. I suspect it preserves the files in your login account folder — meaning everything in "C:\Users\<your login name>", including Documents, Pictures, Music, and the like. This is what I refer to as the "light" nuclear option.
If you keep data anywhere else on your system drive, it may be deleted.
It's my distrust of knowing exactly what's preserved, as well as my tendency to keep files outside the account folder, that has me recommending — again — you always start with a complete image backup to not lose anything, no matter what.
In this example, I'll click Keep my files, but ultimately the decision is yours.
Next you'll be asked from where the process should get the copy of Windows to reinstall.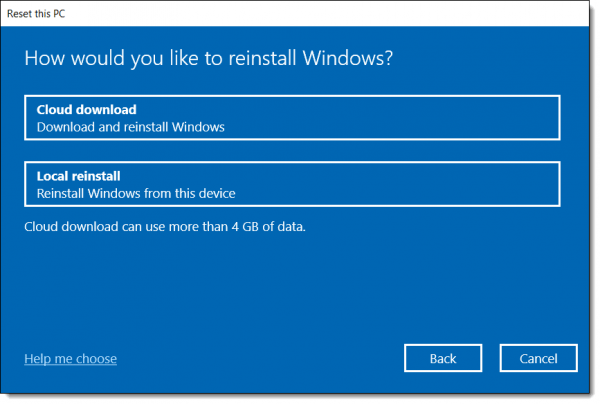 Selecting Cloud download will download Windows components from Microsoft. This might be the only option if, for example, you've previously removed the recovery partition.
Selecting Local reinstall will use the copy of Windows stored in the recovery partition. This might be preferable if you have a slow or metered internet connection, as the cloud download is quite large.
You'll be presented with a confirmation of your choice; click Next to continue.
The process displays a summary of what's about to happen.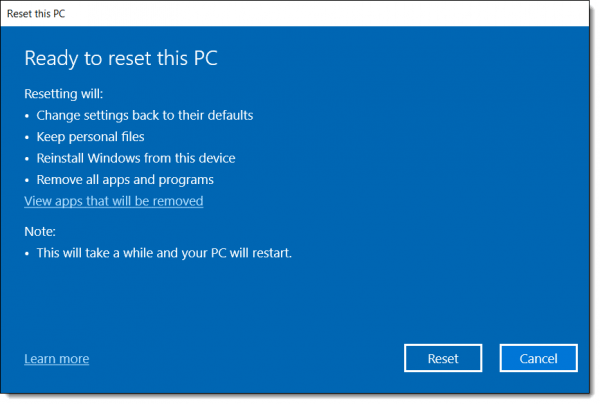 If you like, click the "View apps that will be removed" link.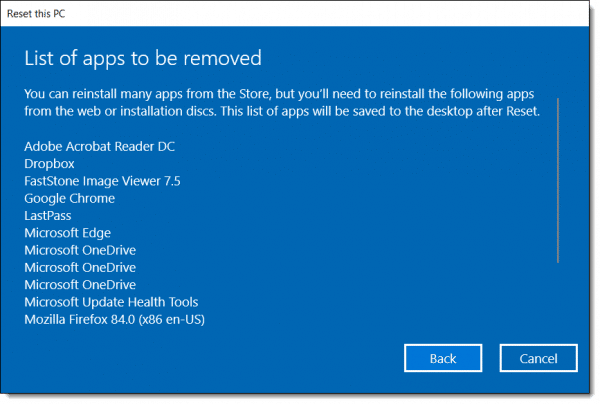 This will probably be a scrolling list, so be sure to examine all the entries. This is a list of all the applications that will no longer be present after the reset. Of particular note is that any customizations you may have made in these applications will also be removed. This is actually one of the reasons for the reset. Removing applications forces us to cleanly reinstall only the apps we need, which typically results in a more stable system.
After you've reviewed the list of apps, click on Back and then on Reset to begin the process.
The reset
The process will take some time and proceed through several stages.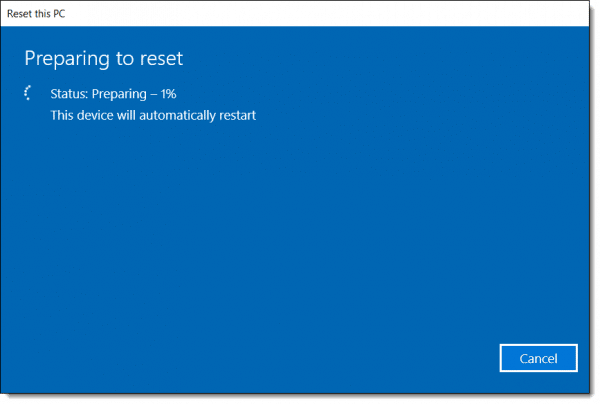 Your machine will reboot several times.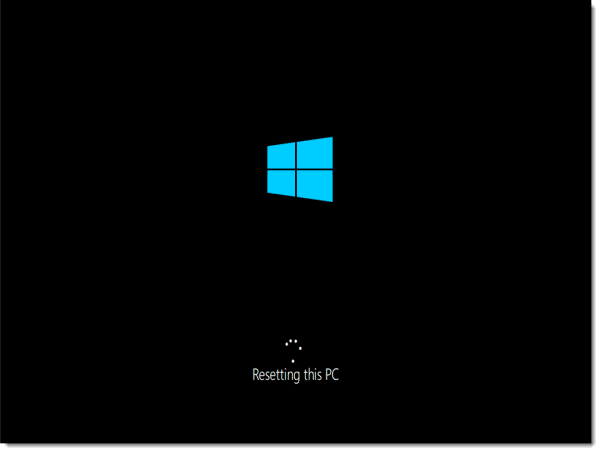 Several times.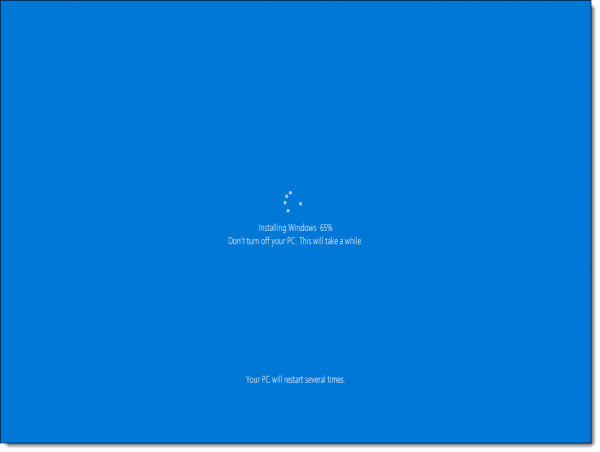 This will take some time. The process is reinstalling Windows from scratch, after all.
Eventually, the Windows sign-in screen will reappear.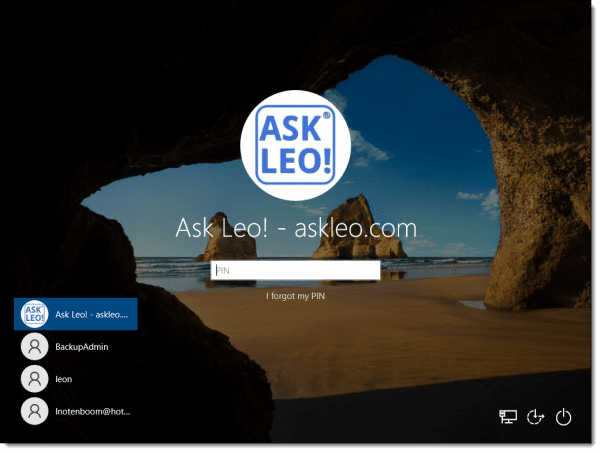 Note that even though this was a "reset", sign-in account options and accounts were retained. Screen resolution was reset, but the (non-standard) scale I had set, 125%, was not.
On initial sign-in, Windows will perform some updates prior to displaying the desktop.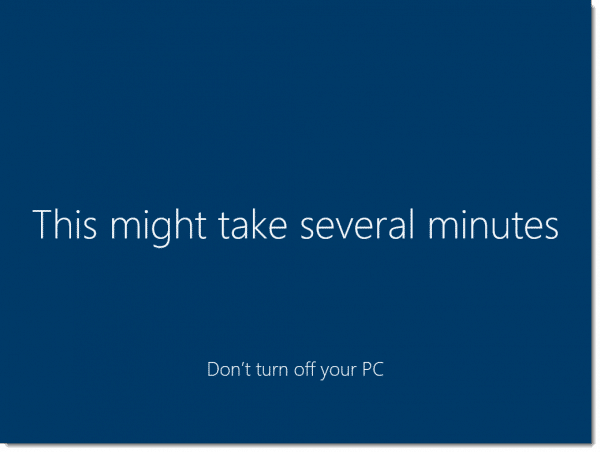 But wait! There's more! (Updates)
Those updates weren't enough.
The very first thing to do after resetting your PC is run Settings, navigate to Windows Update, and click on Check for updates, even if it says you are up to date.
Chances are Windows Update will still locate updates, which it will then install.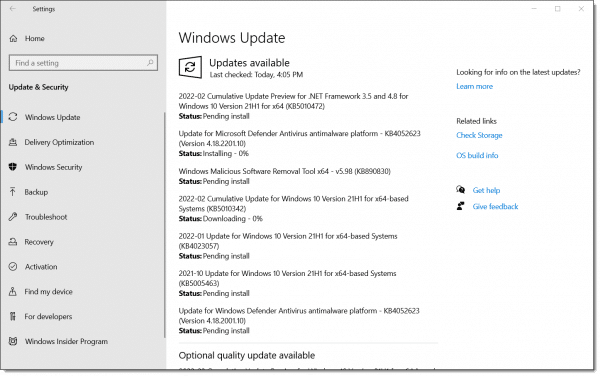 After the update has completed (which may involve rebooting), be sure to return to Windows Update and confirm that no more updates are available, or download any more that are.
Only when there are no more updates available should you proceed.
Reinstall everything else
Next, reinstall the applications you use.
I strongly recommend you install only those applications you actually use. My approach is to use the computer and only install those applications I find I need. That way, I install only the software I really use.
Similarly, restore any data files lost. If you selected "Keep data files" at the beginning of the process, confirm that the files you expect to be there are there. Restore any that are missing from your backup or other convenient location.
Throughout this process, you'll reset the various options and customizations you had before the reset. Honestly, the more frequently I do this, the fewer customizations I carry forward, simply because of the time involved. Much like the programs I install, I only apply the customizations that are truly important to me.
Lastly, back up again
Yes: I recommend you back up once more, another full-system image backup.
With that backup, should you ever need to reset your PC again in the future, you can restore the image backup instead. The reason is simple: the image backup represents a clean install of your system, with your installed programs, customizations, and data files …
… essentially everything the reset did not preserve.
Do this
Know that "Reset this PC" is a power tool to restore Windows to its initial condition. It's often a faster, more pragmatic approach to troubleshooting than actually spending hours tracking down individual failures.
When you're done, subscribe to Confident Computing, my weekly newsletter. Less frustration and more confidence, solutions, answers, and tips in your inbox every week.
Podcast audio

Download (right-click, Save-As) (Duration: 12:16 — 11.5MB)
Subscribe: RSS