Question: Is there a way to automate the process of taking full backups and then incremental backups using Macrium Reflect and automatically thinning the backups out over time? I'm seeking something that works like Time Machine does on OSX (but with incrementals less frequently than hours.) If there's a way to set this up with Reflect, it certainly isn't evident looking at the software.
I agree, disk management settings are not evident when  looking at the software. But it absolutely is possible to manage the number of backups kept to disk – and to manage it automatically. That's the way I have it set up on my machine.
Macrium Reflect can be scheduled to do full backups, followed by incremental backups every night. Combine that with what I would call "auto clean," and you have your setting.
To sort it all out we need to first think about how incremental backups work, and then find the settings.
Backup sets
A backup "set" is a full backup and then all the incremental backups that are built off that initial full backup.
In order to manage your disk space what you'll tell Macrium is to keep, at the most, "X" number of backups, meaning "X" number of full backup sets.
For example, in my situation:
Once a month the backup software creates a full backup.
Every day it creates an incremental backup based on that full backup and any intervening incremental backups.
At the end of the month, it creates a new full backup.
… the process starts over.
Each of those full backups with all of its associated incremental backups is what I would refer to as a "backup set."
Managing your disk space
You can tell Macrium to keep a maximum number of backup sets. It could be one, two, a dozen or more. Which you choose will depend on the disk space you want to allot to this purpose.
For example, you may set the software to keep only two backup sets. It will then delete the oldest backup set when it comes time to create a third one.
Deleting before or after?
There's an interesting question that needs to be asked first: do you have it delete the oldest set before or after it's completed a successful backup?
Before: the backup software checks to see if the new backup would create more backup sets than you've configured it to keep, and if so it deletes the oldest before it begins operation. This frees up the disk space sooner, making it available for the new backup set. Unfortunately it also means that if something goes wrong with the current backup, then not only do you not have the most recent backup but the oldest backup has also been deleted; it was deleted before we began to make room for the backup that failed.
After: the backup software performs the current operation, and if it's successful it then checks to see if there are now more backup sets than have been configured to keep. If so, then the oldest is deleted.
This is in fact exactly what I do. I have Macrium Reflect set to keep at most, two backup sets – but I have room for three. Let's look at how this works from the beginning of the year:
The backup software creates a January backup set – a full backup on January 1, and then 30 daily incremental backups throughout the rest of the month.
On February 1 the process restarts with a full backup, and then 27 or 28 daily incrementals to complete the February backup set.
On March 1 it begins a new backup set by creating a full backup.
I now have two full backup sets – January and February – and the beginning of a third – March. Because that's one more set (3) than I instructed it to keep (2) Macrium then deletes all of January's backups. I'm left with two: February and March.
But it doesn't stop there. Time moves forward and it goes through March and successfully does all of its incremental backups. Then on the first of April, it does a new full backup. Once that succeeds, it then says, "Okay, we're only supposed to keep two; we'll keep and March and April. That means it's time to delete February."
You get the idea.
Finding the disk management setting
The trick, of course, is finding this setting; it's not terribly obvious where it is.
After you've created the backup definition telling Macrium what to back up and where to put it, a summary screen is displayed. At the bottom of that screen is an "advanced options" link.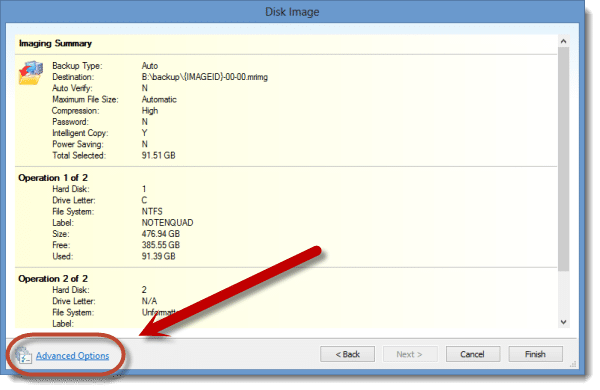 Click on that.
In the resulting dialog look for "Disk space management."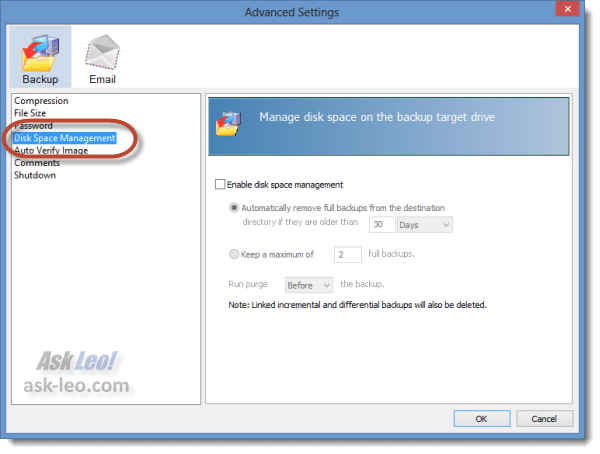 That is the feature that controls when Macrium will automatically delete the oldest backup.
Disk space management includes settings for how many backups you want to keep; and whether or not the check should be performed before or after the current backup.
Dig deeper into Macrium's settings
So that's what I would have you do. I would have you look at Macrium's options for disk management settings. I do also have it outlined in the Windows 7: Backing Up book, complete with pictures and detailed steps.
The bottom line is that not only does Macrium absolutely do this – but I take advantage of this every night myself. If I do nothing else for the entire year, I will always have  backups from the two most recent months available to me, and Macrium will automatically manage the disk space on my external drive along the way.