Question: I use incognito mode in my web browser to keep my online activities private. I mentioned that to a friend and he said it wasn't private at all. If he's right … what's the point?
You're both right, and you're both wrong.
Incognito mode in Google Chrome (also referred to as "Private" or "InPrivate" in Firefox, Internet Explorer, Edge, and other browsers) protects your privacy to a point.
It's critical to know where that is, because beyond that point, Incognito does exactly nothing to keep you more private.
The Incognito line
The good news is that the point to which Incognito has effect, and beyond which it has no effect at all, is easy to understand.
Incognito affects only the information stored in your computer. Information stored or seen elsewhere is completely unaffected by Incognito.
Incognito does disable extensions
Entering Incognito mode varies based on browser, but in Chrome, click on the ellipsis menu at the right end of the menu bar, and click on "New Incognito Window".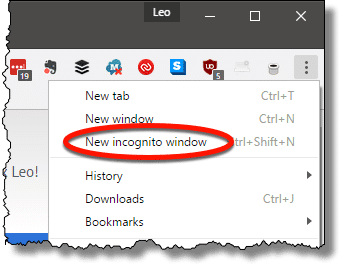 You can browse within that window normally, with the exception that your browser extensions may not be enabled in Incognito. If you need an extension to work in Incognito mode (for example, perhaps you need your password management software enabled) you'll need to enable it in the browser's extensions page. When you do, your browser may point out,
Warning: Google Chrome cannot prevent extensions from recording your browsing history. To disable this extension in Incognito mode, unselect this option.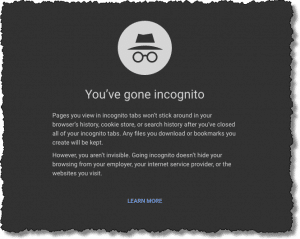 Browser extensions are one way your activities can be exposed, so disabling them by default makes a lot of sense. You can then choose which extensions you trust.
Incognito does delete history
The primary function of Incognito mode is that it doesn't save any history. This comes into play when you close the Incognito window or exit your browser. At that time, the following information about your Incognito activities is deleted:
The history of websites you visited within Incognito windows (though any bookmarks you create will be retained).
The history of files you've downloaded within Incognito windows (though the files themselves are left intact).
The history of searches kept by the browser.
Cookies left by the sites you've visited within Incognito windows.
Form-fill information entered into Incognito windows that would normally be remembered for future auto-complete.
The browser cache related to your Incognito activities.
Any non-Incognito windows are unaffected.
The idea is that once you exit an Incognito window, no trace of the activity that happened within that window is left on your computer.
Incognito does not hide what you're doing from others
Incognito only affects the data that is kept on your PC.
For example:
Your network traffic is unaffected. Your ISP can still see what you're up to.
The websites you visit have no idea you're incognito. They can still identify you by various means not limited to cookies, and they can still keep a record of your visit.
The search history saved in the online account you might have with the search provider, like Google, is not affected.
Any malware on your machine can see what you're up to.
It's unlikely your browser performs a "secure" delete — meaning that the files it created might still be recoverable after your session.

1
The bottom line is that Incognito (or Private or InPrivate) mode is great at preventing anyone with access to your computer from easily finding your activities there — but it does nothing to protect your online privacy.
It certainly shouldn't be considered as any kind of absolute privacy or security tool.
Podcast audio

Download (right-click, Save-As) (Duration: 5:10 — 2.4MB)
Subscribe: RSS