It can seem persistent.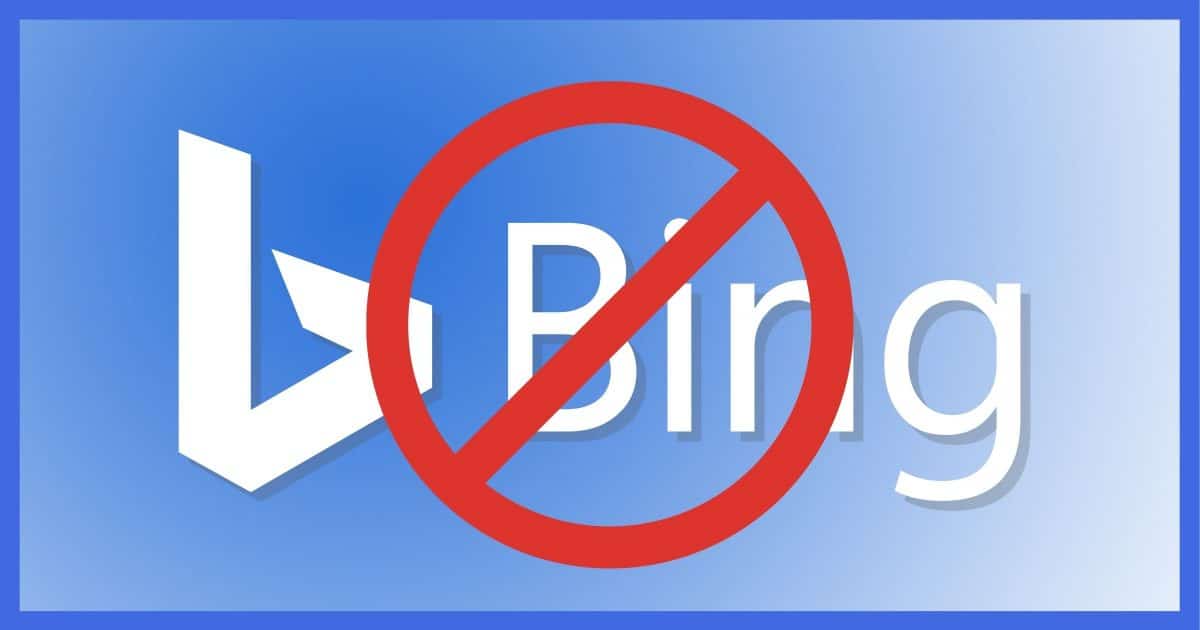 How to say, "Thanks, but no thanks" to Bing -- to the extent that you can, that is.
Poor Bing. It gets no respect.
Honestly, it's a reasonable search engine, but due to Microsoft's ham-handed approach to ramming it down the throats of first Internet Explorer and then Windows 10 users, it's developed a reputation as more of an annoyance than anything else. While Microsoft seems to be dialing back the marketing a little, Bing still shows up more often than many people would like, and it can be difficult to make go away.
Let's get rid of Bing.
Bing is a website hosting a search engine — bing.com — nothing more. It's often set as Edge's default search engine, which can be changed to whatever you like using Edge settings. Edge is also Windows 10's default browser for searches performed using the Start menu. There's no setting to change that, but you can use a tool called EdgeDeflector to change it to a browser, with a default search engine, of your choice. Bing is the search engine used in Edge's new tab page, and there's no setting for that either, though you can install an extension to override the new tab page. As always, look out for other software installs that might change your default settings back to Bing whether you wanted, or asked for it, or not.
What Bing is
It's important to realize Bing is nothing more than a website. Seriously, that's all it is: bing.com.
On that website, you'll find a search engine. That's the service Bing is attempting to provide, in direct competition with google.com.
So the knee-jerk reaction is simple: if you don't like Bing, don't go to bing.com. Done.
Unfortunately, it isn't that simple.
Bing as the browser's search provider
I repeat: Bing is a website with a search engine. Nothing more.
But browsers have default search providers. When you type something that isn't a web address into the address bar, they assume you want to search the internet, and fire up the configured search provider.
It should be no surprise that Microsoft Bing is the default search provider in Microsoft Edge1.
If you're using Edge (and the newest version is a reasonable Google Chrome alternative), you can change the default search provider. Here's how to do it. If you're running a browser other than Edge, chances are you already have a different search provider, but you can check your settings. Exactly how you make a change depends on which browser you use.
Bing as Windows 10's default search engine
If you use the search box in the Windows 10 Start menu, or if you use Cortana, Windows 10 will always perform internet searches using Bing. There is no built-in configuration option to change this.
While it's reminiscent of the "ham handed" and "ramming it down your throat" comments I made earlier, in some ways it's no surprise that Microsoft Windows would use Microsoft Bing. (I believe it also always uses Microsoft Edge, regardless of your default browser setting.)
There's at least one third-party solution that intercepts most attempts to force-run Edge and instead runs the default browser. It's called EdgeDeflector, and it allows you to configure the default browser to be used in that scenario, which of course would use your default search provider.
is configured within your default search engine.
Bing on the Edge "new tab" page
Speaking of Edge, if you do use it, you'll find that while you can change the default start page and the browser home page, you cannot change the browser's "new tab" page. You can configure it a bit, but all configurations include a search bar that uses — you guessed it — Microsoft Bing.
The only solution I'm aware of here is to use a third-party browser extension to configure a custom new tab page.2
Or use a different browser.
Bing in browser extensions
Even if you don't use Edge, Microsoft would like you to install a browser extension that sets Bing as your browser's search provider and perhaps  even Bing as your browser's home page. Originally there was even something called the "Bing bar" which was installed, often by default and occasionally as a PUP, but thankfully, it seems to have fallen by the wayside.
The solution here is to review your browser extensions and add-ons and disable or remove any that seem to be associated with Bing.
And of course, when installing software, always choose custom installs and be on the lookout for PUPs, or Potentially Unwanted Programs, as you go. There's nothing "potentially" about it.
Podcast audio

Download (right-click, Save-As) (Duration: 4:19 — 4.5MB)
Subscribe: RSS